Yesterday was quite a wild goose-chase of days for Spider-Man fans as the cast posted various fake names of the highly-anticipated Spider-Man 3. From 'Phone Home' to 'Home Slice' to 'Home-Wrecker', we were lead in all sorts of directions scratching our heads just wondering what the real name was. Turns out, it was none of those.
Earlier today, Tom Holland, the cast, and the official accounts tied to the Spider-Man film franchise, shared among Marvel Studios and Sony, shared the real name of the movie through a rather humorous video that depicts the cast as being out-of-the-loop, having been told fake titles of the film due to Tom Holland being notorious for revealing spoilers. Take a look below:
View this post on Instagram
As you can see for yourself in the above video, posted by Tom Holland's personal Instagram, director Jon Watts clearly told the cast fake names due to Holland having spoiled the last title.
What is more interesting, is that during the clip of the cast goofing on us, you can see a whiteboard that not only reveals the official name of 'No Way Home', but also a lengthy list of fake names that all include or needs to include 'Home' in the title. I can't help but feel as though there are many easter eggs of sorts hidden within this picture. The drawings and designs include not only many Spider-Man references and logos, but also that of Iron Man, the Tesseract, and more.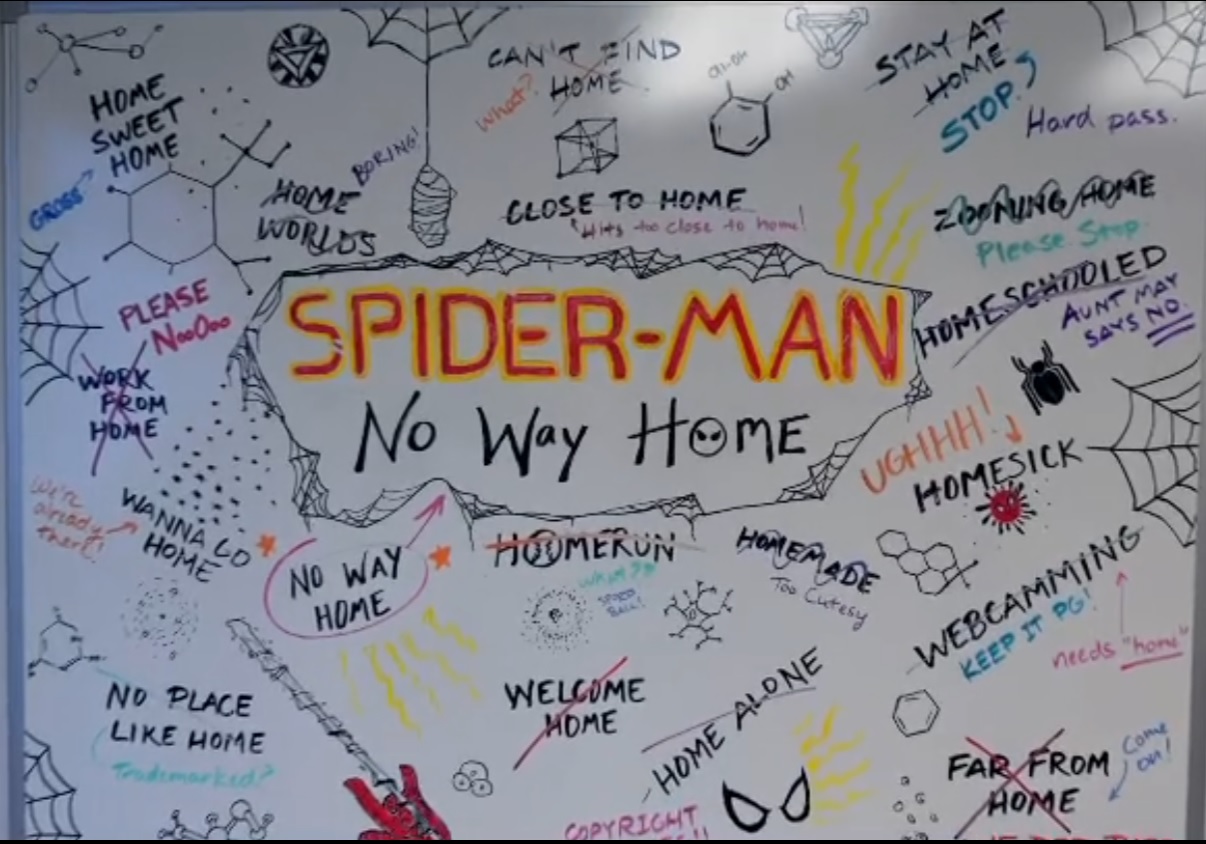 Whether or not the above image contains any true hints or easter eggs regarding the plot of the third MCU and Sony flick remains uncertain, but we do know that the rumors regarding the Multiverse and crossovers between all the various live-action Spider-Men over the last 15 years have been crazy. That said, Spider-Man: No Way Home feels more like its alluding to Multiverse plotlines, which has us excited beyond measure. If one thing is for sure, this film is shaping up to be the wildest ride in the MCU yet.
Spider-Man: No Way Home swings to theaters this December.