Mark your calendars, the release rate for Death Stranding is here. And although we finally know the game will be out this year, there is so much more to cover in this impressive gameplay trailer. Equally creepy and beautiful, Death Stranding represents exactly what you might expect coming from Hideo Kajima. And this trailer holds truer to that than an explanation can do justice. But, I am going to try anyway. So let's talk about what we have just witnessed here.
Finally, we get action and combat footage from Norman Reedus' leading character Sam. From outrunning enemies, stealth elements, hand-to-hand combat, and gunplay, there is not much left to be desired from Death Stranding… except maybe an explanation on just what in the f*ck is happening.
Mads Mikkelsen's Cliff is clearly the big bad, but his role appears more daunting with each bit of new footage we see on this game.
To be honest, even with this trailer revealing more information than we have ever gotten up to this point, I still have no idea just what the heck is going on in Death Stranding. It is a breathtakingly gorgeous, violent, creepy, suspenseful, and moving- a game that purposefully reflects the most obscure thoughts and imagination set pieces from Kojima's mind, and respectively, I do not think that I personally have the mental capacity to even attempt to achieve trying to understand what goes on in that man's brain. It is quite literally, too much for me to even begin to process. But Death Stranding's threat elements, going far beyond anything I ever thought of before, appear to be frightening, and perhaps even enlightening to some degree.
Those Bound to Hades…
The imagery looks amazing with incredibly designed set-pieces that reinforce the danger that Sam is in while on his mission. The way I am describing this to you sounds like a gameplay review, but Death Stranding's sense of style and direction is so mind-blowing that I feel I must express just how impressed I am with what this trailer has shown me. But what exactly are we looking at? What is the story?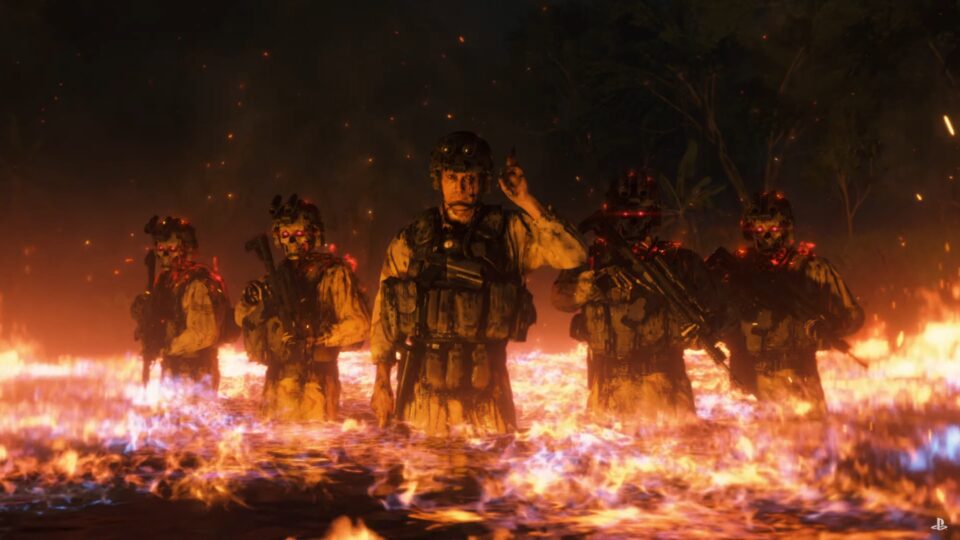 One thing is clear- America, and quite possible the world, is in chaos and falling apart. Or, it has fallen apart. Sam is on a mission, and he seems to require the assistance of a baby, for some reason. There are what appear to be otherworldly threats, possibly demons, maybe aliens, or even death itself, all attempting to stand in your way while teaming-up with Mikkelsen's Cliff. It is not clear just how Cliff managed to get connected to this dark force, but it is apparent that he can use it to his advantage to some extent just as he sees fit.
Personally, I love the sense of fear, or dare I say horror of what stand between Sam and the goal he is trying to accomplish. The child he is carrying may be the key to stopping the dark forces that wish to consume or destroy or whatever their agenda, though I think we can safely say that whatever it is, it loves war and it loves to cause destruction.
Whatever is expected to happen, we will get a much clearer picture in less than four months time when the game releases. and we can't wait.
With all this hype around Death Stranding, a Sony-exclusive, The Last of Us II and Ghost of Tsushima, also Sony-exclusives, may end up being pushed back to make way for the behemoth title that Death Stranding is clearly becoming.
According to sources close to Kotaku's Jason Schrier, these titles will be released a little later to avoid competing with one another. The Last of Us II is particularly interesting considering that it is a juggernaut on its own, with a massive fanbase looking to see this next chapter following Ellie and Joel. Sony clearly has confidence in its exclusives, but there is no need to have them go head-to-head with one another when they can simply space out their releases and cash-in on all of them. Regardless, the next several months will be incredibly for PS4 gamers.
As I type this, I realize that I have so many questions that I simply can't expect an answer from right now, and if Kojima is going to do his thing, and he will, we probably won't get clear answers in Death Stranding even after we have played through it a couple times. I expect that the game's intentions align more with leaving things open to interpretation, and reflect issues that we see on a day-to-day basis in life, death, suffering, and even hope. Whatever is expected to happen, and I assume it will be heavily allegorical in nature, we will get a much clearer picture in less than four months time when the game releases. and we can't wait.