If there is one thing we know for sure, it is that there has never been a better time to be a fan of the horror/survival genre. From the upcoming remakes of Dead Space, Silent Hill 2, and especially Resident Evil 4, there is much to look forward to. And if you are a Resident Evil fan, in particular, you have a lot more coming your way than just the remake of one of the most celebrated titles in the franchise.
This week was huge for Konami and the Silent Hill franchise but Capcom quickly stepped in to retake the spotlight and remind fans that Resident Evil has a bunch of fresh content coming our way. In their latest Resident Evil Showcase event from this week, Capcom showed off the upcoming Winters' Expansion, gameplay for Resident Evil 4, and a better look at Re:Verse.
Resident Evil Village Gold Edition
Winters' Finale
Shadows of Rose
First up in Resident Evil Village, is the brand-new Winters' Expansion that places players in a new story campaign in the role of Ethan's daughter Rosemary, who has grown considerably after sixteen years have passed since the main campaign involving her father. in Shadows of Rose, Rosemary returns to where it all began in the village in order to find a way to remove her powers.
Third-Person Mode
In a return to the critically acclaimed Resident Evil Village, players will get to experience an all-new version of the original campaign with Ethan Winters, who is now playable from a third-person perspective. While the campaign and story seem unchanged, this new style of gameplay is likely to completely change how fans interact and immerse themselves in the mysterious European village and its surrounding areas.
Resident Evil Gold Edition includes the base game with 3 major new features:
Third-Person Mode allows you to play the main story mode from a new perspective.
The Mercenaries Additional Orders introduces new playable characters and stages
Shadows of Rose continues the story of Ethan's daughter, Rosemary.
Resident Evil Village Gold Edition which includes the Winter's Expansion will be available on October 28th, 2022.
Resident Evil 4 Remake
Story Trailer
In addition to the second trailer, which is all cinematic, an extended look at gameplay (courtesy of IGN) was shown of Resident Evil 4 and we have to admit, it looks gorgeous. Fans of the original game will immediately recognize some iconic locations, enemies, and encounters that have been completely redone to reflect modern technology and visuals.
Gameplay Trailer
Collector's Edition and Pre-Orders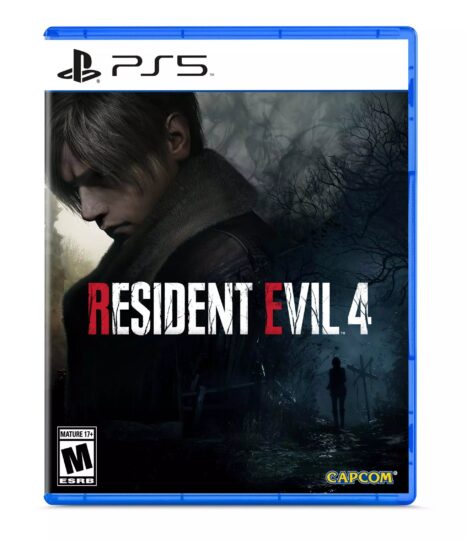 After all the announcements were said and done, pre-orders went live for Resident Evil 4 with a handful of editions available for purchase on console and PC. The game will be available in Standard, Deluxe, and Collector's Editions for PlayStation 4, PlayStation 5, and Xbox Series X|S. with various goodies including pre-order bonuses such as the Attaché Case: 'Gold' and the Charm: 'Handgun Ammo'.
Standard Edition – $59.99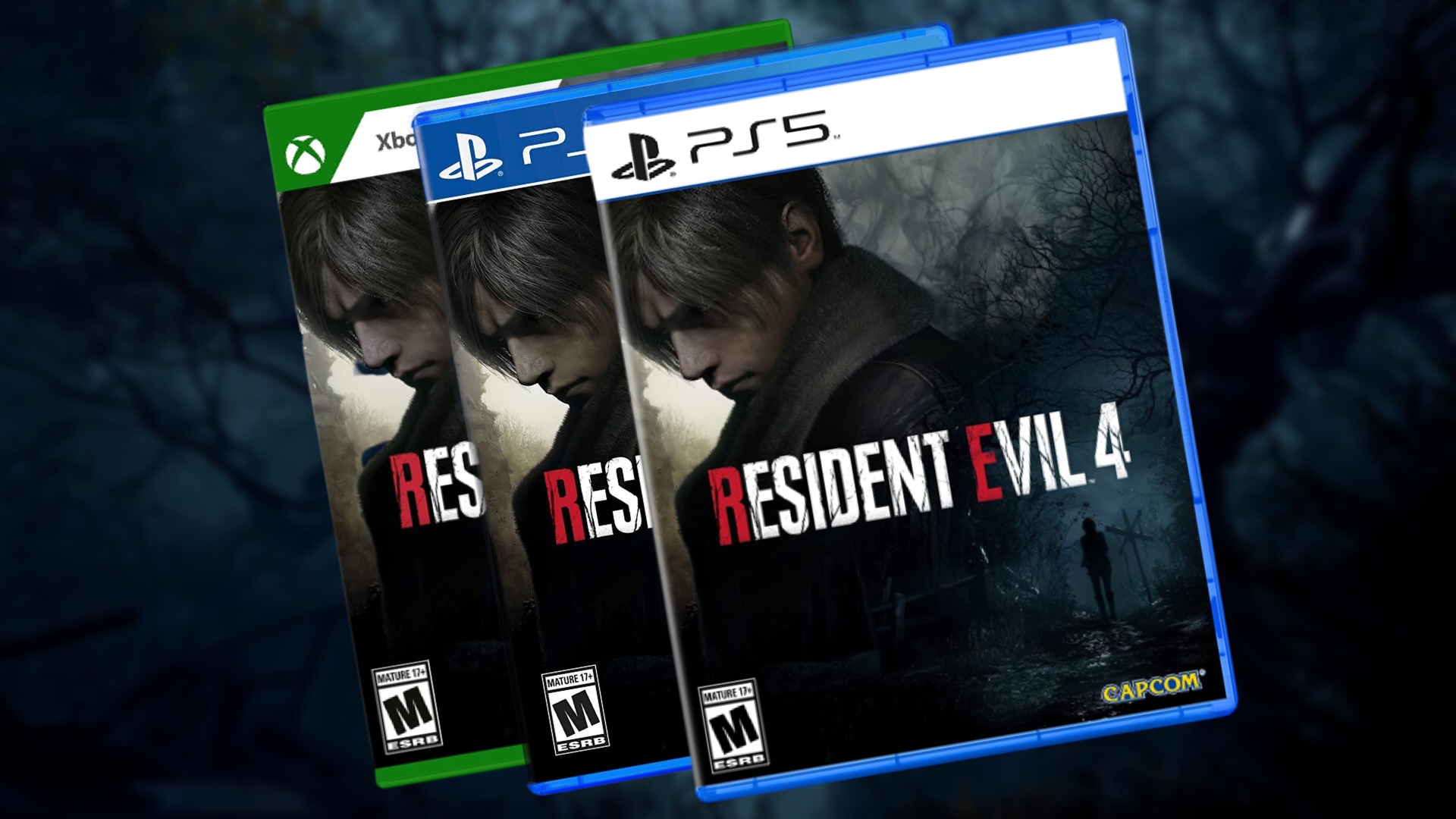 The Standard Editions across the board are set at $59.99 USD and are available at all major retail outlets that sell games such as GameStop, Best Buy, Amazon, Target, etc. As mentioned above, pre-order bonuses are included such as the Attaché Case: 'Gold' and the Charm: 'Handgun Ammo'.
Deluxe Edition – $69.99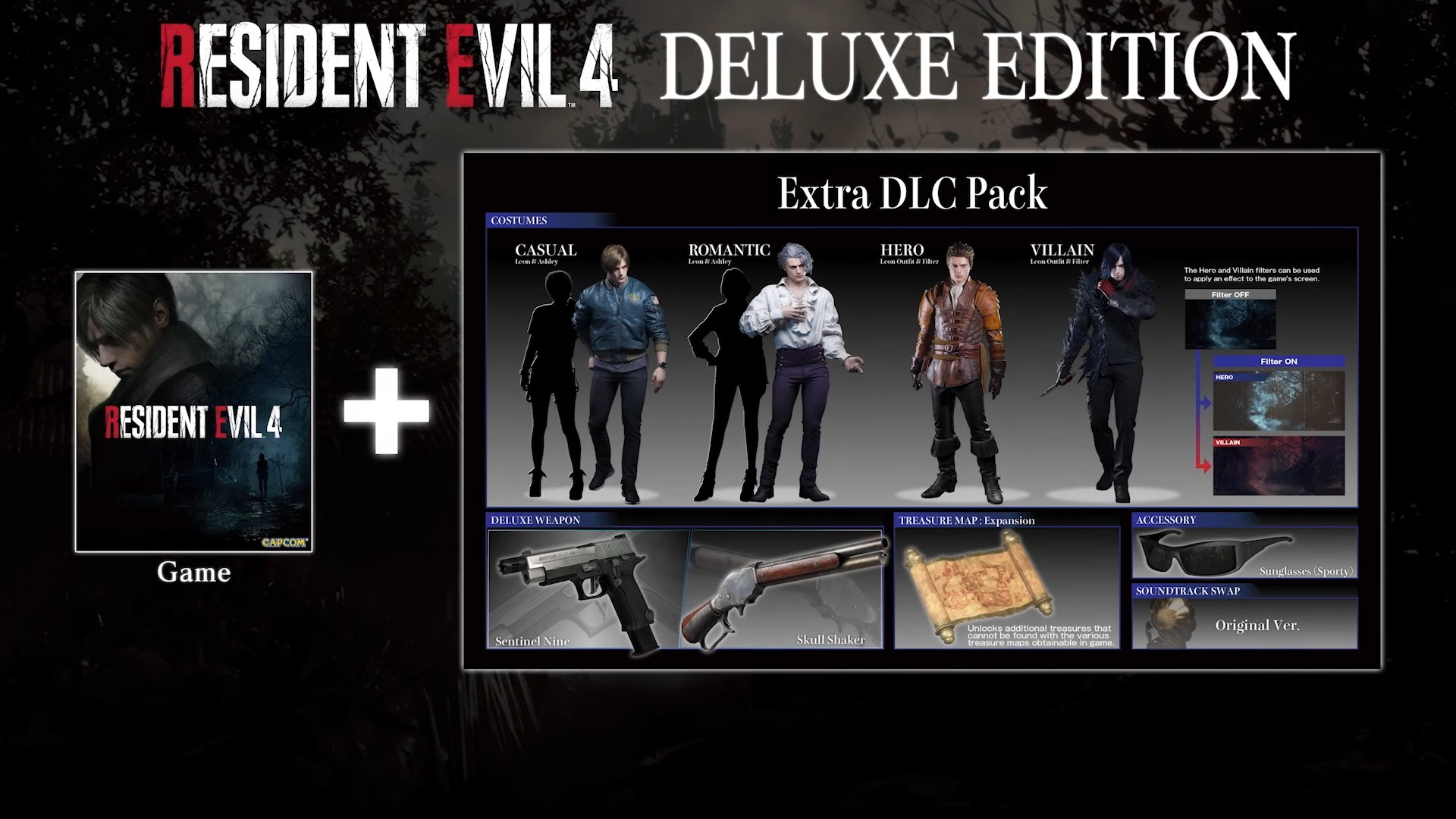 The Deluxe Edition is digital only and is available for $10 more than the Standard Edition but comes with a lot more extra stuff. If you are interested in costumes, then the $10 price difference may be worth it for you but if you want a physical copy of the game, you may have to miss out and stick to the Standard Edition since the Deluxe doesn't seem to come in a physical form. Here is everything included in the Digital Deluxe Edition, including a copy of the game:
Leon & Ashley Costumes: 'Casual'
Leon & Ashley Costumes: 'Romantic'
Leon Costume & Filter: 'Hero'
Leon Costume & Filter: 'Villain'
Leon Accessory: 'Sunglasses (Sporty)'
Deluxe Weapon: 'Sentinel Nine'
Deluxe Weapon: 'Skull Shaker'
'Original Ver.' Soundtrack Swap
Treasure Map: Expansion
Attaché Case: 'Gold'
Attaché Case: 'Classic'
Charm: 'Handgun Ammo'
Charm: 'Green Herb'
Collector's Edition – $249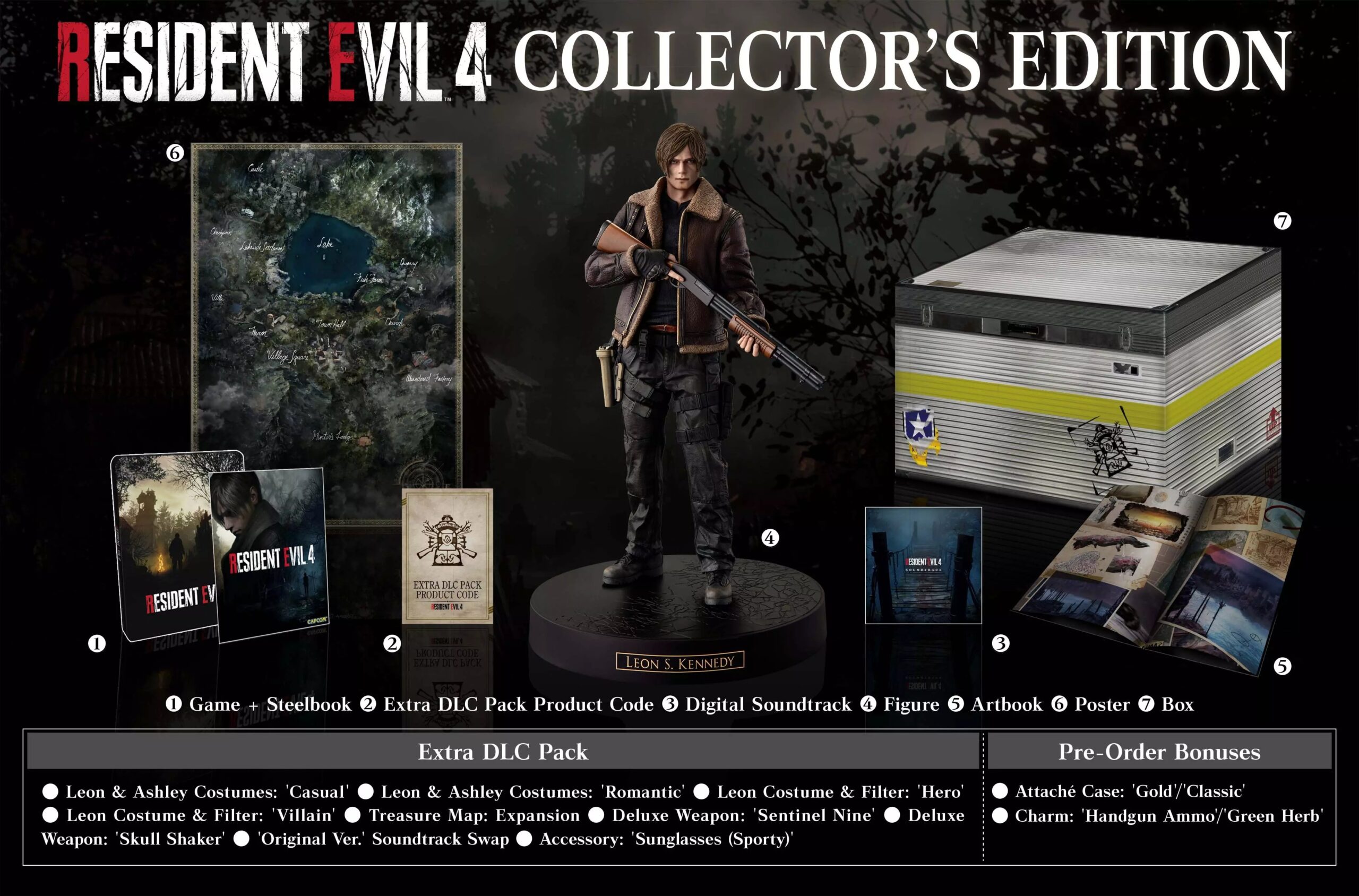 The Collector's Editions for all the aforementioned platforms are a bit more pricy, obviously, at $249.99 USD, and comes with a whole bunch of goodies. It is exclusive to GameStop so you won't find it anywhere else. In addition to all the other bonuses that come with the Standard and Deluxe Editions, players will also get some physical collectibles in the Collector's Edition. Here is what you get:
Leon Figure
Artbook
Poster
Steelbook case
Extra DLC
Digital Soundtrack
Extra DLC Pack (see image above for details)
Just to reiterate, the Collector's Edition includes all the in-game bonuses from all editions as well as the sweet physical stuff. Unfortunately, there is no physical Collector's Edition for PC which kind of sucks but the game looks like it's meant for consoles.
Resident Evil 4 comes to consoles and PC on March 24th, 2023.
Resident Evil Re:Verse
Re:Verse was announced a long time ago and has seemingly been pushed back after facing multiple delays. However, the third-person PVP multiplayer battle game is scheduled to finally arrive on October 28th for free to those who have purchased Resident Evil Village.
The game mode itself looks a little wack, to be honest, and doesn't exactly spark interest in us from a multiplayer PVP perspective. If you have played any Resident Evil games, especially the more recent ones including the remakes, you can imagine how stiff your character would feel were you to pit them in a third-person PVP experience. Nothing about the current Resident Evil games looks or feels like they would be able to maintain a strong player base in PVP. Capcom would need to completely redo their entire vision and engine if they wanted a PVP experience that would draw in a significant amount of players.
Everything Else
In addition to everything else announced, Resident Evil Village will be coming to macOS and be able to take advantage of Apple's flagship hardware. While conventional gamers will still prefer PC or console experiences, owners of Mac laptops and desktops will be able to join in on all the horrific fun the game has to offer.
Not only that, but Nintendo Switch players are also in for a treat as the remakes of Resident Evil 2 and Resident Evil 3 are coming to Nintendo Switch along with Resident Evil 7 and Village through their new cloud-based service. Village is scheduled for release on October 28th for the Nintendo Switch while the others are coming later in 2022.
If you missed the Resident Evil Showcase and want to watch it without interruption, you can check it out below or see what else was posted on the official Resident Evil YouTube channel.