Earlier this month, we reported that Halo: Reach and the rest of The Master Chief Collection would be coming to Steam when Microsoft was good and ready. Well, seems like they are ready for Reach at least, as we know when it is coming out and how much it will cost.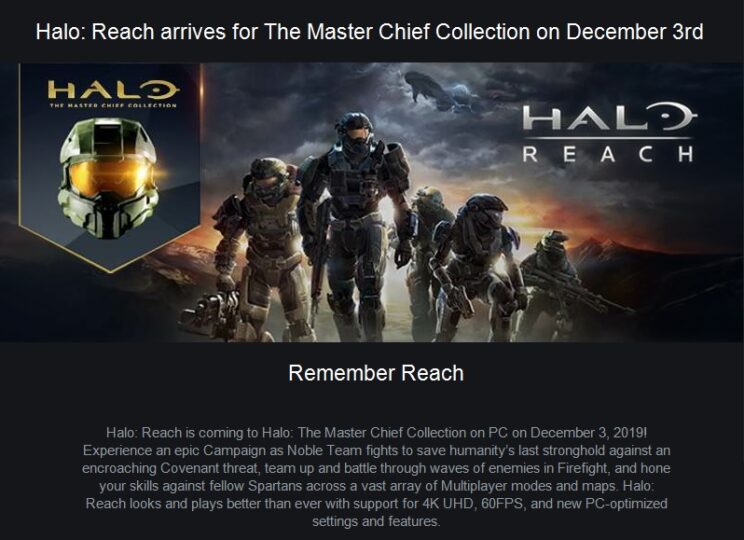 Halo: Reach will be available on Steam for $9.99 while the entire collection can be picked up for $39.99, which is a deal considering the whole collection will consist of six Halo titles.
For the low price of $39.99, you will get Halo: Reach, Halo: Combat Evolved, Halo 2: Anniversary, Halo 3, Halo 3: ODST, and Halo 4. Otherwise, you will likely be able to pick up the others for what we assume will be the same price as Reach for $9.99 apiece.
If you take a look at the Steam Store, specifically Halo: The Master Chief Collection, it breaks down the pricing for the whole collection as a pre-purchase with all six games but lists 'The Master Chief Collection' as a seventh item, though we think this is a typo.
Additionally, the section just below the pre-purchase also breaks down the 'Content For This Game' which lists that Halo: Reach will be $9.99, but the rest of the titles will be $39.99, which doesn't make sense considering they can all be purchased in a bundle for $39.99. We assume this is a typo too, or perhaps they mean that buying any one of these entries in the Halo series, aside from Reach, will give you all the others. Hard to tell.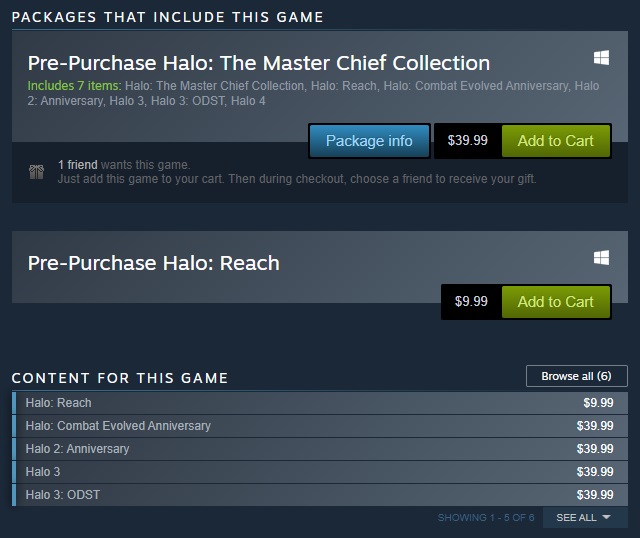 Experience an epic Campaign as Noble Team fights to save humanity's last stronghold against an encroaching Covenant threat, team up and battle through waves of enemies in Firefight, and hone your skills against fellow Spartans across a vast array of multiplayer modes and maps. Halo: Reach looks and plays better than ever with support for 4K UHD, 60FPS, and new PC-optimized settings and features.
Halo: Reach is coming to Halo: The Master Chief Collection on PC on December 3, 2019!