In Dragon Ball: The Breakers, you play as an ordinary civilian caught in a temporal phenomenon known as a "Temoporal Steam" trying to escape the wrath of a deadly and powerful foe with overwhelming destructive power. You can try to make it out alive as a team or on your own or, you can play the role of the enemy as the Raider.
In the recent announcement trailer which reveals the game is coming to consoles and PC on October 14th, we witness Frieza in his many forms wreaking havoc across the land as he tries to stop the civilians from making it out alive. Check it out:
Caught in by an unexpected temporal phenomenon, seven ordinary citizens find themselves stranded in a Temporal Seam: they share their imprisonment with the Raider, a menacing enemy from another timeline with overwhelming power.
Their only hope for survival is to break out from the Temporal Seam with the Super Time Machine, but the Raider is on their tracks and becomes stronger minutes-by-minutes.
Whether you choose the role as one of seven unique civilians, or one of three playable Raiders (Frieza, Cell, and Buu), the game will undoubtedly look and feel somewhat similar to games like Dead by Daylight where the team attempts to escape the zone before time runs out or they are killed by the monster which, in this case, takes the form of a classic Dragon Ball villain.
In addition to the release date announcement, you can also pre-order the game in one of three editions. The cheapest is obviously the "Standard Edition" which curiously is only available for digital download while the "Special Edition" is listed for $29.99 USD for Nintendo Switch, PS4, and Xbox One on retailer sites like Target and Gamestop.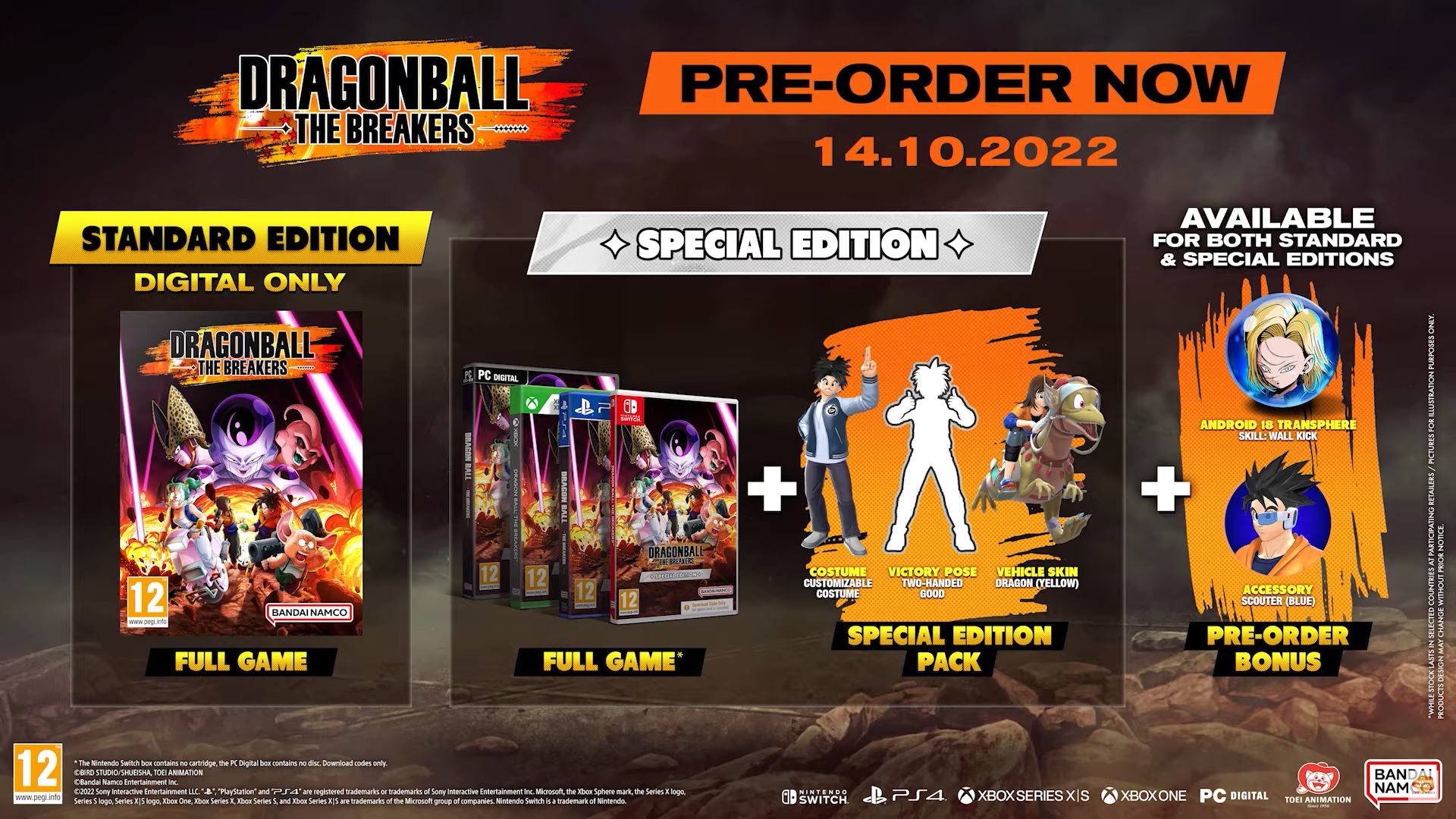 >
The "Limited Edition" bundle gets you more bang for your buck, as it were, at a price tag of $79.99 USD. In addition to everything the Standard and Special editions, you will get a handful of other bonuses like stickers (yay), a Steelbook case for your game, and a Cell Shell Figure which looks… disgusting.
>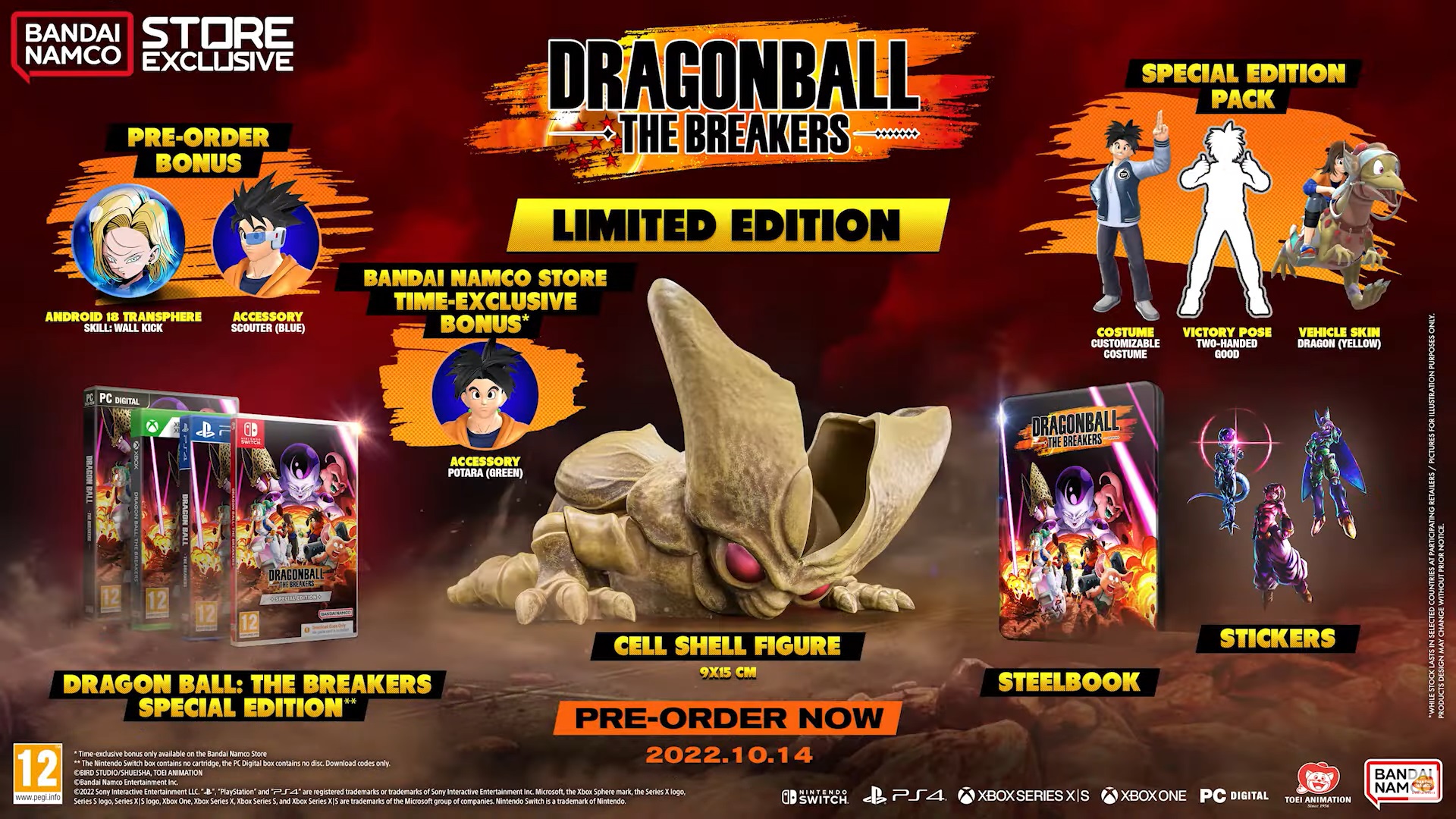 >
While the game lists itself as available for current generation consoles, it does not appear as though there is an official PS5 or Xbox Series X|S version which means the game is likely designed for last-gen and playable on current consoles. This would make sense as the trailers for the game look a little weak by design and are likely held back by last-generation hardware. Regardless, the concept of playing as a villain sounds fun to us but with such a small roster we can't help but wonder what kind of support this game will get in the future with the possibility of new playable villains and civilians. Playing as Broly would be cool for a villain or Jaco the Galactic Patrolman as a civilian might be fun but for now, we will just have to settle for what we are given.
Dragon Ball: The Breakers will be available everywhere games are sold on 10.14.2022 for PS5, PS4, Xbox Series X|S, Xbox One, Nintendo Switch, and PC through Steam.
You can add Dragon Ball: The Breakers to your Steam Wishlist now: