The long-awaited third Bill and Ted film is finally happening.
The film, Bill and Ted Face the Music, officially began production on July 1 in New Orleans, Louisiana. To celebrate, the cast and crew tweeted out their excitement, including Bill S. Preston, Esq. himself (Alex Winter) wearing a Wyld Stallyns shirt, and screenwriter Ed Solomon (who also wrote the first two films) thanking the fans.
Day one. See you on the other side and remember to be excellent 🎸🎸@BillandTed3 pic.twitter.com/BHFQfsW7bd

— Alex Winter (@Winter) July 1, 2019
Thank you so much to the fans of this movie. We literally could not have gotten this to happen without you. pic.twitter.com/DOnFszRdTn

— Ed Solomon (@ed_solomon) July 1, 2019
Bill and Ted Face the Music sees a now middle-aged Bill and Theodore "Ted" Logan (Keanu Reeves) receive a warning from the future, prompting them to create a song that will save all life in the universe.
Besides Reeves and Winter returning, Hal Landon Jr. is back as Ted's dad and Amy Stoch is back as Bill's hot mom. Additionally, Samara Weaving (The Babysitter) and Brigette Lundy-Paine will be playing Thea Preston and Billie Logan, daughters of the titular duo, and their wives are played by Jayma Mays and Erinn Haye.
It's been nearly 30 years since Bill and Ted first dispelled their legendary wisdom to us in their Excellent Adventure, and we're so excited to party on with them next year.
Bill and Ted Face the Music on August 21, 2020.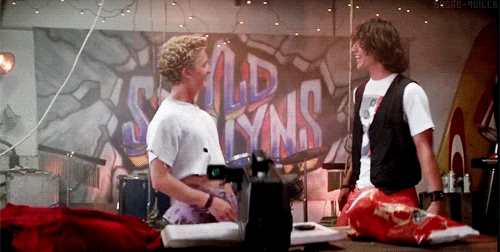 Be excellent to each other. Party on dudes!