Sunday turned into a total sh*t storm for developer Rockstar Games as they suffered a major hack that leaked significant test footage and game details for the upcoming and highly-anticipated Grand Theft Auto VI. To make matters worse, the hacker, who is also allegedly behind the recent Uber hack last week, managed to obtain the source code for both GTA V and GTA VI and is holding them for ransom for "no less than five figures".
Much of the leaked GTA VI footage, which shows a female protagonist in Vice City, appears to be in the early stages of development, despite looking quite literally incredible. We managed to grab a Tweet from user WaterHexle who still has much of the leaks up, despite many of them having been taken down from other sources across social media.
A bit of more gameplay pic.twitter.com/c0qDMw8OeI

— Water (@WaterHexle) September 18, 2022
Not that there was much doubt, but I've confirmed with Rockstar sources that this weekend's massive Grand Theft Auto VI leak is indeed real. The footage is early and unfinished, of course. This is one of the biggest leaks in video game history and a nightmare for Rockstar Games

— Jason Schreier (@jasonschreier) September 18, 2022
Rockstar and Take-Two have been running damage control desperately trying to scrub social media of any leaked footage or images so we do not expect the Tweet above to be visible much longer. DMCA copyright claims are flying across Twitter in all directions at a rapid pace so it might be hard to see more GTA VI after the next couple of days. In the meantime, Rockstar Games and Take-Two have confirmed the leak and have been trying to take the time to assure investors that these "intrusions" will not impact the game's progress or development in any way.
A Message from Rockstar Games pic.twitter.com/T4Wztu8RW8

— Rockstar Games (@RockstarGames) September 19, 2022
The hacker, who goes by the name of teapotuberhacker has been posting the leaks on places like the GTAForums and claims that they have the source code for GTA V and an early build of the GTA VI source code but is not willing to sellout on the latter just yet, presumably waiting to see how much they can get for GTA V and waiting on a high bid for GTA VI. Teapotuberhacker has demanded that Rockstar reach out to him through their telegram in order to negotiate an offer to keep them releasing the source code. Teapotuberhacker says they will not accept less than five figures.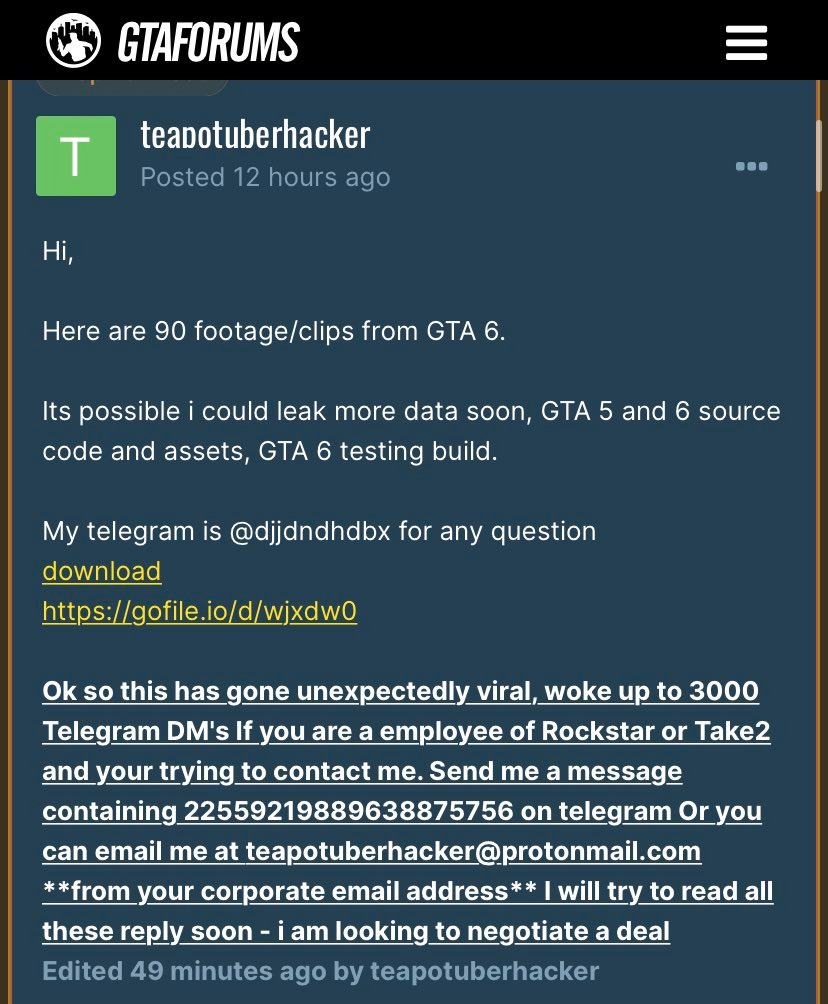 All this is quite literally a nightmare for Rockstar Games and Take-Two, especially since their games are some of the best in gaming and most popular, with many imitators failing to meet their level of detail and functionality. However, if their source code is leaked, copycats could replicate all that and possibly more to create some serious competition in the open-world gaming space.
Grand Theft Auto VI does not have a release date but many are speculating it could arrive on consoles and PC as early as 2024, which we would have doubted until these leaks as it was discovered that Rockstar Games is messing with PS4 compatibility. This suggests that if the game does come out in 2024 or even 2025, that last-generation consoles will still be able to play GTA VI.
While some Grand Theft Auto fans are eager to hear an update on GTA VI, these leaks should be taken very seriously, regardless of how exciting it is to see progress on the game. We still do not know the extent of what information the hacker was able to obtain but the fact that they managed to get the source code for both GTA V and GTA VI is absolutely insane.