Late last night, while working on a few articles for today, I happened to get lucky and stumble across a website that I had never seen or heard of before- ThatDudeBooks.com. As a collector myself, I was curious to check what this was all about and to see for myself if there was anything worth adding to my collection. Lo and behold, there is a ton of stuff I want and am dying to get my little collector hands on, including a limited edition Mighty Morphin #1 variant cover that I absolutely had to have.
Fortunately for me, I was a few hours early before the site went live with orders, of which I jumped at the chance to get a CGC 9.8 Yellow Label Remarked, as you can see below.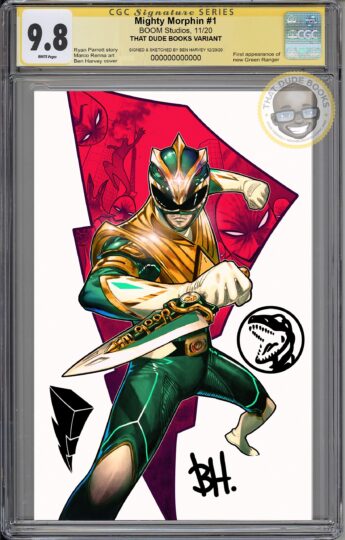 Truth be told, I happen to love Ben Harvey's art, and I love the MMPR so when I noticed that Harvey did some extremely impressive work for BOOM Studios, I knew I had to get something by him. And when I saw that he had posted this Green Ranger cover on Instagram, I knew I had to have it.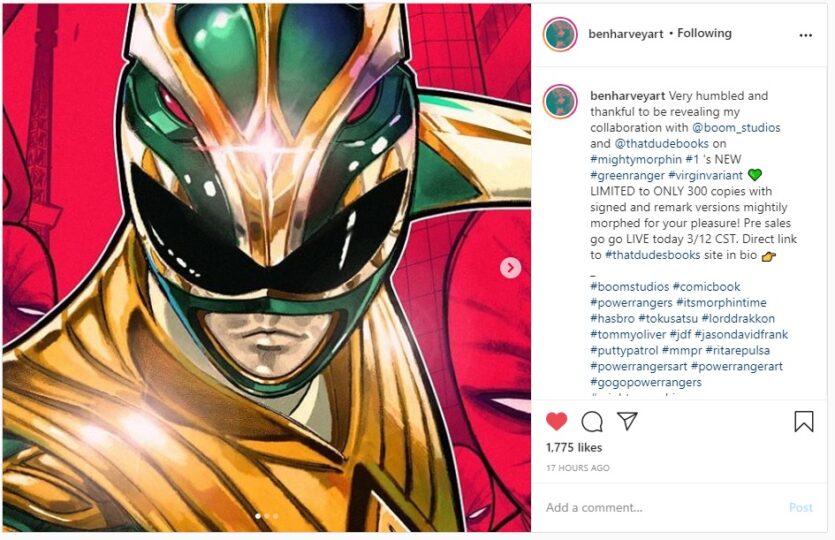 The moment the store opened up, I locked down my sale and confirmed it. And I could not be happier with this purchase. I feel as though I should also add that this article is not being sponsored by ThatDudeBooks or Ben Harvey, but I can't help but give them as much praise as I possibly can because this is an insanely rad cover that any fan would love to add to their collection. Directly from TDB, here is a breakdown of what exactly comes with this purchase:
Raw purchase includes
x1 Virgin Variant  w/ COA
Ships in 9.2 NM- condition or better
Blue Label purchase includes
x1 Virgin Variant w/ COA
CGC graded 9.8 unsigned
Yellow Label purchase includes
x1 Virgin Variant  w/ COA
CGC graded 9.8 signed by Ben Harvey
Yellow Label Remarked purchase includes
x1 Virgin Variant  w/ COA
CGC graded 9.8 signed and remarked by Ben Harvey
Remarks will be randomized and at the artists discretion
Product Details
Boom Studios MIGHTY MORPHIN #1
(W) Ryan Parrott (A) Marco Renna (CA) Ben Harvey
The UNLIMITED POWER Era Begins HERE – but who is the NEW Green Ranger and are they friend… or foe?
Superstar writer Ryan Parrott (Mighty Morphin Power Rangers/Teenage Mutant Ninja Turtles) and rising star artist Marco Renna send the Mighty Morphin team on a collision course with an even deadlier Lord Zedd, who has a new mission and a new motivation – one that will change everything you thought you knew about our heroes!
But even if the Mighty Morphin team can all find a way to survive Zedd and their mysterious new enemies, they may discover the greatest threat to their future is the shocking secret of Zordon's past!
The next big epic begins here, perfect for longtime fans and new readers alike.
Release Date: Nov 04, 2020
There are only 300 copies available, so if you are looking to get one for yourself, you had better get on it and quickly, because the stock won't last for much longer.