Netlix's live-action Avatar: The Last Airbender is moving full speed ahead (whether you like it or not) and while we have our reservations about the concept in its entirety, at least the casting looks pretty impressive. Take a look below at what we feel is a pretty spot-on cast, aesthetically speaking.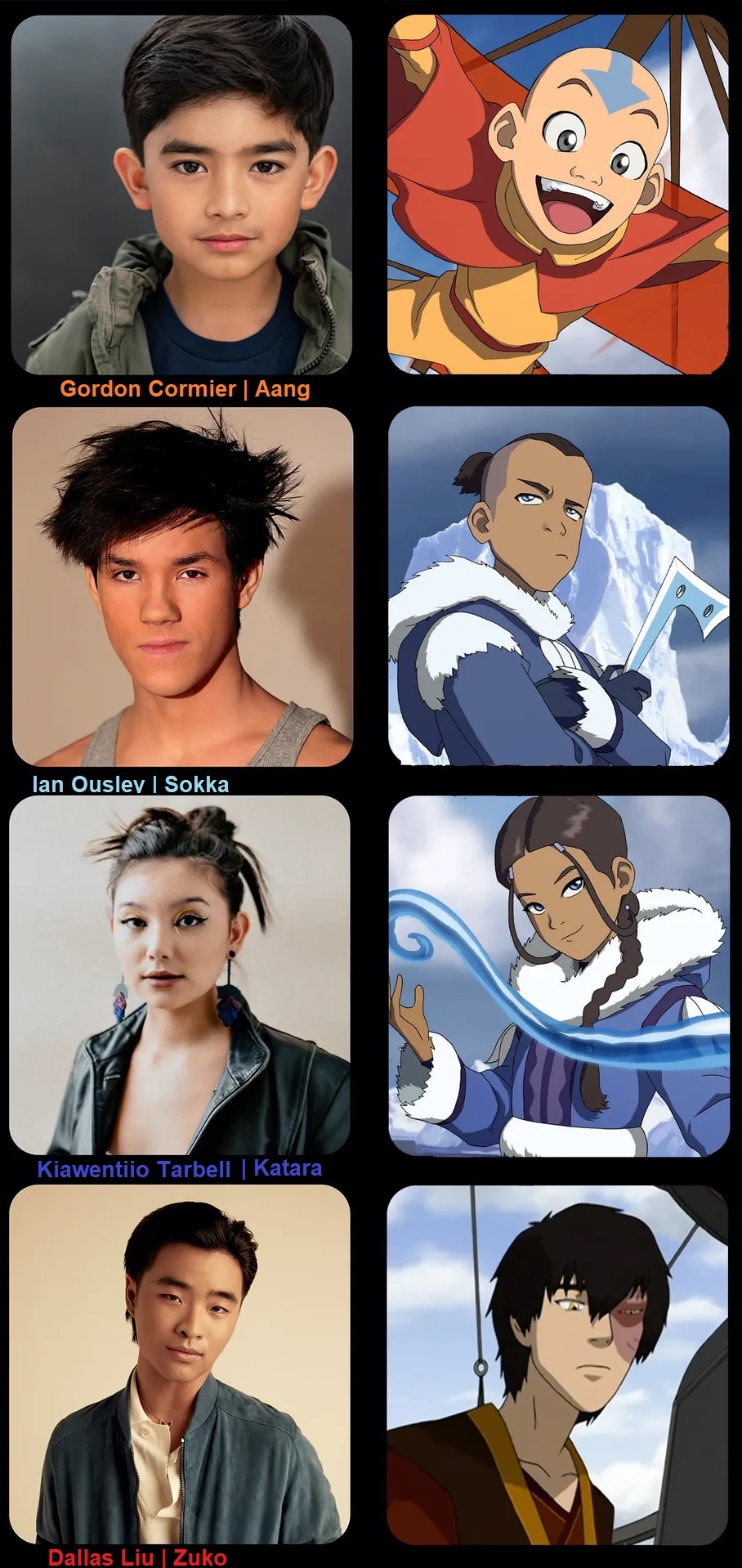 Dallas Liu has the largest list of on-screen credits amongst his AtLA castmates and is probably best known for his roles in Hulu's PEN15 and the upcoming Marvel Cinematic film, Shang-Chi and the Legend of the Ten Rings. Kiawentiio Tarbell has a rather short resume having only appeared in a few things such as Netflix's Anne with an E and Rutherford Falls while Ian Ousley is known for his roles in Netflix's 13 Reasons Why and Phyiscal.
Taking the lead in the series is Gordon Cormier, who will be playing the Air Nomad Aang. Cormier's resume matches the length of most of his other castmates being known for his roles in The Stand and some other smaller parts but that doesn't mean these young actors won't be able to deliver. Of course, it also doesn't mean they will either but we are holding out hope.
It is hard to dispute how well these leading castmates look compared to their animated counterparts but looks arent everything. Whether or not these acting performers can bring these characters to life while retaining the charm and emotional power from the original series will be no easy feat to be sure. Of course, we all know that even the best actors can't lift a movie out of the trenches of horrible writing so there really is a lot stacked against the show. That said, make no mistake, I am no hater. There really is a possibility for the series to be a knock-out grand slam, it's just… we are keeping our excitement contained for now until we have more reason to feel safe, you know?
One of the main reasons we are reserving our excitement, and most significantly, the reason why we are actually terrified of this show is that Michael Dante DiMartino and Bryan Konietzko, the original creators of Avatar: The Last Airbender, left the show after voicing concerns of Netflix's creative vision for the series. Apparently, after being a part of the show's development for a couple of years, DiMartino and Konietzko felt that Netflix was no longer honoring their vision. DiMartino had quite a lot to say about it on his official blog:
"I can finally tell you that I am no longer involved with the project.

In June of this year, after two years of development work, Bryan Konietzko and I made the difficult decision to leave the production.

Look, things happen. Productions are challenging. Unforeseen events arise.

Plans have to change. And when those things have happened at other points during my career, I try to be like an Air Nomad and adapt.

I do my best to go with the flow, no matter what obstacle is put in my way.

But even an Air Nomad knows when it's time to cut their losses and move on."
Doing my best trying not to be negative, I would be remiss not to express my concerns. If the original creators are doing the same, then there is quite a bit the fans should be worried about. Keeping that in mind, it is still possible for Netflix to deliver something truly incredible, we just feel it's best to wait for proof of substance rather than get excited over a few pretty faces.
Sure we, probably have only small glass of hope accompanying the metaphorical gallons of fear when it comes to this live-action adaptation but with the recent resurgence of fan support, probably due to the success of streaming over the last couple of years (though the show has always been popular) we know that the universe of AtLA is expanding with at least one new series, movies and a studio dedicated to overseeing it all. Plus, we also know that the studio will be led by co-chief creative officers Bryan Konietzko and Michael DiMartino, the creators of both AtLA and The Legend of Korra so at least these projects are far more likely to please fans.
There currently is no release date or expected time frame for Avatar: The Last Airbender (live-action). We would be surprised if we got the first episode in 2022 so keep your expectations in check on that for now.