It might not just be one Solo film for Han. 
[dropcap size=small]T[/dropcap]he planned Han Solo spin-off film – which finally found its leading man in Hail Ceaser! actor, Alden Ehrenreich – may not just be a one shot affair. News has surfaced indicating plans are in motion for a trilogy of films surrounding a young Han and his adventures.
New York Daily News reported their insider had gotten word that Ehrenreich has been signed on to a 'three picture deal,' which could pave the way for more films to follow the first if the Han Solo spin-off makes bank at the box office: 
 "There is a real sense of excitement around the Han Solo movie and its potential…Given that Han's early adventures do not need to be tied to the Empire, it leaves story lines open with the opportunity to really give fans something different.

They can explore new galaxies and crazy creatures and bring in a wide array of new characters. They feel that his character has the right potential to become a central figure in several movies. They're keeping things under wraps at the moment, but the deal is that he has signed for at least three movies."
Ever since the hugely successful Star Wars: The Force Awakens hit our big screens we've been getting a steady stream of announcements surrounding future Star Wars projects.
Disney revealed they had big plans for exploring the new extended universe of the Star Wars cinematic 'verse back in March, when they revealed they have 10 potential new Star Wars films scheduled throughout the coming years, which they hope to release annually for the foreseeable future. 
We've already got the spin-off anthology film Rogue One: A Star Wars Story to look forward to whilst we await Episode VIII in 2018, and since the Han Solo spin-off is the only other anthology film to have been made official so far, it's not so surprising to hear news that it may be made into a trilogy. 
There is so much for them to play around with when it comes to Han, and they could surely have a lot of fun exploring Solo's life prior to when we first meet him in the Mos Eisley Cantina with Luke and Obi-Wan in A New Hope.
Of course, it is a double-edged sword kind of deal at the moment until we see how good the first movie is, and if Ehrenreich can pull off being our favourite smuggler well enough. But it could potentially make for one very fun spin-off trilogy. 
We could never tire of the lovable rogue, so if we're going to get three films about a particular Star Wars character, Solo's the way to go. We just hope they do him justice.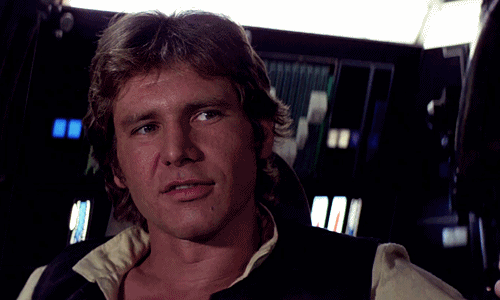 Hopefully we'll learn about more future projects soon. One things for certain, we're not going to have any shortage of action set in a galaxy far, far away on our big screens in future. 
Rogue One: A Star Wars Story will hit the big screens 16 December, 2016. 
The first Han Solo film is set for release 25 May, 2018.