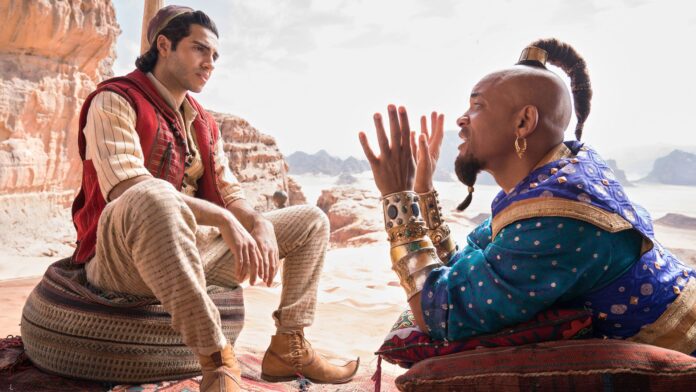 "Unlike a shooting star, I've come so far!…(awkward cut)…Let me share this…"
After Disney blue themself with the previous teaser, they've fired back with the first full trailer to the upcoming live-action reimagining of Aladdin. 
The most notable aspect of the trailer is the confirmation that at least two classic songs from the original film will be sung in some form. 
We first get a tease that Will Smith as the Genie will indeed be rapping at least some of "Friend Like Me," (sung originally by the late, great Robin Williams), and if the few second sample we got is any indication, I already know what my favorite part of the movie will be. (He even does a Will Smith grunt!!!)
Towards the end, we are then treated to a (clumsily edited) sampling of the iconic "A Whole New World," sung by Naomi Scott as Jasmine and Mena Massoud as Aladdin. What little we heard sounded pretty good, but we'll have to wait and see if Disney has to break out the ol' Emma Watson autotune machine. 
Aladdin hits theaters on May 24.