Fortnite has evolved season over season into a massive chaotic style of gameplay with unique equipment and weapons to help you reach the Victory Royale screen if you make it as the last man standing.
All new gameplay, mechanized pets, emotes, new locations, new challenges, all accompanying the brand new battle pass that immediately rewards you with two new skins, unlockable dual battle axes, and so much more.
In addition to the above, new to this season are 'Fortbytes', which are hidden pickups that are scattered around the map. Collecting them helps you progress through the story and unlock secrets to this season.
Discover the new Fortbytes, decrypt a mysterious image and earn rewards! pic.twitter.com/Kd9yhOzSq2

— Fortnite (@FortniteGame) May 9, 2019
There is so much going on this season, that Fortnite is hardly even recognizable from a few seasons ago, which may or may not turn you off from the game. Still, you have to hand it to Epic Games. They have turned Fortnite into an empire, and still managed to keep things fresh with each and every new season. Some stuff, however, may not always work out (see the pump shotgun debacle).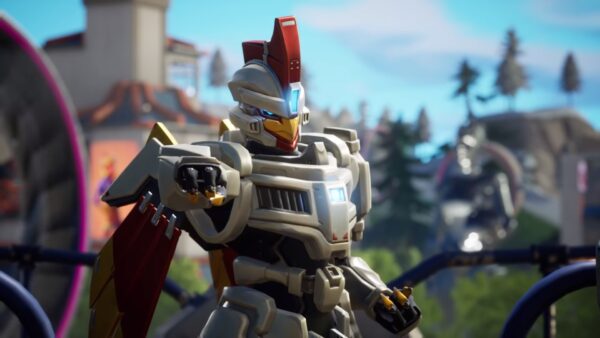 Mech Chicken? This is one of the coolest skins yet.
This skin is enough to get me to buy the battlepass. Like, it is everything I want to be when I play a battle royale game like Fortnite.
The volcano has erupted and forever changed some long lasting locations – from the ashes, Neo Tilted rises, new attractions like Peely's Banana Stand and Nugget Hut Take a glide over to the new Mega Mall to do some shopping before the storm hits. The future is yours in Season 9!
In season 9, there are so many new things to unlock and experience. We outlined some of those for you above, but there are more than 100 new exclusive rewards within the Battle Pass. For only 950 V-Bucks, the usual price of the Battle Pass, one can hardly ignore the value there. One giant map, battle bus, may the best become the last man standing and earn the Victory Royale!