Far From Home has came and went, but not without leaving its mark at the box office after breaking records and joining the $1billion club. As it turns out, superhero fatigue is nothing but a farce as fans and critics alike couldn't speak highly enough for the second solo outing of everyone's favorite wall-crawler. And as it turns out, Mysterio made for one hell of a villain to boot.
After SDCC, fans couldn't help but wonder just what the future for Spider-Man would have in Marvel's plans for Phase 4, though Marvel and SONY were rather tight-lipped about it. Except for Far From Home director Jon Watts, that is. Turns out, Jon Watts wants to see Kraven as the big bad in Spidey 3.
"I would love Kraven. It's just the trick of how do you do Kraven in a movie?" – Jon Watts, speaking to SlashFilm
Although we do not know about the direction the sequel to Far From Home is going to take, the internet is demanding all sorts, including the introduction of Kraven the Hunter. Artist Boss Logic took it upon himself to imagine the character as if he were to be from Wakanda, and played by Mustafa Shakir (Bushmaster from S2 of Luke Cage).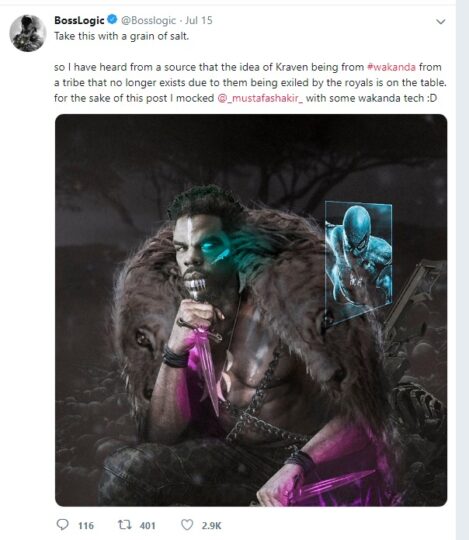 Sure, this isn't much to go off of, but Kraven being from Wakanda would be a really fun way to introduce the character. Plus, we love Mustafa Shakir, and it would not be the first time Marvel has cherrypicked from its Netflix shows and re-cast an actor into another MCU role. Just look at Mahershala Ali.