Since the early 2000s, we have been blessed to be a part of a truly remarkable era of television programming that has changed the way we consume episodic shows. We owe a lot of that to Netflix and Hulu as streaming has paved the way for binge-watching our favorite shows so that we can enjoy them over and over again. And so we thought of the ones we enjoy the most and figured you might like them as well.
While any "top ten" list is hard to narrow down, we very carefully chose ten shows that always seem to come back to. These are the shows that always make us laugh or cry and leave us saying "just one more episode" before we end up watching late into the evening.
In no particular order, here are ten of our most cherished comedy shows that we think you are really going to love, or maybe already do.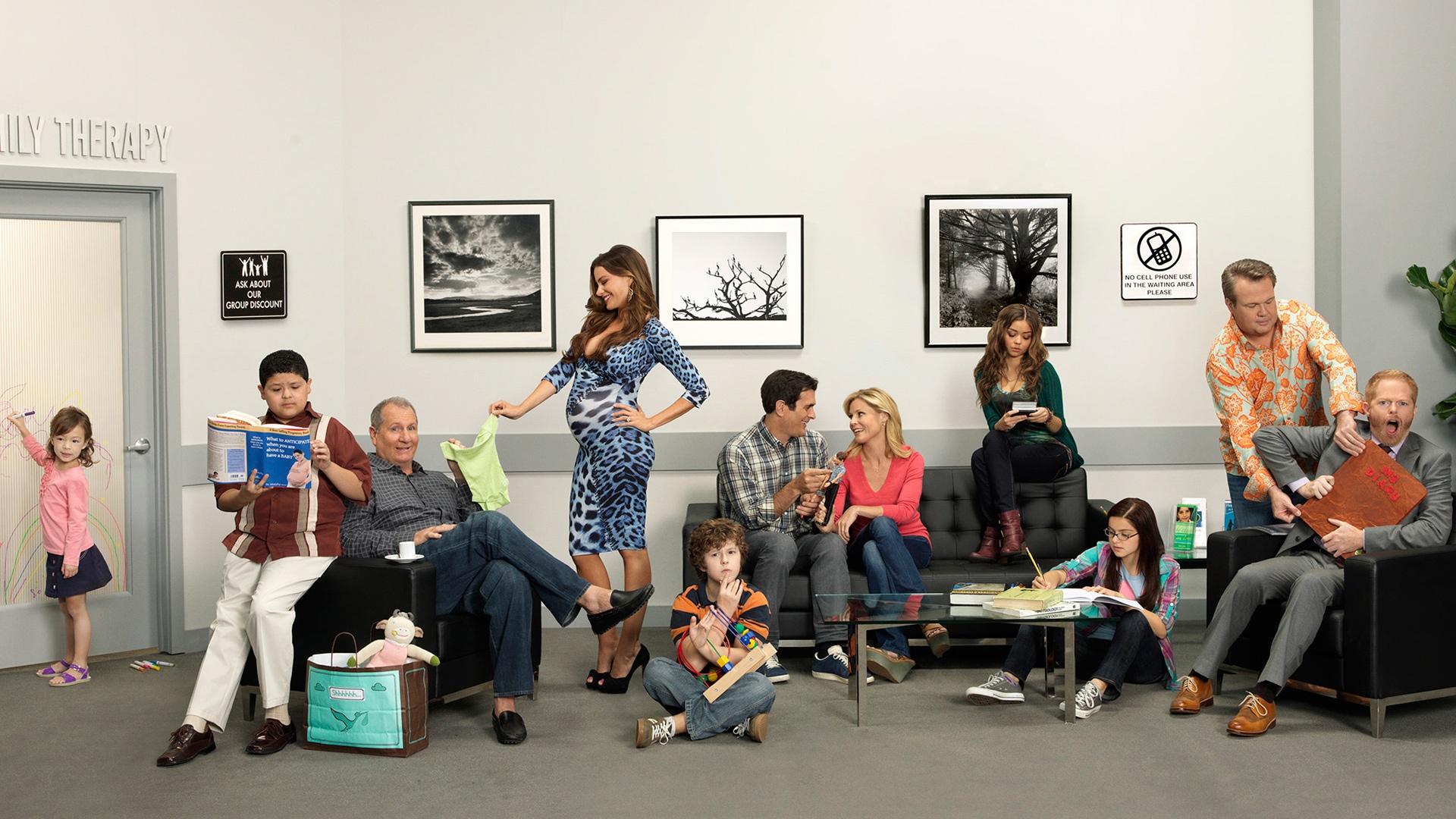 Modern Family is about one large family consisting of three sub-families that come together and intersect on a daily basis as they each attempt to manage the complexities of juggling the various aspects of having a work/life balance, raising children, and of course, family living.
Of all the shows on this list, Modern Family is my personal favorite. There is truly something for everyone here with a vastly diverse group of characters and personas, each with highlights that will surely make you laugh, and maybe even occasionally cry.
Every episode makes me laugh out loud and every character has great moments. Somehow, every episode manages to feel wholesome, relatable, and also hilarious. There were some plans for a spin-off with Cam and Mitchell, which I really hope happens someday as they are my favorite characters on the show, but if not, I am happy to re-watch all 250 episodes (+1 special) across 11 seasons again.
Starring: Ed O'Neill, Sofía Vergara, Julie Bowen, Ty Burrell, Jesse Tyler Ferguson, Eric Stonestreet, Sarah Hyland, Ariel Winter, Nolan Gould, Rico Rodriguez, Aubrey Anderson-Emmons, Jeremy Maguire, and Reid Ewing.
Streaming Service: Hulu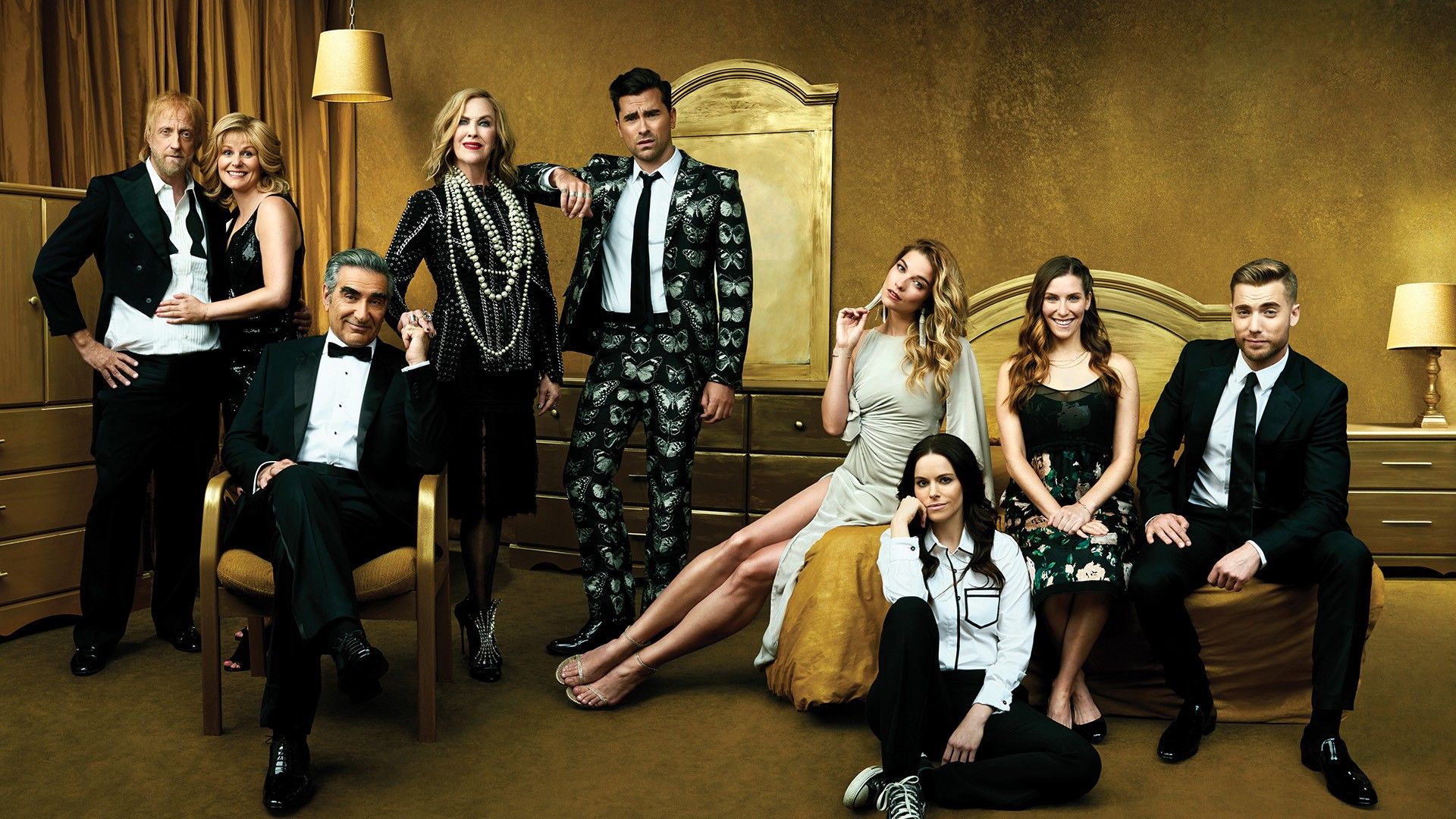 Schitt's Creek is another favorite of ours, and probably my second favorite show on this list. I know I said they were in "no particular order" but this was just the order they came to my mind. The show is about a formerly wealthy family that goes bankrupt and relocates to a small backwash town they had purchased as a joke. Now the family has to live out of a motel and adjust to small-town life while trying to scrape by.
The entire cast steals the show, which is a rare phenomenon to have in a series but rest assured, there is not one single character in Schitt's Creek that you won't enjoy. Each brings a certain level of charm and light-hearted snobbery that eventually blossoms into an open-minded and warm personality across the series that you will no doubt cherish.
Of course, you will have your favorites which will most likely be Emily Hampshire's Stevie Budd, Catherine O'Hara's Moira Rose, and Dan Levy's David Rose. The three of them will have you rolling with laughter with their unusual antics, especially Dan's David. He actually co-created the show with his real-life and on-screen father, Eugene Levy (Johnny Rose).
The series gained mainstream popularity when it arrived on Netflix, where it became a massive global hit. But as of October 3rd, the series has moved from Netflix to rival Hulu.
Starring: Eugene Levy, Catherine O'Hara, Daniel Levy, Annie Murphy, Jennifer Robertson, Emily Hampshire, Chris Elliott, Dustin Milligan, and Noah Reid.
Streaming Service: Hulu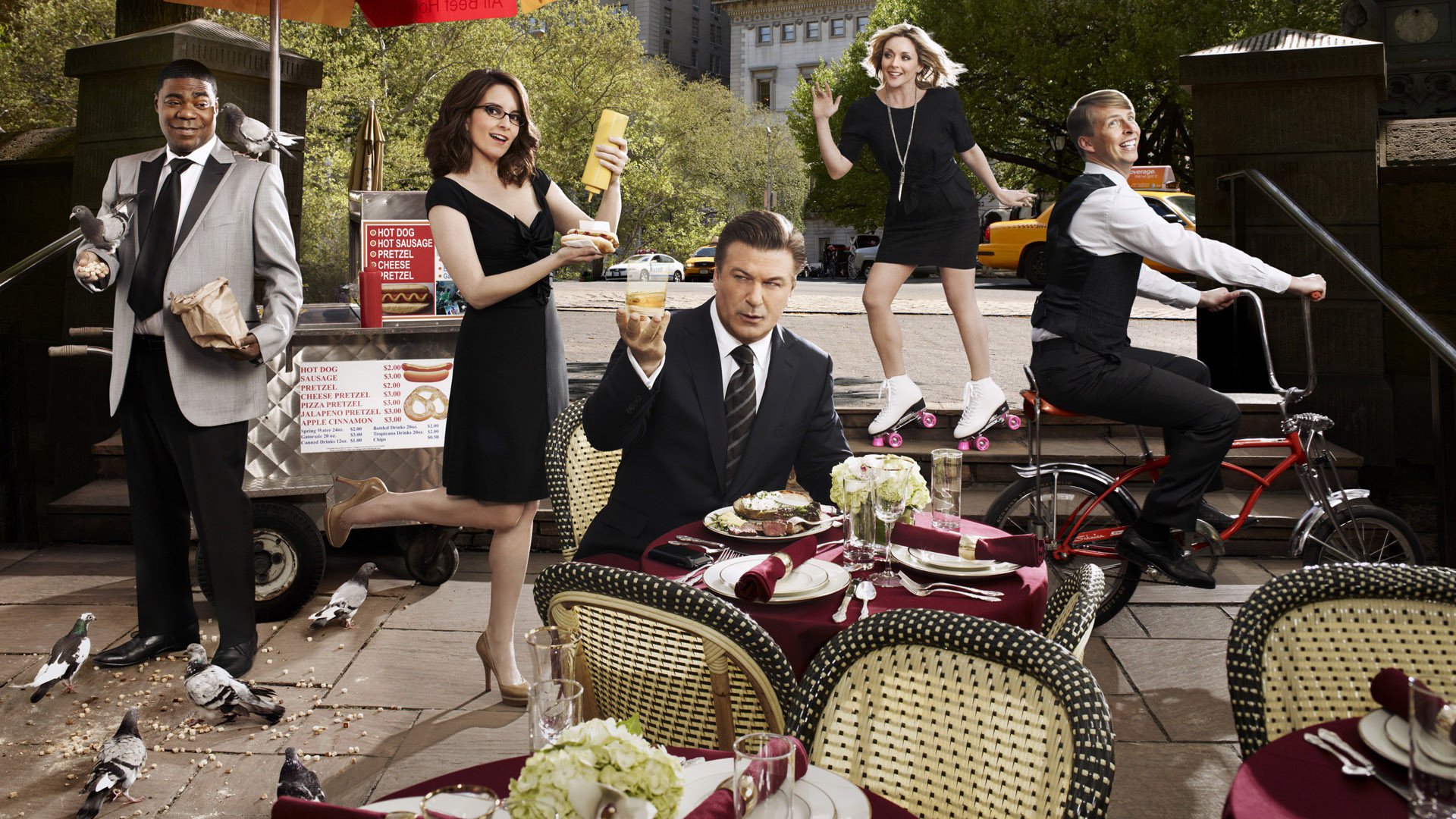 30 Rock follows the life of the head writer for a show on NBC and the unusual cast and crew of the network that constantly make her life vastly more complicated and difficult than it needs to be.
To be honest, it would be hard to find a "top ten" list involving comedy shows that did not include 30 Rock somewhere among the ten. With Tina Fey as the leading lady and Alec Baldwin stepping in as a strong support, these two steal the show when Tracy Morgan and Jane Krakowski's characters aren't on the brink of burning the television studio to the ground.
According to Tina Fey, who created the show, the series is based on her own personal experiences when she was the head writer for Saturday Night Live. This fun fact makes the show all the more hilarious when you consider that some of the episodic absurdities are based on something real.
Starring: Tina Fey, Tracy Morgan, Jane Krakowski, Jack McBrayer, Scott Adsit, Judah Friedlander, and Alec Baldwin.
Streaming Service: Hulu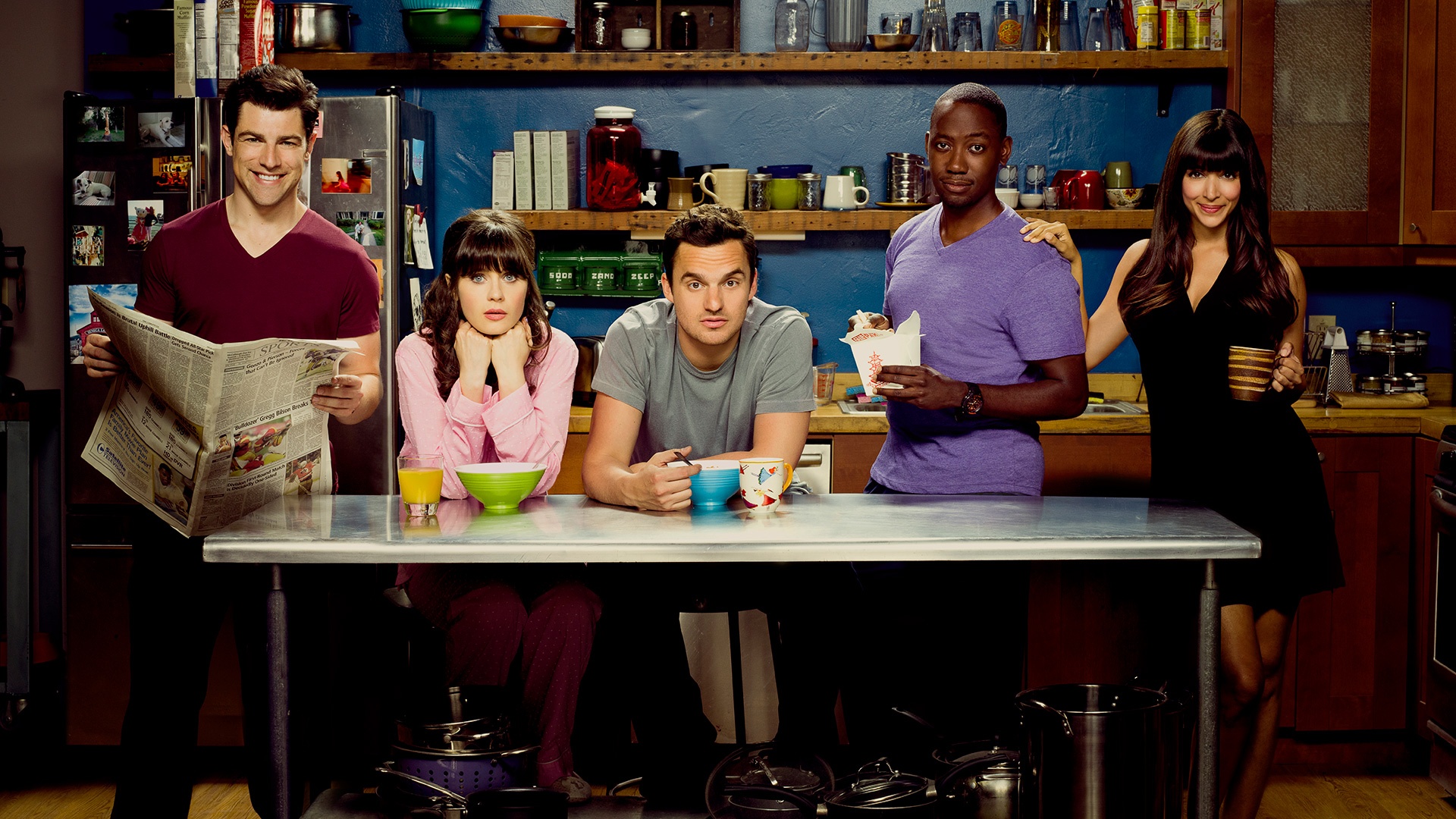 New Girl is about a young and naive schoolteacher who finds herself living in a downtown Los Angeles loft with a group of guys after walking in on her boyfriend being unfaithful. With nowhere else to go, she ends up living with three male roommates who all have a handful of unique personality quirks that serve the show with plenty of over-the-top humor.
Surprisingly, I have watched every episode of New Girl at least a dozen times and the only character I never really enjoyed was the New Girl herself. Zooey Deschanel's "manic pixie dream girl" felt so forced and disingenuous that I typically just skipped through her scenes or ignored them, which wasn't hard considering the rest of the cast steals the spotlight easily.
Weird that this show makes the list then, right? Not at all.
The rest of the cast, consisting of Jake Johnson's Nick Miller, Max Greenfield's Schmidt, Lamorne Morris's Winston Bishop, Hannah Simone's Cece, and occasionally Damon Wayans Jr.'s Coach all have enough quirky humor and plots of their own to keep the show entertaining. In fact, the best arcs were when Deschanel's Jessica Day was sequestered in jury duty, whereas Deschanel took time off from the show when she was pregnant.
Still, Nick Miller and Schmidt are the two characters that are the highlight of the show, along with Lamorne's Winston Bishop. These three chuckleheads get into their own shenanigans frequently and often and are worthy enough on their own to warrant a show all about them. In fact, I wrote a piece about that very possibility that would have featured these three during their college years.
New Girl is an excellent show with superb writing and wonderful characters. And even though I got tired of Jessica Day early on, I am easily in the minority for fans who also enjoy(ed) the show. Trust me when I tell you that you will find the series delightful and I suggest you ignore me whenever I have anything negative to say about Deschanel's portrayal. Because it ultimately doesn't matter nor does it bog down the show.
Starring:, Zooey Deschanel, Jake Johnson, Max Greenfield, Lamorne Morris, Hannah Simone, and Damon Wayans Jr.
Streaming Service: Netflix
What can we say about The Office that has not already been said? Since its debut in 2005, The Office has had a major cultural impact and set many of its cast on the fast track to superstardom, and for good reason.
I probably do not need to tell you what the show is about but just in case you haven't seen it, the Office is about the day-in and day-out of office life for a vibrant and interesting cast of characters working at the Dunder Mifflin Paper Company. Led by their neurotic and desperate-to-be-loved-by-all boss (Steve Carell), the characters in the show are all subjects of a documentary over the course of their tenure.
The show was the first mockumentary sitcom I had ever seen and is the best in its class. Despite Modern Family being my favorite sitcom of all time, The Office does the Mocumentary genre better in every way as they treat it like another cast in the show while Modern Family uses it as a plot device that often gets forgotten, overlooked, or occasionally doesn't make sense in how or why it is being used.
Most people I know would claim that The Office is either their favorite comedy show or at the very least, the best show on this list by a significant margin. Of all the shows on this list, The Office should be at your top to watch or re-watch but in the off chance that you haven't seen it, be warned that the first season is all about catching the footing. Season two and later take a slightly altered direction with some of the characters, especially Carell's Michael Scott.
With all the above said, I would be remiss not to point out that The Office is a US variant of the BBC show of the same name created by Ricky Gervais and Stephen Merchant. The BBC original stars Gervais as David Brent, that show's Michael Scott, and has a different tone and vibe to it but is still also worth a watch. Brent even crosses over into the US version of the show in a later season, looking to take over Michael Scott's job.
Starring: Steve Carell, Rainn Wilson, John Krasinski, Jenna Fischer, B. J. Novak, Melora Hardin, David Denman, Leslie David Baker, Brian Baumgartner, Kate Flannery, Angela Kinsey, Oscar Nunez, Phyllis Smith, Ed Helms, Mindy Kaling, Paul Lieberstein, Creed Bratton, Craig Robinson, Ellie Kemper, Zach Woods, Amy Ryan, James Spader, and Catherine Tate.
Streaming Service: Peacock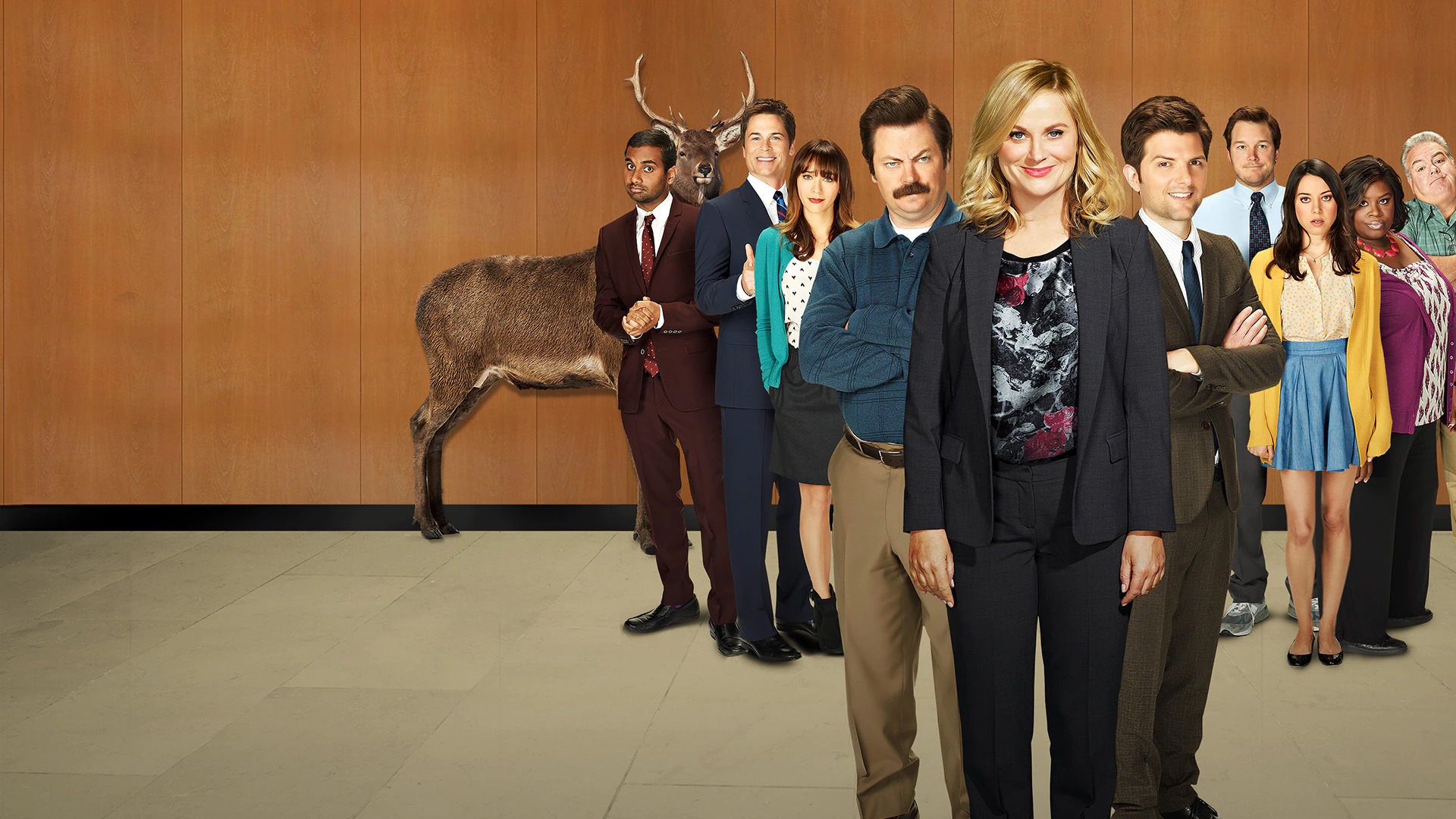 Parks and Recreation (Rec for short) is another show that lines up there with The Office that followed the Mockumentary style but with a lighter vibe. The show follows a bureaucrat in the Parks Department of the fictional Pawnee, IN. It features an ensemble cast filled with more bright characters that all deliver something interesting and quirky to the table while being light of heart and full of fun.
began in 2009 and ran for 125 episodes with a goofy cast that sort of emulated The Office's formula but steered away from it enough to stand on its own with plenty of charm and humor unique to itself. This was great because you could literally bounce back and forth between the two and not feel like you are watching a rip-off of one or the other.
Starring: Amy Poehler, Rashida Jones, Paul Schneider, Aziz Ansari, Nick Offerman, Aubrey Plaza, Chris Pratt, Adam Scott, and Rob Lowe.
Streaming Service: Peacock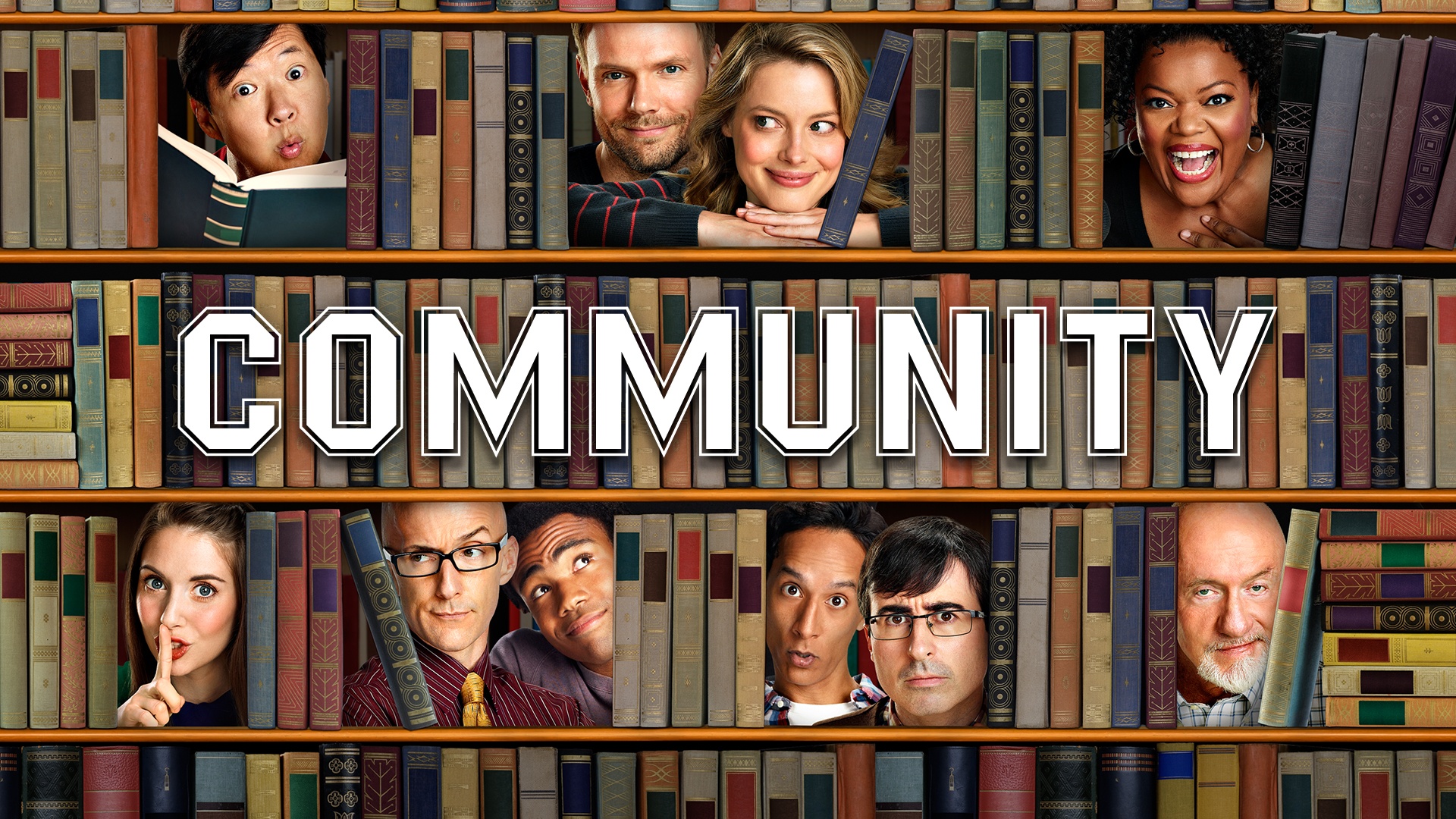 Another cult favorite, Community is one of those shows that you probably hear about on social media almost daily. Whether it be through quotes or memes, there really is no escaping it.
The show follows another ensemble cast as they try and get through community college together. The series takes place in the fictional town of Greendale, CO, and mostly follows Joel Mchale's Jeff Winger, a disbarred lawyer who is forced to go back to school after it is discovered he lied about having a bachelor's degree. Winger joins a handful of quirky and likable characters that all have their own quirks (a common theme among this list) that often gets them into hijinks, much to Winger's dismay. Eventually, the standout cast favorites get more attention over Winger, such as Danny Pudi's Abed Nadir and Donald Glover's Troy Barnes.
The series ran for six seasons, the first five of which were on NBC with the final season ending up on Yahoo! Screen. Never watched that season myself but most of the episodes were stellar but there were some duds in a few seasons, especially when certain characters left the show after the actors walked away from it.
Regardless, Community has a lot of fun across its 110 episodes, especially in the first few seasons where things reach their high point.
Starring: Joel McHale, Gillian Jacobs, Danny Pudi, Yvette Nicole Brown, Alison Brie, Donald Glover, Ken Jeong, Chevy Chase, and Jim Rash.
Streaming Service: Netflix | Hulu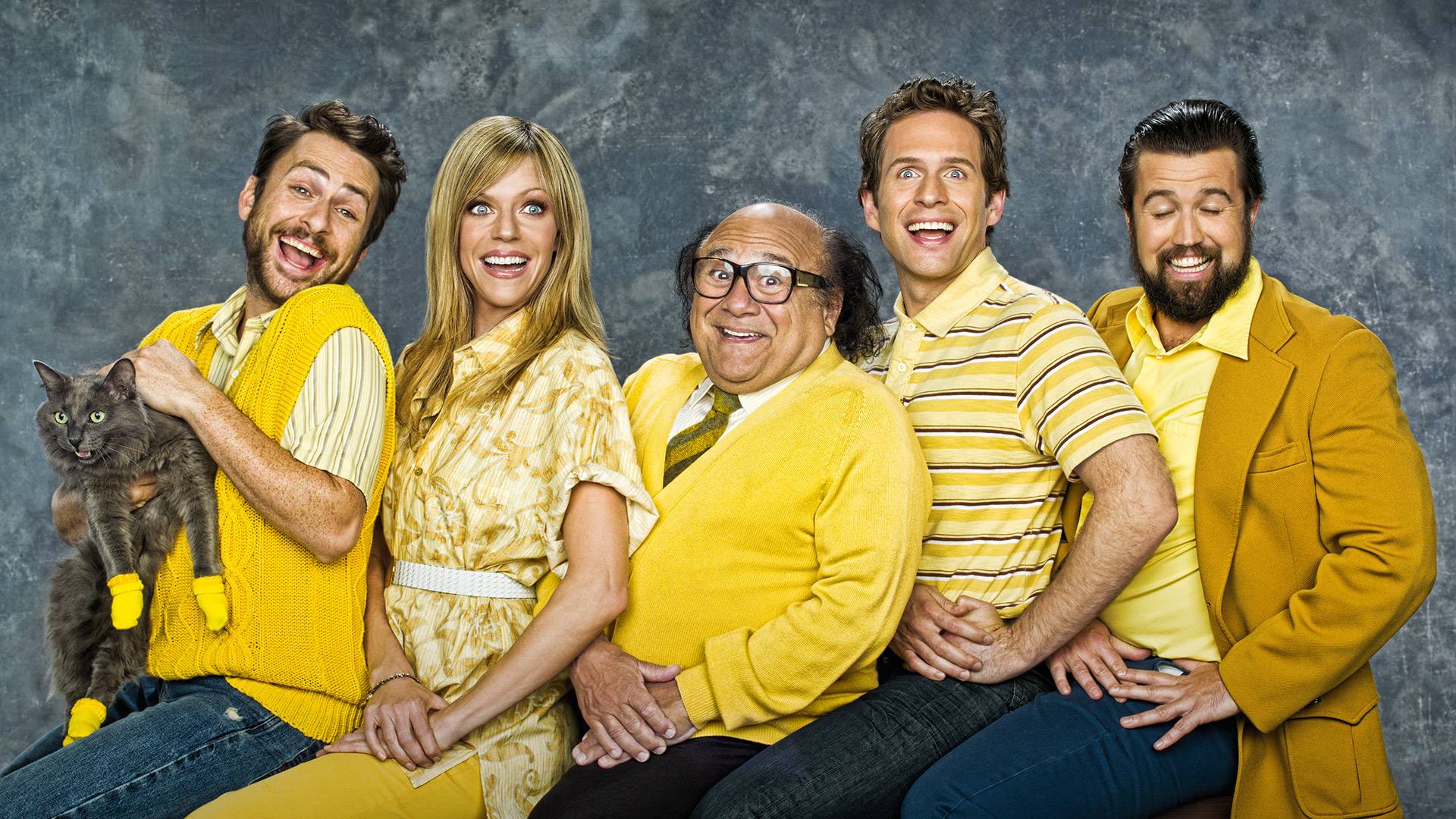 There is no list of great TV shows out there that can possibly exist without including It's Always Sunny. If you ever see one, don't trust it.
This is one series that stands out among all others as it doesn't consist of feel-good moments or life lessons you should adhere to- unless the lesson is to avoid doing what the characters of IASIP do at all costs.
The show centers around a group of five individuals who all have some sort of stake or interest in Paddy's Pub, a local dive that seems to never make any money. The group constantly gets into schemes in an attempt to achieve fame or attain fortune, while ruining the lives of everyone around them. There is arguing, fighting, singing, and lots of shouting over each other.
While we love It's Always Sunny with an unbridled passion, some of us have a hard time binging it because the characters are just so awful to one another that we need to step away to find something to cheer us up. Still, the show is brilliant even after 15 seasons and more than 160 episodes with no clear signs of stopping.
Fun Fact: The pilot episode was created by stars Rob McElhenney, Glenn Howerton, and Charlie Day from a camcorder with a budget of less than a hundred dollars (though the actual dollar amount has been disputed to be closer to but less than five hundred dollars).
Starring: Charlie Day, Glenn Howerton, Rob McElhenney, Kaitlin Olson, and Danny DeVito.
Streaming Service: Netflix | Hulu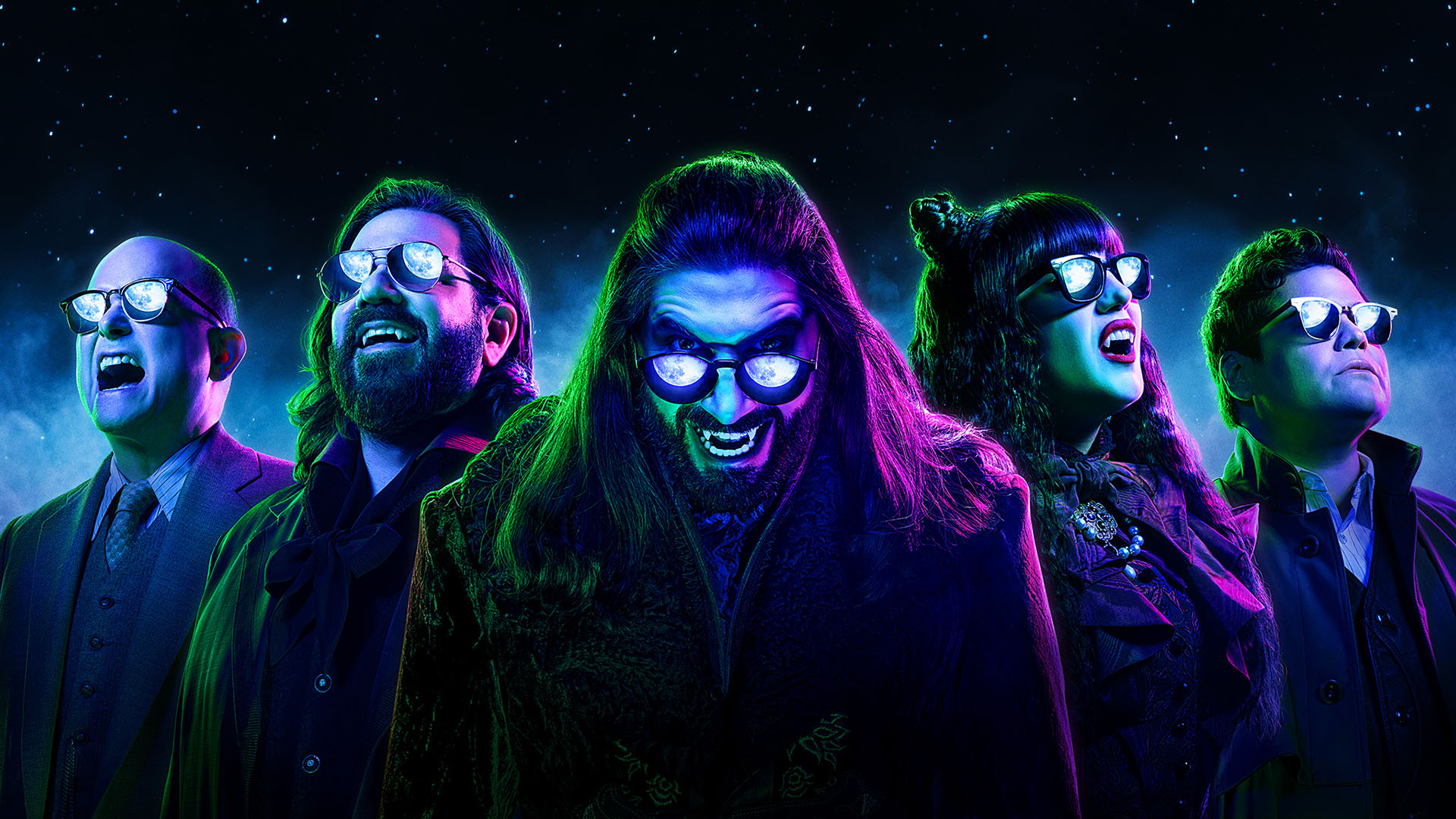 Another series that has perfected the Mockumentary style format, What We Do In The Shadows takes the genre in a completely new and fun direction by adding a horror/black comedy format. The show is a sequel to a New Zealand mockumentary film of the same name written, directed, and produced by Taika Waititi and Jemaine Clement that follows a group of vampires living together in the capital city of New Zealand.
Unlike the film, the series follows a different group of vampires in Staten Island but features appearances by the cast of the film as guest stars. The show's focus is on their daily lives in the modern era after having been together for hundreds of years. But as they have grown accustomed to modern living, they are reminded of why they arrived in New York City in the first place by their leader and dark lord.
If you have seen any BBC shows or anything involving Waititi's work, then you will be familiar with many of the leading cast and guest stars.
The show has been met with critical acclaim and has been nominated for nearly two dozen Emmy Awards. The humor of mockumentaries is something you will undoubtedly have to appreciate in order to enjoy a handful of the shows on this list but just know that WWDITS takes it to a whole other level. You know, because, vampires.
Starring: Kayvan Novak, Matt Berry, Natasia Demetriou, Harvey Guillén, and Mark Proksch.
Streaming Service: Hulu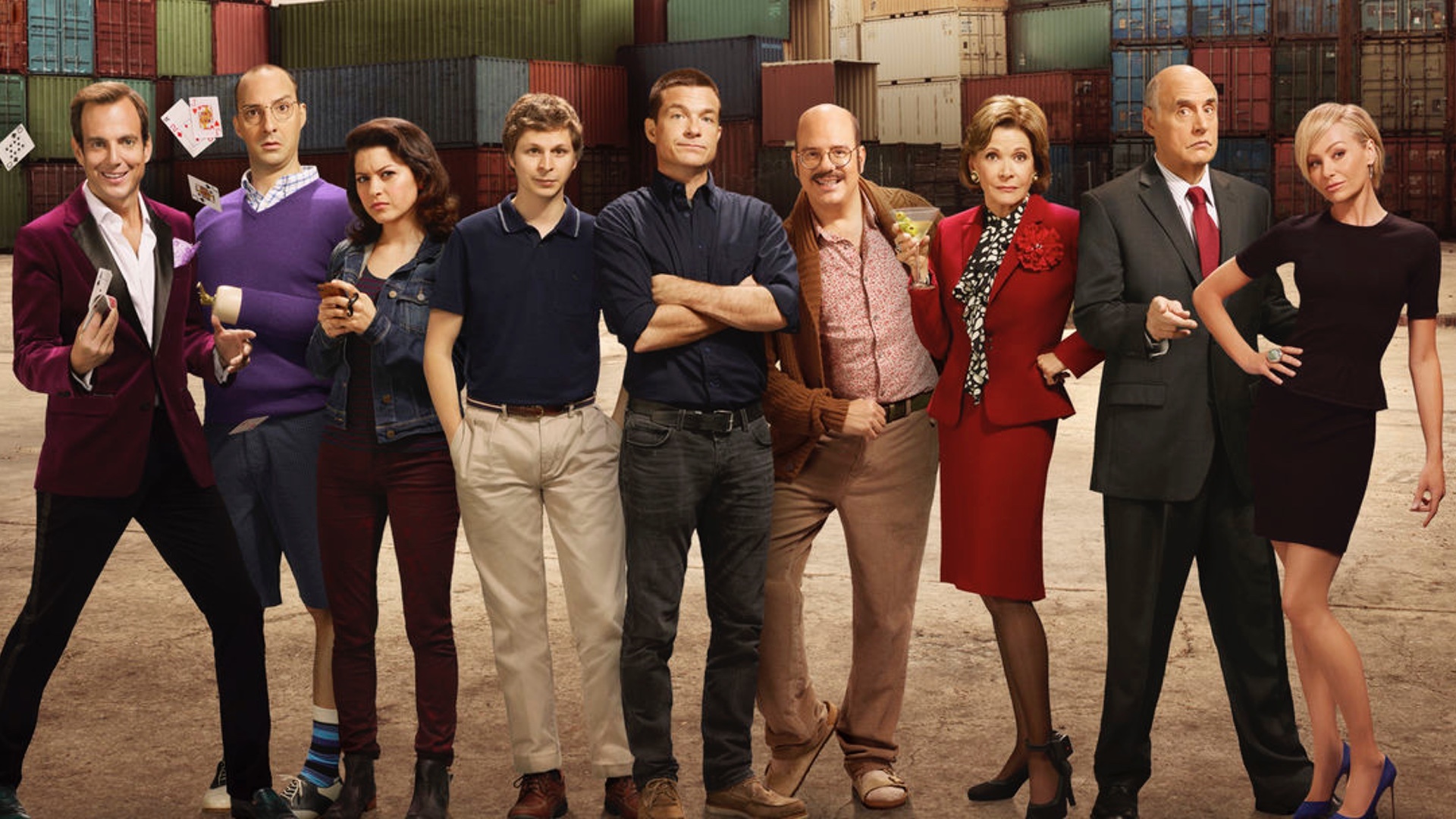 The oldest show on this list, Arrested Development is known the world over as being one of the best comedies to date. The series first aired on Fox for its first three seasons and then arrived on Netflix with two more seasons. Unlike many of the other shows that follow a mockumentary style, Arrested Development is utilizes voice-over narration, handheld camera work, historical footage, and more in it's serialized format.
The series follows the dysfunctional Bluth family who loses everything and is forced to live a very different lifestyle while their assets are frozen after the head of the family is incarcerated. Jason Bateman leads the cast as Michael Bluth, the responsible son who is trying to hold the family together despite their many desperate attempts to only watch out for themselves.
While the show received critical acclaim and has achieved significant cult status and followings, it was initially canceled after its third season on Fox due to not having a strong enough audience. Netflix later picked it up and provided two more seasons (which are exclusive to Netflix) but some felt the magic was lost when it went that route.
Personally, we loved all the seasons and will always cherish this series as one of the best there is. Any voice stating otherwise is a voice to be ignored.
Starring: Jason Bateman, Portia de Rossi, Will Arnett, Michael Cera, Alia Shawkat, Tony Hale, David Cross, Jeffrey Tambor, and Jessica Walter.
Streaming Service: Netflix | Hulu
If you made it to the bottom of this list, we commend you. Chances are, you have seen some of these already or have it on your watchlist but regardless, these shows will easily withstand the tests of time and retain their magic for generations to come. And if there is a show you love just as much or more that you would have liked to have seen on this list, do not fret. This is simply a list of our favorites as it would be impossible to include every noteworthy show.