One Punch Man, the popular manga-turned-anime has had its fair share of games over the last couple of years. None of which were any good, largely due in part to atrocious balancing and weak gameplay elements but apparently One Punch Man World aims to step things up a bit as an "Action Game" with moderately free open-world exploration elements and a 4D battle arena.
Before you get excited about the possibility here, just know that this is a free-to-play gacha game that relies heavily on microtransactions and in-game currencies. Not much more is known about it since the gameplay shows only a little and the websites (yes, plural) are a bit broken and missing important information. Not exactly something that makes me want to "pre-register" and give the developer my information. CrunchyRoll should know better.
Let's take a look at the gameplay trailer and try to make some sense of all this, shall we?
Official Description via Google Play Store: "It's your turn to become a hero for fun in this highly-anticipated, action-packed, and immersive game set in the world of the hit anime series, One Punch Man – ONE PUNCH MAN: WORLD. Follow the journey of Saitama, a Hero for Fun. Play the game, play the anime. Defeat the Subterranean King, Mosquito Girl, Beast King, and many other familiar bosses from the series."
As you can see in the gameplay, the craftsmanship here is a little shoddy. The movement of the characters is stiff, the gameplay looks sluggish and honestly, ham-fisted at best; something that seems to be plaguing manga/anime franchises that get a video game of the same name. Still, the devs found a clever way to deal with Saitama being too overpowered. Apparently, when you play as Saitama, you are in a "Dreamworld" where his opponents can survive his attacks.
The other characters that seem to be playable are Genos, Golden Ball, Atomic Samurai, Speed-o'-Sound Sonic, Smile Man, and Lightning Max, though we assume more may follow if the game does well enough.
Note: There is a OnePunchManWorld.com which is super difficult to navigate and has very little information about the game, including a list of pre-register benefits that are nothing more than a bunch of icons for in-game currency that aren't explained, and a characters page that just shows what appears to be beta footage of each character attacking the same enemy on a loop. It doesn't even explain any of the characters' bios. Presumably, this is a staging website that hasn't been fully updated but for why it's public, we have no idea.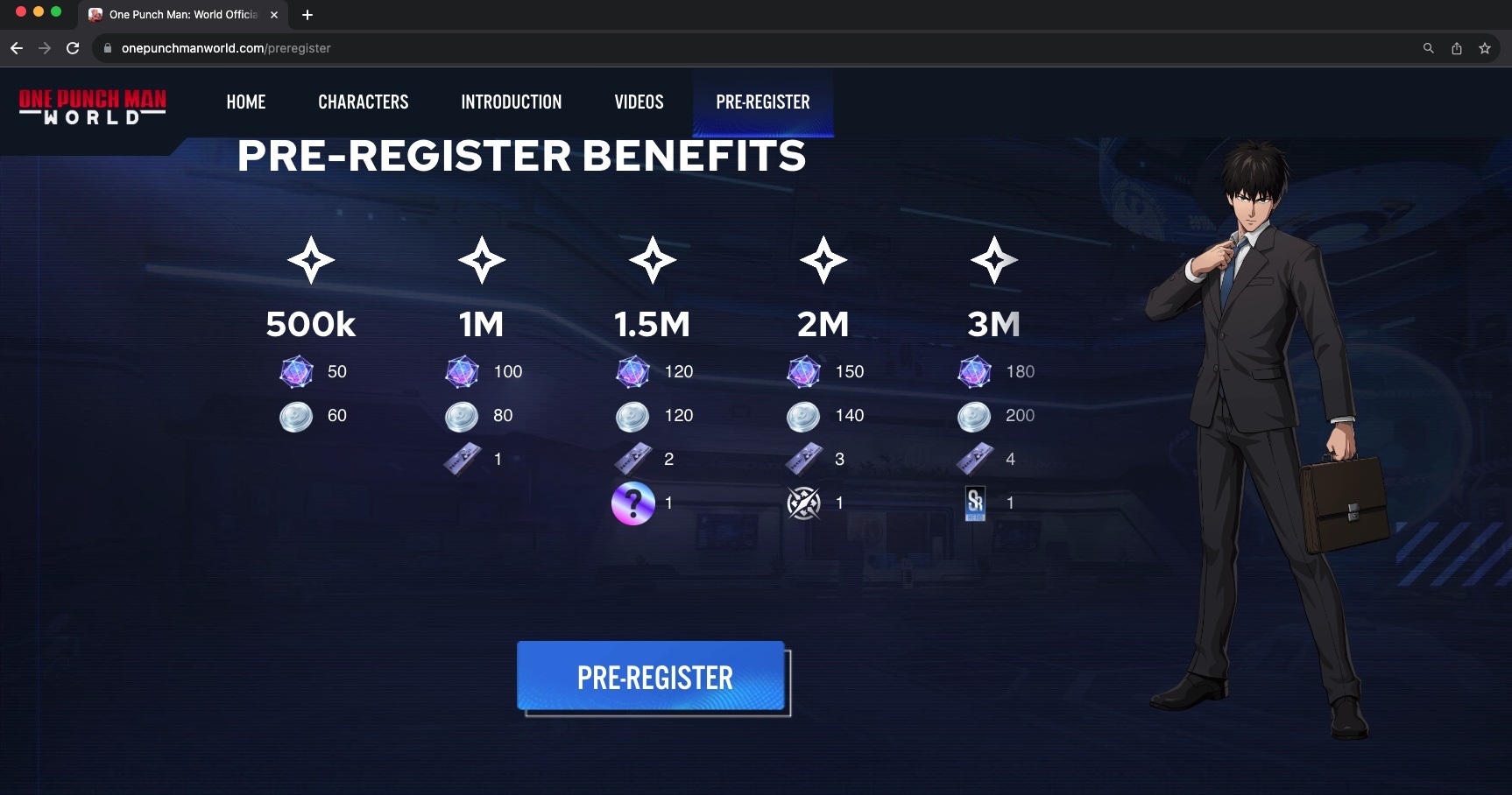 The other site, which has a little more details going on for it, is opmw.perfectworld.com which has got to be the backup website they were designing at one point with all of this and more pushing over to onepunchmanworld.com – but most of the links on opmw.perfectworld.com redirect you back to the other site so… okay?
Look, I don't want to knock the web developer but if you are trying to suck players in and get them addicted to gacha mechanics and gambling, maybe have a functioning website before asking for players to join your open beta and register for god knows what.
In any case, you don't have to get too lost on one or both of the One Punch Man World websites to know its probably best to sit this one out. Maybe then, the powers that be will bless us with a OPM game that actually looks and plays halfway decently.