Get ready to set sail on a unique Thanksgiving adventure as Monkey D. Luffy, the beloved pirate from the global anime phenomenon One Piece, makes his grand debut in the 97th Macy's Thanksgiving Day Parade!
This Thanksgiving, on November 23, 2023, fans of this iconic anime character can witness Monkey D. Luffy as one of the featured character balloons in the world-famous parade. With his signature grin and boundless energy, Monkey D. Luffy promises to entertain millions of spectators as he floats above the streets of New York City.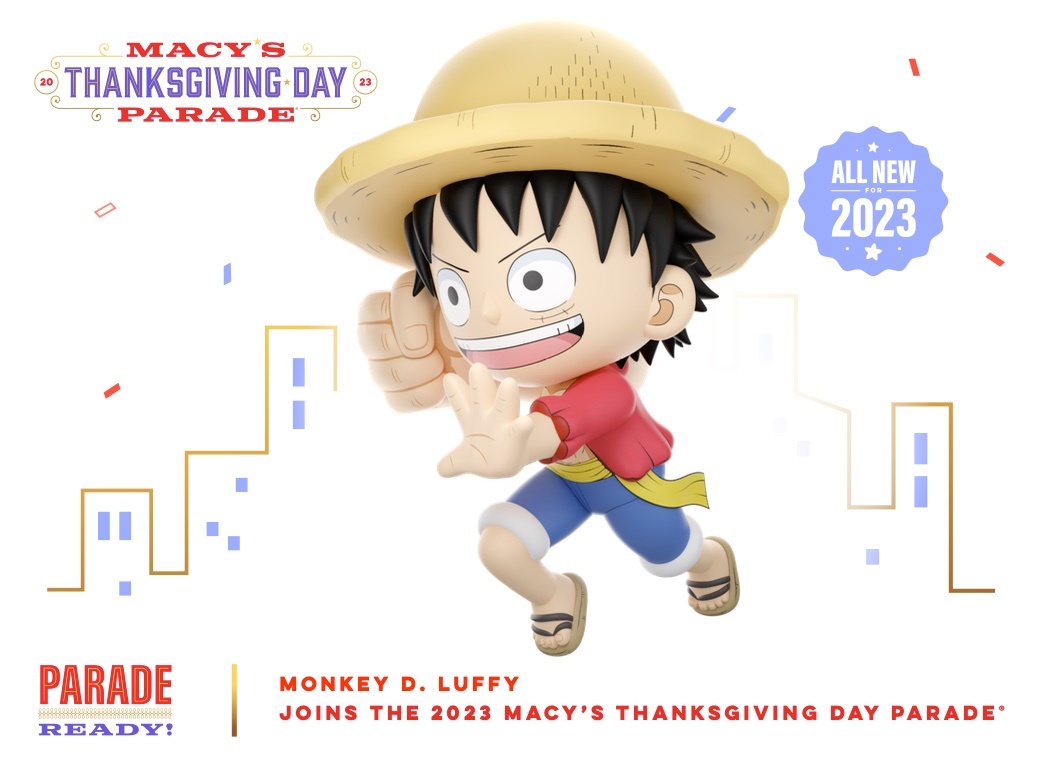 Measuring an astonishing 43-feet long, 39-feet wide, and 50-feet tall, Monkey D. Luffy's character balloon will be impossible to miss as it makes its inaugural flight from Central Park West to the legendary Herald Square, home to Macy's flagship store. Along the way, he'll be accompanied by his pirate crew, who will march alongside him, becoming honorary Straw Hats for the day. Expect cheers from millions of spectators lining the parade route and the millions more watching from the comfort of their homes.
Toei Animation CEO, Masayuki Endo, expressed his excitement about One Piece joining the Macy's Thanksgiving Day Parade, emphasizing the franchise's growing popularity in the U.S. and worldwide. As the top-selling manga title of all time, One Piece has captured the hearts of fans for over two decades and continues to thrive across various forms of media.
Produced by Toei Animation and based on Eiichiro Oda's best-selling manga, One Piece tells the epic tale of Monkey D. Luffy and his Straw Hat crew on their quest to find the legendary treasure, "One Piece." Since its Japanese TV debut in October 1999, the franchise has expanded to include 15 feature films, video games, home videos, and an ever-expanding catalog of merchandise.
To commemorate this exciting announcement, Toei Animation will display an exclusive 3D scale model of the Monkey D. Luffy character balloon at the upcoming New York Comic Con. Fans can visit Toei Animation's One Piece Booth (#2821) to catch a glimpse of this stunning exhibit.
Fans eager to join in on the excitement leading up to the Parade day can follow Toei Animation on social media using the hashtag #ThanksLuffy for the latest news and information.
The 97th Macy's Thanksgiving Day Parade will be broadcast nationwide in the U.S. on NBC and streamed on Peacock on Thursday, November 23, 2023, from 9 a.m. to noon across all time zones. For additional information, visit macys.com/parade. Follow @macys on various social platforms and use #MacysParade to stay connected and participate in the celebration.
____
As Thanksgiving approaches, make sure to mark your calendar for this thrilling addition to the Macy's Thanksgiving Day Parade. Monkey D. Luffy's sky-high adventure promises to be a highlight of the event, bringing joy and excitement to fans of all ages. Don't miss this unique opportunity to celebrate Thanksgiving with your favorite anime pirate soaring above the streets of New York City