Pokemon Scarlet and Pokemon Violet are promising a whole lot that has fans excited for the next generation of Pokemon games. Perhaps the most notable piece of it is that these two games boast of being the first truly open-world Pokemon games. And while we wait to see exactly what that will look and eventually feel like when we get the games in our hands on its November 18th release date, we eagerly wait to see what else is new including a handful of never-before-seen Pokemon.
The latest trailer, 'Seek Your Treasure', has introduced us to a variety of new Pokemon but the two being most talked about are Armarouge and Ceruledge, two bipedal Pokemon that look like Mega Man Battle Network skins. And after carefully looking for more information, we have gathered a bunch of useful data on these two awesome-looking Pocket Monsters.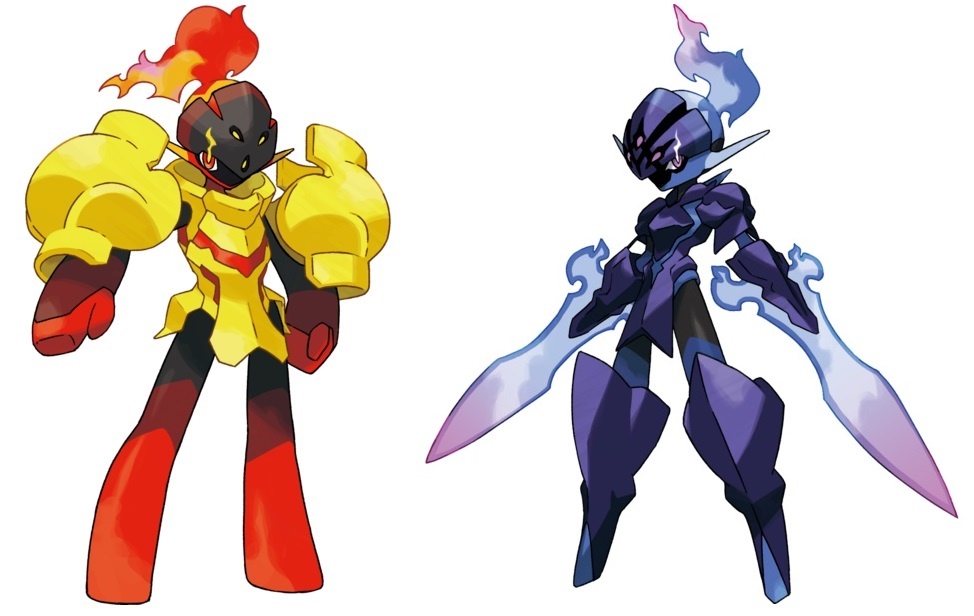 These two new Pokemon are without a doubt some of the cooler-looking ones we have seen for Gen IX and will certainly sway your decision on whether your purchase Scarlet or Violet as these two are individually exclusive to each. And while they appear to be on the level of Legendary in their design, that doesn't yet appear to be the case for either. Whether or not you can catch more than one in each game is also not currently known but let's focus on what we do know, courtesy of Pokemon.com:
Ceruledge, the Fire Blades Pokemon, is a dual Fire/Ghost-type that weighs just over 136 lbs with a height of 5'3″, is a Pokemon Violet exclusive. Ceruledge knows the ability Flash Fire.
Its Flaming Great Swords Absorb Life Energy
Ceruledge dons an old set of armor steeped in grudges and wields blades made of fire and ghost energy. In battle, these blades transform into great swords to increase Ceruledge's power. Cuts from these great swords leave wounds from which life energy will flow.
Willing to Do Anything to Win
Ceruledge prefers close-quarters combat and isn't above using tactics such as sneak attacks and surprise attacks to win a battle. It uses its quick movements to capitalize on its opponent's blind spots, then closes the distance to slash its opponent with its large blades.
A Move Ceruledge Can Learn: Bitter Blade
Bitter Blade is a Fire-type physical move that gathers the lingering regrets of the fallen into Ceruledge's swords, allowing it to focus that bitterness into a slashing attack.
The swords then absorb life energy from wounds they made, and the user's HP is restored by up to half the damage taken by the target.
Amrarouge, the Fire Warrior Pokemon, a dual Fire/Psychic-type that weighs just over 187 lbs with a height of 4'11", is a Pokemon Scarlet exclusive. Armarouge knows the ability Flash Fire.
Its Armor Is the Source of Its Psychic Power
Armarouge's set of armor belonged to a distinguished warrior, and is the source of the energy used for its Psychic-type moves. It also uses the psychic capabilities of this armor to control the fire energy within its body and unleash attacks.
It Lives by the Principles of a Fair Fight
Armarouge believes in a fair fight and will challenge an opponent head-on no matter how much stronger that opponent is. It specializes in using its sturdy armor to bolster its defenses and take down enemies with its high firepower.
A Move Armarouge Can Learn: Armor Cannon
Armor Cannon is a Fire-type special move in which Armarouge moves both its pauldrons to its hands and puts its arms together to form a cannon, allowing it to shoot its own armor out as blazing projectiles.
This is one of the more powerful moves that Armarouge can learn, but it lowers Armorouge's Defense and Sp. Defense stats in exchange for that power.
There is so much left to discover in the upcoming Gen 9 games and to be honest, we are torn on which version to buy now after seeing these two awesome bipedal warriors in action. Hopefully, we can catch more than one because we can see trading as an absolute necessity to get these two on our team when we once again face the Elite Four and challenge the region's league champion.
Pokemon Scarlet and Pokemon Violet release on November 18th exclusively for the Nintendo Switch.