If you are unfamiliar with Marvel Zombies, then you are about to be. Earlier today Marvel Studios announced that the undead Marvel heroes are getting their own original series coming soon to Disney+ along with a handful of other shows as part of the #DisneyPlusDay campaign event.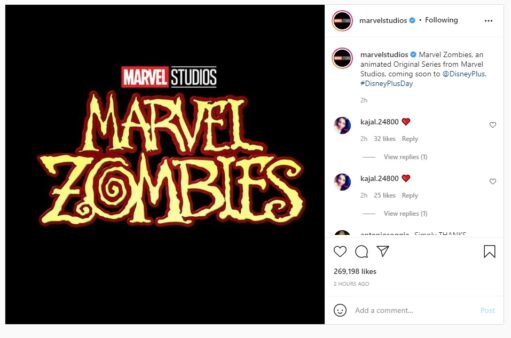 Based on the comic book by Robert Kirkman of The Walking Dead fame, the original story involves a zombified Sentry being sent from his home universe of Earth-Z (Earth-91126) to Earth-2149 where the undead hero infects everyone with the "Hunger Plague", a zombie virus that had already spread across 91126. With the Watcher's mysterious involvement in spreading the plague, he eventually steps in to create a time loop that locks the virus into Earth-91126 and Earth-2149 to keep it contained and unable to spread to other universes such as the main comic universe of Earth-616.
Marvel Zombies also saw some pretty radical crossovers such as Ash Williams joining up in Marvel Zombies vs Army of Darkness story arc. In this comic run, Ash G. Williams is seen as already existing in the Marvel world as a store clerk and is killed before his Evil Dead counterpart, Ashley J. Williams shows up through a portal of sorts and offers to help out, believing the zombies to be of deadite-related origins. Ash J. also proposes that the Necronomicon could possibly be the source of staving off the virus.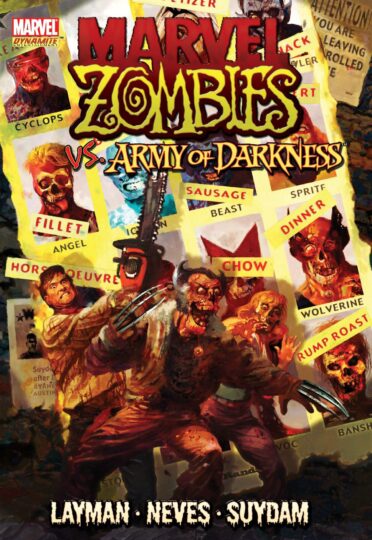 We have already seen Marvel Zombies in action in the dedicated episode of What If… titled "What If… Zombies?!" where the virus comes from the Quantum Realm and is spread through Janet van Dyne. The full premise is below but feel free to skip it if you haven't seen it yet.
In the Quantum Realm, Hank Pym finds Janet van Dyne, but she infects him with a quantum virus. They return to Earth and cause a zombie apocalypse. Two weeks later, a group of survivors—Bruce Banner, Hope van Dyne, Peter Parker, Bucky Barnes, Okoye, Sharon Carter, Happy Hogan, and Kurt—learn there is a potential cure at Camp Lehigh.
They lose Hogan, Carter, and Hope to zombie attacks on the way there, where they meet Vision. His Mind Stone can reverse the virus, exemplified by a cured Scott Lang's head kept alive in a jar, but an infected Wanda Maximoff is immune to the cure and Vision has been feeding pieces of T'Challa to her. Maximoff breaks free and kills Kurt, Okoye, and Barnes.
Vision commits suicide to give the Mind Stone to Parker. Banner transforms into the Hulk and sacrifices himself to battle Maximoff, allowing the others to escape. To broadcast the Stone's energy across the world, Parker, Lang, and T'Challa go to Wakanda, where a zombified Thanos wields a nearly-complete Infinity Gauntlet.
No word just yet on when exactly we are going to get the series but it seems like Marvel Zombies is a drop in the proverbial bucket, as it were, as Marvel Studios announced Secret Invasion, Agatha: House of Harkness, Ironheart, I am Groot, Spider-Man: Freshman Year, Echo, What If…? season 2, Ms Marvel, She-Hulk, and Moon Knight all coming to Disney+.