The Kingsman returns!
[dropcap size=small]T[/dropcap]he film adaptation of Mark Millar and Dave Gibbon's graphic novel Kingsman: The Secret Service was the unexpected hit of 2014, raking in an impressive $400 million worldwide. It's not surprising that the studio decided to start putting together a follow-up caper to the successful spy action comedy.
The sequel has been given the go ahead, and is currently beginning the first stages of developement, with the aim of being released June 16, 2017.
Kingsman revolves around a spy organisation that recruits a street kid, Garry 'Eggy' Ewin (played by Taron Egerton), who joins the intense training program, and becomes the protege of Harry Hart.
Hart was played by Colin Firth, and it needs to be said that he was a total badass in the movie.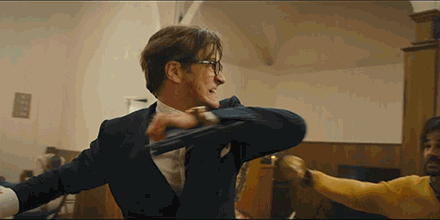 Just as Eggy joins the program, a crazy tech genius threatens the globe, and he's sucked into the unfolding events nose deep. Isn't that just always the way?
The first film was certainly a refreshing, slick, spy movie, with a great sense of humour to boot. It's great to see that it'll be returning for another instalment.
Writer and director Matthew Vaughn took the helm of the first film, and it seems he has expressed an interest in returning for the sequel project.
We don't know much about who will be returning cast-wise, or what the story of the sequel may entail, but it'll be interesting to see where they take the film after the events of the first.
See it in theatres everywhere June 16, 2017.