Over the last few weeks, we reported that an early leak detailing a collaboration between Dragon Ball and Fortnite was on the way. Now, the same sources tell us that far more details have arrived regarding locations, events, skins, and so, so much more. Let's dive in.
SKINS
As of right now, the leaks are saying that Goku, Vegeta, and the God of Destruction, Beerus are three of four supposed skins coming. The fourth possible skin is likely to be a female but who that could be, remains unclear. Furthermore, these four skins are simply the ones that we know about and more could certainly be on the way in either another event or just popping up in the item shop.
Fortnite are working on a purple skin codenamed "Cat" for the Dragon Ball collab. It's most likely Beerus 🔥 (Thanks @InTheShadeYT the for pointing this out) pic.twitter.com/RbN6WybYkE

— HYPEX (@HYPEX) July 18, 2022
Goku, Vegeta & Beerus are confirmed as skins in the Fortnite x Dragon Ball collab. The 4th skin is most likely a female, any guesses on who it could be? (via @MidaRado) pic.twitter.com/k0LDayeWOc

— HYPEX (@HYPEX) July 18, 2022
CONFIRMED: These are 3 of the 4 upcoming Dragon Ball skins!

– Goku
– Vegeta
– Beerus

(Thanks to @MidaRado for confirming this!) pic.twitter.com/UvhNMkdsYM

— Shiina (@ShiinaBR) July 18, 2022
Regarding the look of these skins- we just don't know. With all the leaks coming out about the Dragon Ball x Fortnite event, we are really surprised that we haven't gotten a look at them yet especially since the event is supposed to arrive early next month before the upcoming Super Hero premier.
If we look at other anime-related skins in the game, such as Naruto, Orin, Yuki, etc., it is safe to assume that these Dragon Ball skins will share the same cel-shaded art style.
New Map Locations
According to the sources of the leaks, Master Roshi's Kame House and the island will likely make an appearance of some kind and be featured in the alleged questlines that have been discovered in the game's files. Apparently this will be where the event begins.
Who knows what else they teased on the map.. pic.twitter.com/MADcmW0Sr4

— HYPEX (@itsRealHYPEX) July 19, 2022
Kame House is clearly being teased here as fans of the manga and anime will have immediately noticed the uncanny resemblance to the location near the foundation statue. According to HYPEX, this is where the event collaboration will start within the next couple of weeks. He goes on to add that this location will first appear to have an umbrella and a chair (presumably Master Roshi's) to kick off the Dragon Ball event. This small island will then likely begin to transform and take shape into Kame House itself.
Fortnite x Dragon Ball START DATE 🔥

The house near the foundation statue has been a teaser for the collab this whole time and it's where the collab will start. It's set to start in the next 1-2 weeks with an umbrella & chair appearing near this house & maybe challenges too! pic.twitter.com/mQsUhJwMcq

— HYPEX (@HYPEX) July 19, 2022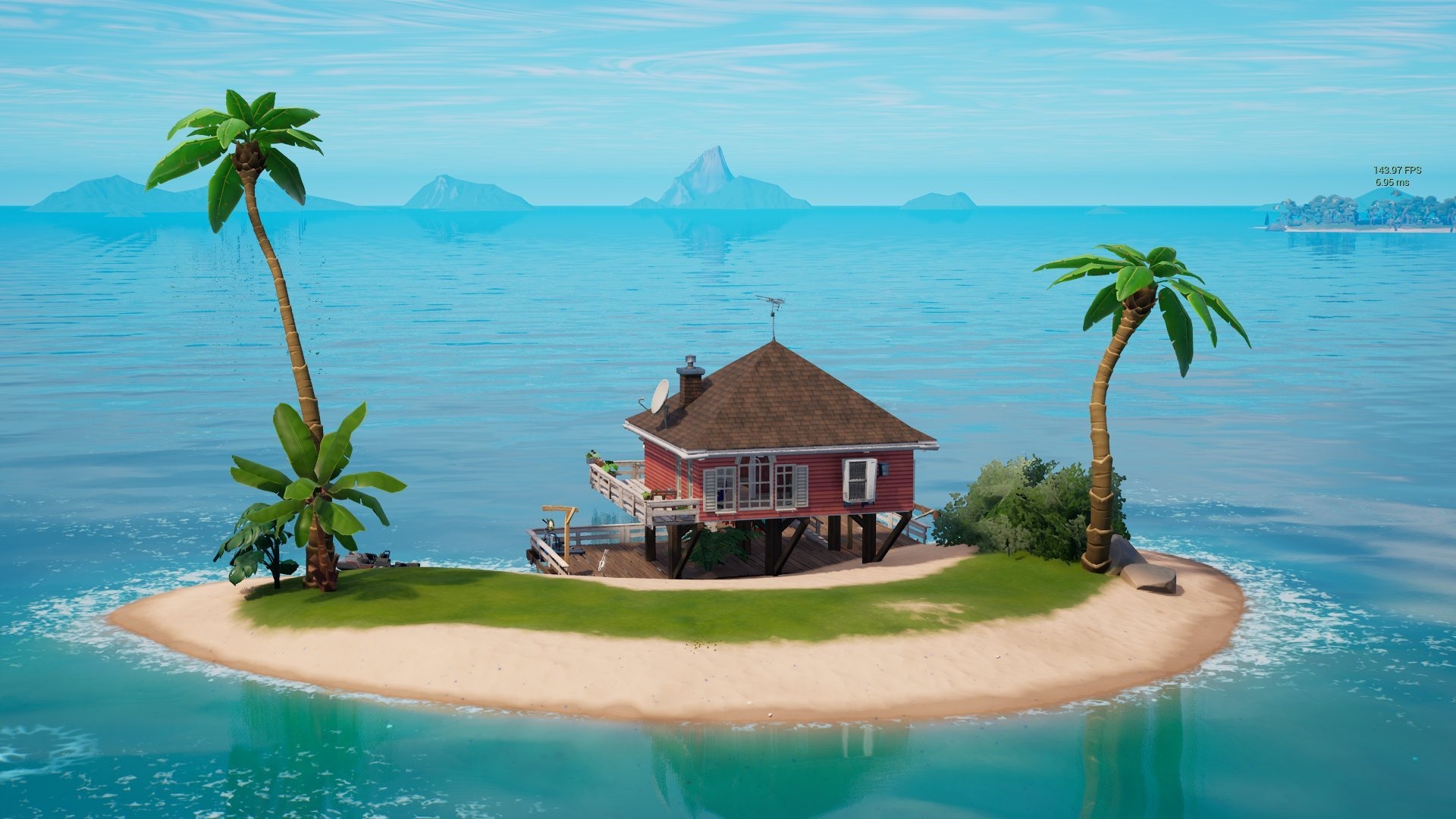 Super Saiyan Emote
Just as we assumed was the case, Goku and Vegeta will both be able to transform into a Super Saiyan through an exclusive emote tied to each character. A handful of other characters already have exclusive emotes like Tony Stark when he calls upon the Ironman armor or the MCU Spider-Man skins that put on the mask through their own exclusive emotes. No telling whether Beerus will have something similar or if the fourth unknown skin will as well.
The Fortnite x Dragon Ball collab will have an emote for Goku & Vegeta to transform into the Super Saiyan style 🔥👀 (via @MidaRado) pic.twitter.com/WXWJWLWTnd

— HYPEX (@HYPEX) July 19, 2022
New Mythic Kamehameha Weapon?
Leaker and content creator Shiina says that Goku's signature attack, the Kamehameha Wave, will be introduced somehow into the game somehow, quite possibly as a gold-tier Mythic Weapon. This has not been confirmed but it makes sense that this would be the case. We assume that if the Kamehameha is indeed an equipable weapon that it will be limited and possibly take up more than one inventory slot.
Apparently, a "Kamehameha" will be added to the game as part of the Dragon Ball collaboration!

I'm not exactly sure what this is gonna be, but it's most likely a new Mythic Ability!

(via @MidaRado) pic.twitter.com/exuFu6DGXp

— Shiina (@ShiinaBR) July 18, 2022
Event Quests
Sources say that the Fortnite x Dragon Ball event will have "Punch Cards" along with seven weeks of challenges, likely alluding to the presence of the seven Dragon Balls. HYPEX says that this information that was uncovered is currently encrypted and believed to hide what will likely begin the reveal within the next couple of weeks.
Here's everything we know about the Dragon Ball collab:

– 4 Skins (Goku, Vegeta, Beerus, & 99% a female skin)
– A unique event screen in the lobby
– LOTS of quests
– Free rewards
– A "capsule" item in BR & Creative
– A special place codenamed "Preheat"
– "Attack Ball" glider

— Shiina (@ShiinaBR) July 18, 2022
The Fortnite x Dragon Ball will have Punch Cards along with 7 weeks challenges (7 Dragon Balls?) and one of those punch cards requires you to collect 20 "Power Levels", which might be 20 free levels. And btw all of this is encrypted, so it'll likely start within the next 2 weeks! pic.twitter.com/YxMBSEhMTc

— HYPEX (@HYPEX) July 20, 2022
Upcoming Fortnite x Dragon Ball "Stamina" challenges categories, each category has multiple challenges and they are set spread across 7 weeks, with Bonus Goals!

– Warmup
– Strength Training
– Agility Training
– Sparring Training
– Endurance Training
– Focus Training
– Recovery pic.twitter.com/XndnCscjxE

— HYPEX (@HYPEX) July 18, 2022
With every passing day, we hear more and more about what this event will contain and we can't wait to transform into a Super Saiyan and pull off a 360-no-scope before pulling a Kamehameha attack to knock Jonesy. Yeah, we know how insane that sounds but it looks like that will actually happen next month when the Dragon Ball x Fortnite event finally kicks off.