Are you ready for a nostalgia-filled November? The DigiDestined are making a triumphant return to the big screen with a brand new movie! Toei Animation and Fathom Events have just unveiled exciting details for the U.S. theatrical release of "Digimon Adventure 02 The Beginning," and you won't want to miss it. Get ready to embark on a thrilling journey as the chosen children from "Digimon Adventure 02" return as 20-year-old young adults!
The Movie Premiere
Mark your calendars for November 8 and 9, as these are the two days when you can experience the magic of "Digimon Adventure 02 The Beginning." This two-day event will be hosted in 750 theaters across the United States thanks to Fathom Events. The film will be presented at 7:00 pm local time on both days, with the option to watch it in English dub on November 8 or in Japanese with English subtitles on November 9. Make sure to check your local listings to find the nearest participating theater.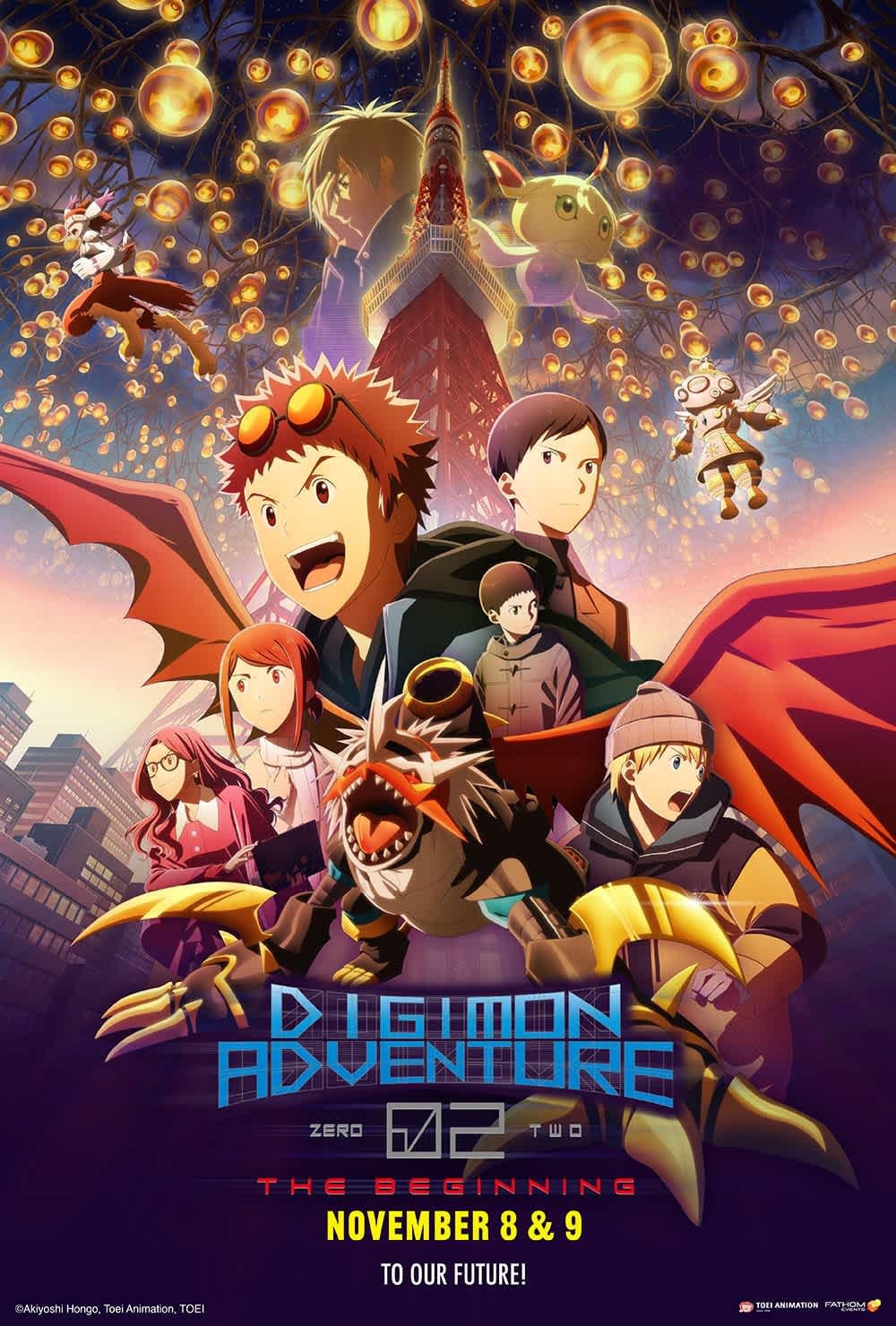 Exclusive Theater Experience
Attending this movie in theaters offers a unique experience. You'll have the opportunity to hear from the film's director, Tomohisa Taguchi, as he provides a brief introduction to the movie. But that's not all; if you're one of the lucky early birds, the first 50 guests at each night's screening will receive a complimentary Digimon Card Game Tamer Party Pack – THE BEGINNING – ver. 2.0. This pack includes 3 out of 14 possible cards from the new Digimon Card Game deck, which commemorates the film. These cards will be available before they hit the general market in December, so you'll be among the first in the U.S. to own them.
Get Your Tickets
You can secure your tickets for "Digimon Adventure 02 The Beginning" in advance. Head over to FathomEvents.com/Digimon02 to make sure you don't miss this fantastic event. The website also provides a complete list of theater locations, which are subject to change, so keep an eye out for the one nearest to you. Additionally, tickets are currently available through participating theater box offices.
A Journey Through Time
The Digimon franchise, rooted in the Digital Monster (Digimon) virtual pet toy created in 1997, has evolved over the years to encompass numerous films, TV series, video games, card games, comics, light novels, and drama CDs. The original "Digimon Adventure" TV series premiered in 1999 and was followed by the sequel, "Digimon Adventure 02," in 2000, featuring a new cast of children. "Digimon Adventure 02 The Beginning" is a contemporary continuation of the "Digimon Adventure 02" TV series, but this time, the original DigiDestined children have grown into 20-year-old young adults. The movie is directed by Tomohisa Taguchi and written by Akatsuki Yamatoya, with production by Toei Animation—the same team behind the most recent film, "Digimon Adventure Last Evolution Kizuna," released in 2020.
The Story Unfolds
In "Digimon Adventure 02 The Beginning," it's the year 2012, and a decade has passed since the adventures in the Digital World. Daisuke Motomiya, now twenty, and the rest of the DigiDestined have started changing, both in appearance and lifestyle. Then, out of the blue, a giant Digitama appears in the sky over Tokyo Tower. Daisuke and the others encounter a mysterious young man named Lui Ohwada, who reveals himself as the world's first-ever DigiDestined.
Learn More
For additional information about the theatrical release of "Digimon Adventure 02 The Beginning," including media assets, you can visit the Fathom Events press site [here](insert link).
About Toei Animation Inc.
Toei Animation Inc., based in Los Angeles, manages the distribution of Toei Animation's top properties in North America, including beloved series like Dragon Ball, Sailor Moon, One Piece, Digimon, Saint Seiya, and more. They also oversee consumer product licensing within these territories. To learn more, visit toei-animation-usa.com.
About Fathom Events
Fathom Events is a prominent player in the entertainment industry, known for distributing content to movie theaters across North America. As an entity owned by AMC Entertainment Inc., Cinemark Holdings, Inc., and Regal (a subsidiary of the Cineworld Group), Fathom operates the largest cinema distribution network. They offer a diverse range of programming and experiences to cinema audiences in top U.S. markets and over 45 countries. For more information, visit FathomEvents.com.
Don't miss out on this exciting adventure! Get your tickets, gather your friends, and prepare to dive back into the Digimon world like never before. It's a journey you won't want to miss, so be there on November 8 or 9 for an unforgettable cinematic experience!