When All of Us Are Dead arrived on Netflix as an exclusive, we were a little bit skeptical. However, we were pleasantly surprised with how awesome it was that we had hoped Netflix would continue forward with more episodes. And since the renewal announcement last month, we have been waiting for more details on what direction the show would take. Well, now we know at least a little bit.
In case you missed it, check out the season one trailer here:
Speaking to Hypebeast (Korea), Lee Jae-kyoo previously discussed the possibilty of a second season stating that the story was written with season two in mind. Using Google Translate, here is the full quote from the Korean website:
"The story itself was set with season 2 in mind, so if season 2 comes out, it can be a little more interesting and expanded story." Regarding the content of season 2, he left a hint, saying, "If season 1 was a survival period for humans, there is a sense of humor, but season 2 feels like a survival period for zombies."
Lee Jae-kyoo went on to discuss a little bit about how the infection works which suggests a little bit about what we can expect in season two if it's not contained and makes its way into a more widespread area.
"If 10 people eat at the same place with Corona 19, 5 people do not get infected, 2 people get infected quickly, and some people don't get infected. Just as each person's immune system responds differently, I thought that there might be a sudden situation in which the zombie virus is not 100% infected."
As of now, we do not have any details regarding the plot nor has Netflix shared a release window for season two but sources state that pre-production is underway and considering the official Netflix (Korea) account posted a confirmation about season two, we have to assume that is indeed the case.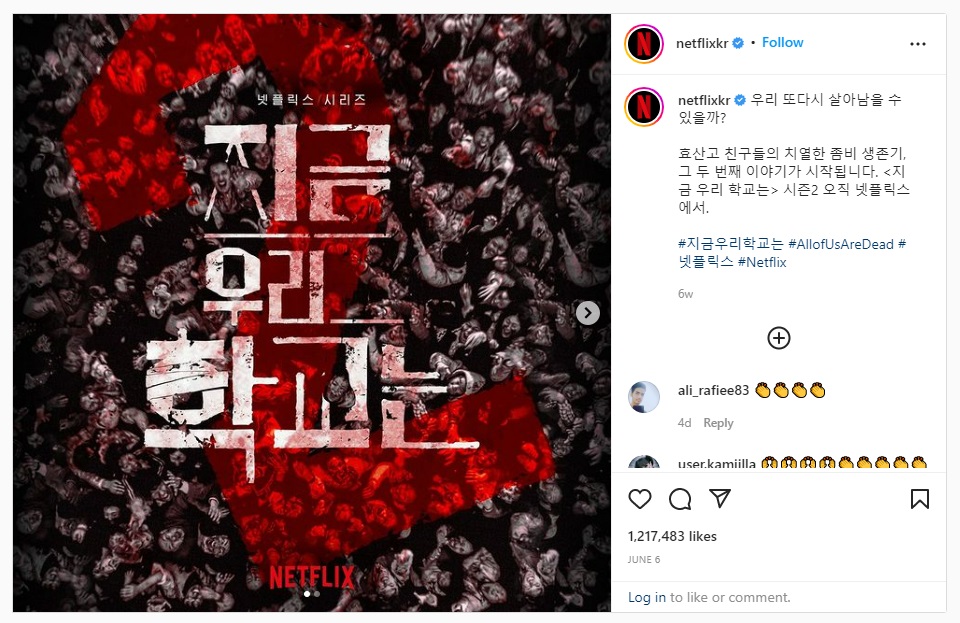 The end of season one saw a handful of survivors from the high school make it to safety with Nam-ra living a half-human, half-zombie life on the outside. She and her classmates discuss the state of things with Nam-ra adding that there are others like her that have accepted her as one of their own.
We have many questions about the direction of season two and more regarding whether or not that will be an intended final season to wrap the story. In any case, we hear that there are some open casting calls for season two which means filming hasn't likely begun just yet either. Regardless, we hope that season two is just as good if not better than the first season as it will have some awfully big episodic shoes to fill.