The good news just keeps on coming. In a wild turn of events, Marvel Studios has announced that the incredibly popular X-Men Animated Series (1997) is getting a continuation with all-new episodes streaming in 2023.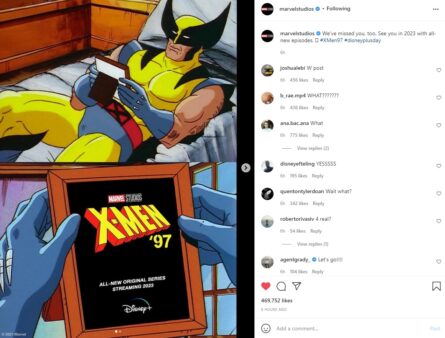 The series isn't being advertised as a reboot or a whole new show but rather just picking up where the show left off over 20 years ago. What makes this even cooler is that a handful of returning cast members who lent their voices to the original series are returning including Cal Dodd who voiced Wolverine. The full cast includes Chris Potter (Gambit), Lenore Zann (Rogue), Alison Sealy-Smith (Storm), George Buza (Beast), Catherine Disher (Jean Grey), Adrian Hough (Mr. Grey), Alyson Court (Jubilee), and Christopher Britton (Mr. Sinister).
In addition, a handful of new castmates are joining the X-Men revival with the likes of Anniwaa Buachie, Jennifer Hale, Matthew Waterson, Ray Chase, JP Karliak, Jeff Bennett, Holly Chou, and AJ LoCascio.
X-Men '97, as the show is called, will be written and executive produced by Beau DeMayo, who is probably best known for his work on The Witcher live-action series and Nightmare Wolf over on Netflix. The original writers for X-Men The Animated Series, Eric and Julia Lewald, are also allegedly consulting on the show to ensure the revival maintains the same magic as the 90s counterpart.
Brad Winderbaum, Head of Streaming, Television, and Animation at Marvel Studios also had this to add to the news:
"This is the first X-Men title produced by Marvel Studios. What an amazing first step to reintroduce audiences to the X-Men with a look at one of the most pinnacle eras of the X-Men comics, which was the '90s. That iconic style that has its roots in Chris Claremont, and is celebrated in Jim Lee, and then again in 'The Animated Series.'"
"Over the years, as we've met with so many filmmakers who have come in to pitch on various projects, the touchstone that we hear over and over again is X-Men: The Animated Series."
The only question we have about the continuation is whether or not it will retain the same art style. Sure, things will have to change to meet modern standards but then again… do they really? With 2022 around the corner, we aren't too far off from 2023 when the show kicks off and you can expect that our eyes and ears will be sharply attentive to any and all new info regarding this classic reborn.