Hey Toonami Faithful, how's it going? You ready to get this party started with some anime this Saturday night? We thought so. Here is your schedule of what to look forward to during a sleepless Saturday evening, beginning with Genndy Tartakovsky's Primal at midnight.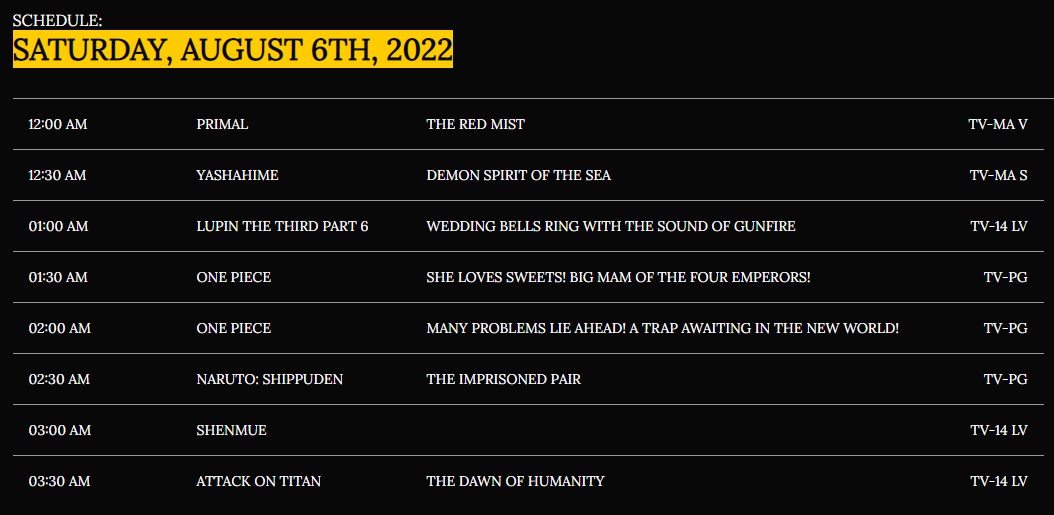 TV 14 [as] Saturdays at 12a ET.
For all future schedule listings, you can head on over to the official Toonami page of the Adult Swim website here.
In other news, the Geek Outpost staff recently took a trip down memory lane and revisited some classic Toonami videos courtesy of YouTuber SlimD716. His remasters are top-notch and not something you want to miss, especially if you are feeling nostalgic.
Steven Blum as Toonami Host Tom and Peter Cullen's voiceover narration brings us back and will always give us chills (in a good way) but even without Cullen, Toonami is still at it with new music videos such as "STRENGTH VS. POWER". It might not be on the same levels as Broken Promise or Mad Rhetoric but it's still worth the watch (both of which are included below from the Official Adult Swim YouTube channel).