Minecraft is one of the most culturally influential games of the century, and players have made some of the most remarkable server-hosted projects ever thought possible. And now, all of that may have been outdone by The Uncensored Library project from BlockWorks.
One of our most ambitious projects to date, The Uncensored Library is a virtual library, built inside of Minecraft to overcome censorship. In countries without press freedom, where websites are blocked, Minecraft is still accessible. We used this loophole to build The Uncensored Library. The library is filled with books, containing articles that were censored in their country of origin. Through this project, censored articles become uncensored books in Minecraft. –BlockWorks
Minecraft builders from all over the world spanning roughly 16 countries, in fact, all came together to put The Uncensored Library together in celebration of World Day Against Cyber Censorship, held on March 12th. And it. Is. Massive. If you watched the video above, you can clearly see that not only is TUL incredibly detailed, it is also incredibly large. So large, that it is home to information on all 180 countries in the press freedom index.
BlockWorks | The Uncensored Library
Not only does The Uncensored Library give information on all 180 PFI countries, but it also has unique exhibitions found within its halls that cover the more notorious countries in the world that are known for their censorship of the press. Egypt, Mexico, Russia, Saudi Arabia, and Vietnam are covered in these exhibits and anyone in the world can visit this information over the course of a year while the library is hosted by BlockWorks, even if you happen to live within those five censored countries.
The Uncensored Library, which should be noted is a collective project launched by DDB Germany, MediaMonks, Reporters Without Borders, and BlockWorks all have noble aspirations regarding getting this information out there. Over the last few years, there have been countless cruelties against journalists, from the Washington Post columnist who was killed in October of 2018 allegedly due to criticisms of Saudi Arabia, to the Mexican journalist killed in 2017 after he had founded a newspaper dedicated to exposing corruption, the point of The Uncensored Library is to highlight these cruelties in hopes of shedding light against the criminals.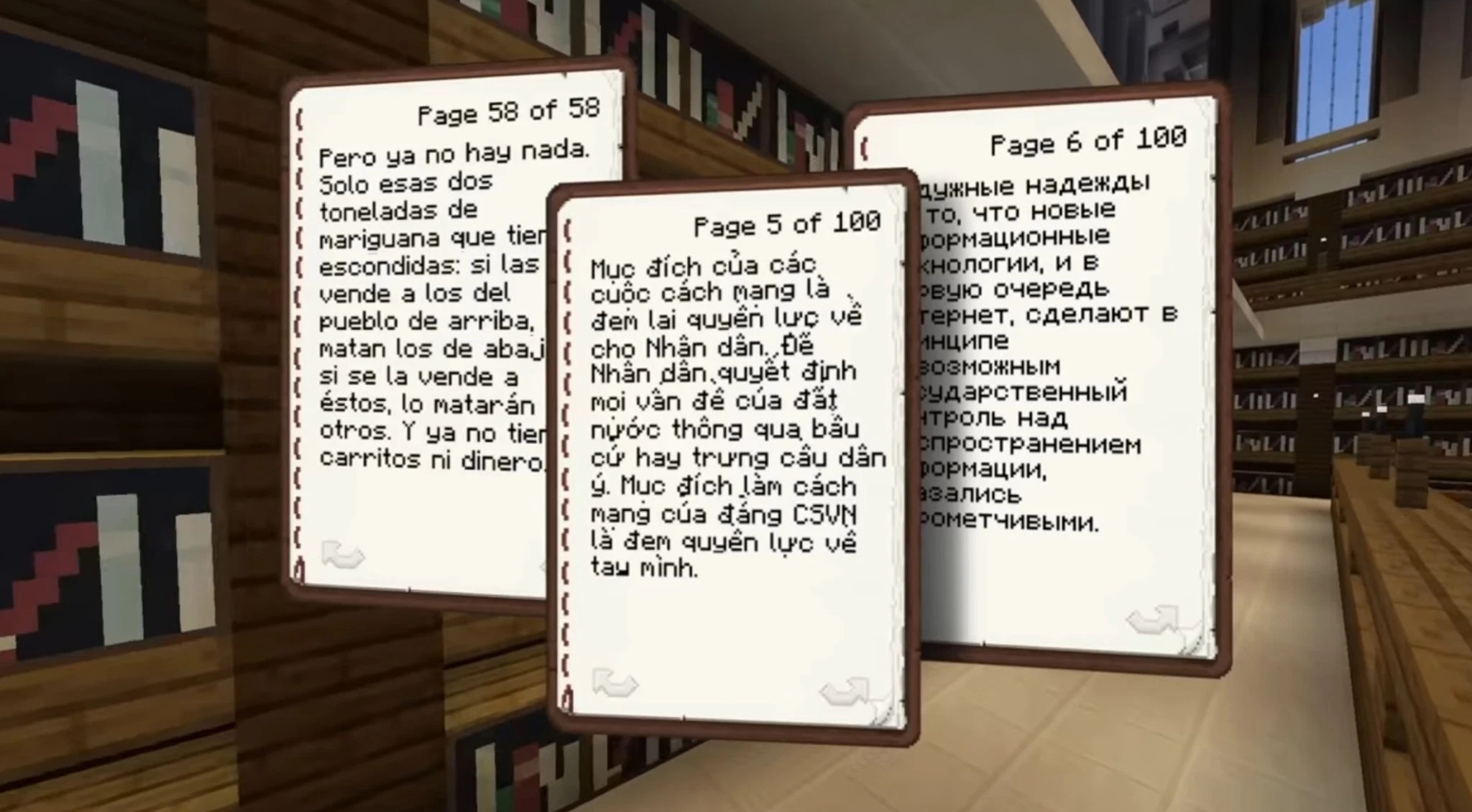 Fellow journalist and director of Reporters Without Borders in Germany, Christian Mihr had this to say in a recent statement about The Uncensored Library:
"In many countries around the world, there is no free access to information. Websites are blocked, independent newspapers are banned and the press is controlled by the state. Young people grow up without being able to form their own opinions. By using Minecraft, the world's most popular computer game, as a medium, we give them access to independent information."
Minecraft is clearly an amazing platform for players to come together, but never has there been such an ideal bridge between the youth of today and an ingenious method of sharing important data intended to provide a more educated view of the world. And with so many countries and websites being blocked by the leadership of their own countries, we hope this tool will assist in diminishing at least some of their government's manipulation.
"Let's empower the next generation to stand up for their right to information and give them a powerful tool to fight oppressive leaders: knowledge. Together with the ever-expanding gaming community, we will show the world that the truth will never be silenced!"
#TruthFindsAWay