Every so often, you will be sitting there, scrolling through your feed of media that you have binged through already, once or twice, and find that the desire to watch something fresh and new just isn't available. Trust us, we have been there. And it is not a good feeling. Luckily for you, we have your back. If you are in the market to grow your anime library, then we have you covered.
Thanks to the good folks at FUNimation, their library of purchasable and streamable content is growing at a quick pace, meaning all you have to do is head on over there and browse what they have available. Sure, this could be a daunting task, but once again, the GO staff has your best interest in mind. Below, you will find an assortment of recent releases of new and classic content, of which we have highlighted with our top picks. Take a look and see what is available this month (May). You can thank us later.
Dragon Ball Super: Part Seven – GO STAFF PICK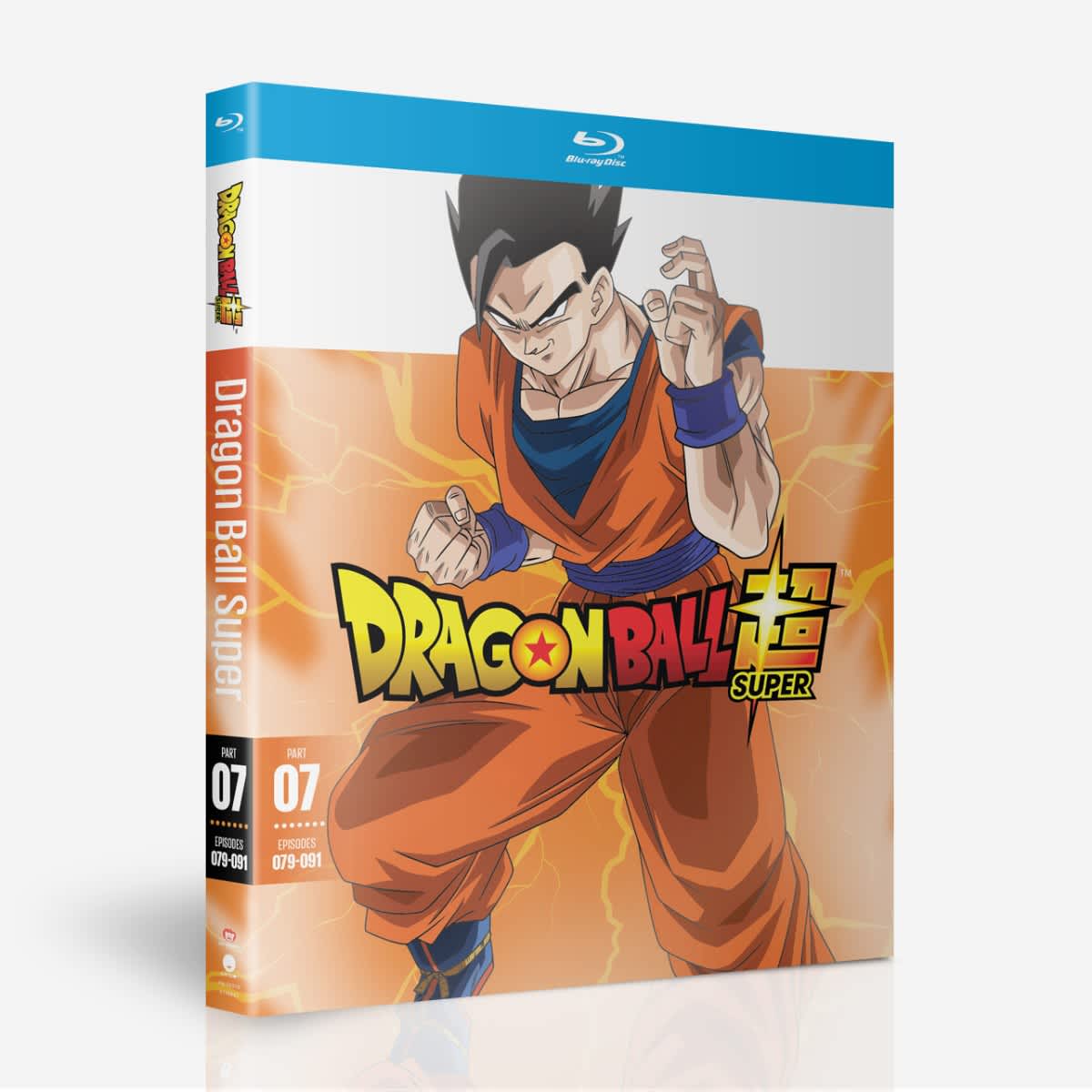 In an effort to teach Future Zeno about martial arts, Zeno calls for an exhibition match between the 7th and 9thUniverses. Afterwards, Goku searches for the 7th Universe's 10 best fighters. With only 48 hours until the Tournament of Power officially begins, will he put together a strong enough team in time, or will the Z Fighters be at a major disadvantage from the get-go?!
SPECIAL FEATURES:
Dragon Ball Super: Rawly Pickens & Chuck Huber Answer Twitter
Textless Opening & Closing Songs
Trailers
---
Space Battleship Tiramisu: Season One + OVAs – BD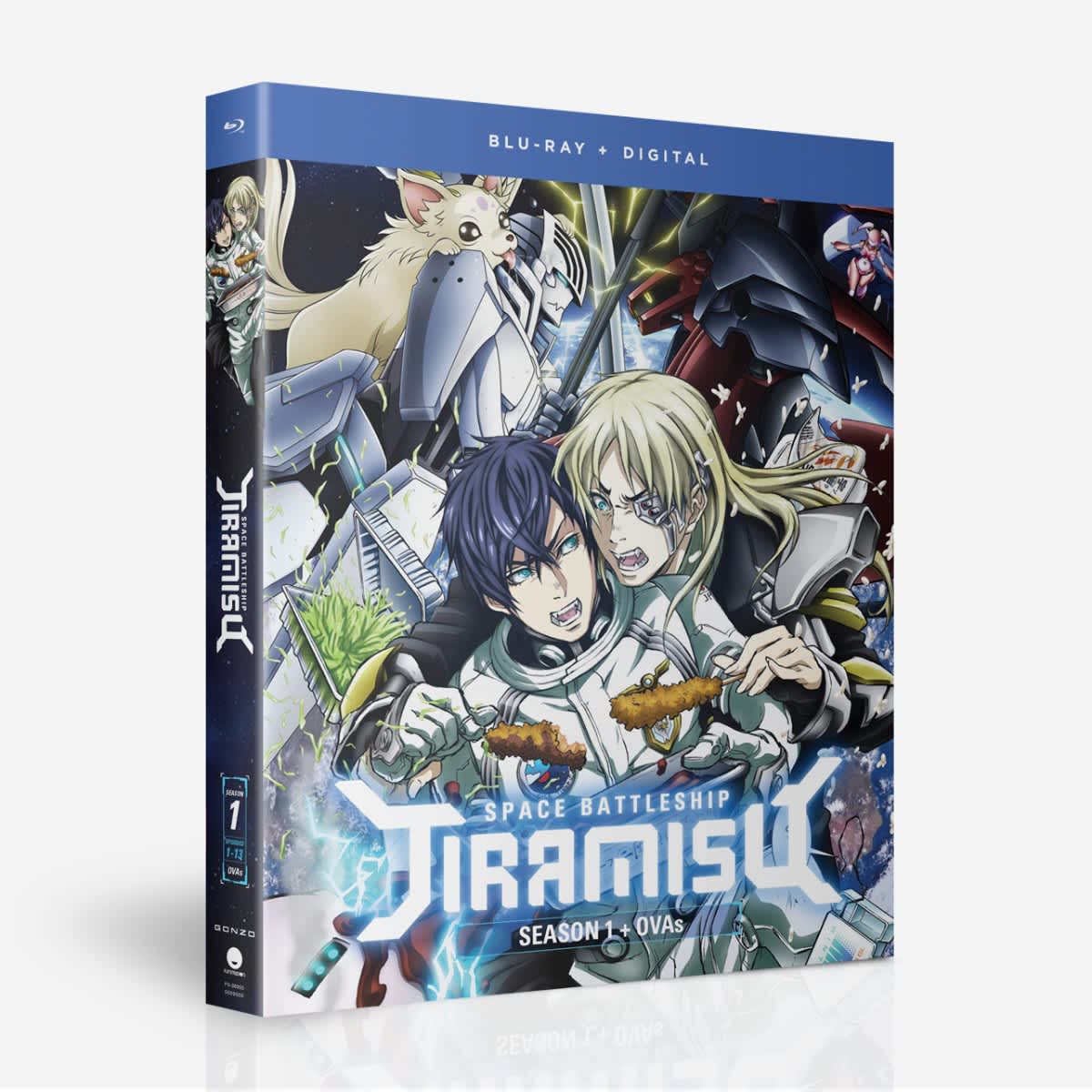 The Earth Union is locked in a massive galactic war. Aboard the Space Battleship Tiramisu, ace pilot Subaru Ichinose carries the fate of humanity on his shoulders. Life for Subaru is tough. But nothing relieves tension quite like launching an all-out food-based assault on his own face. Snug as a bug in a rug, Subaru soothingly unwinds in his personal mecha, "Durandal F," as bliss overtakes him.
SPECIAL FEATURES:
Opening Crawl: Full Text
Textless Songs
Trailers
---
HAKYU HOSHIN ENGI: The Complete Series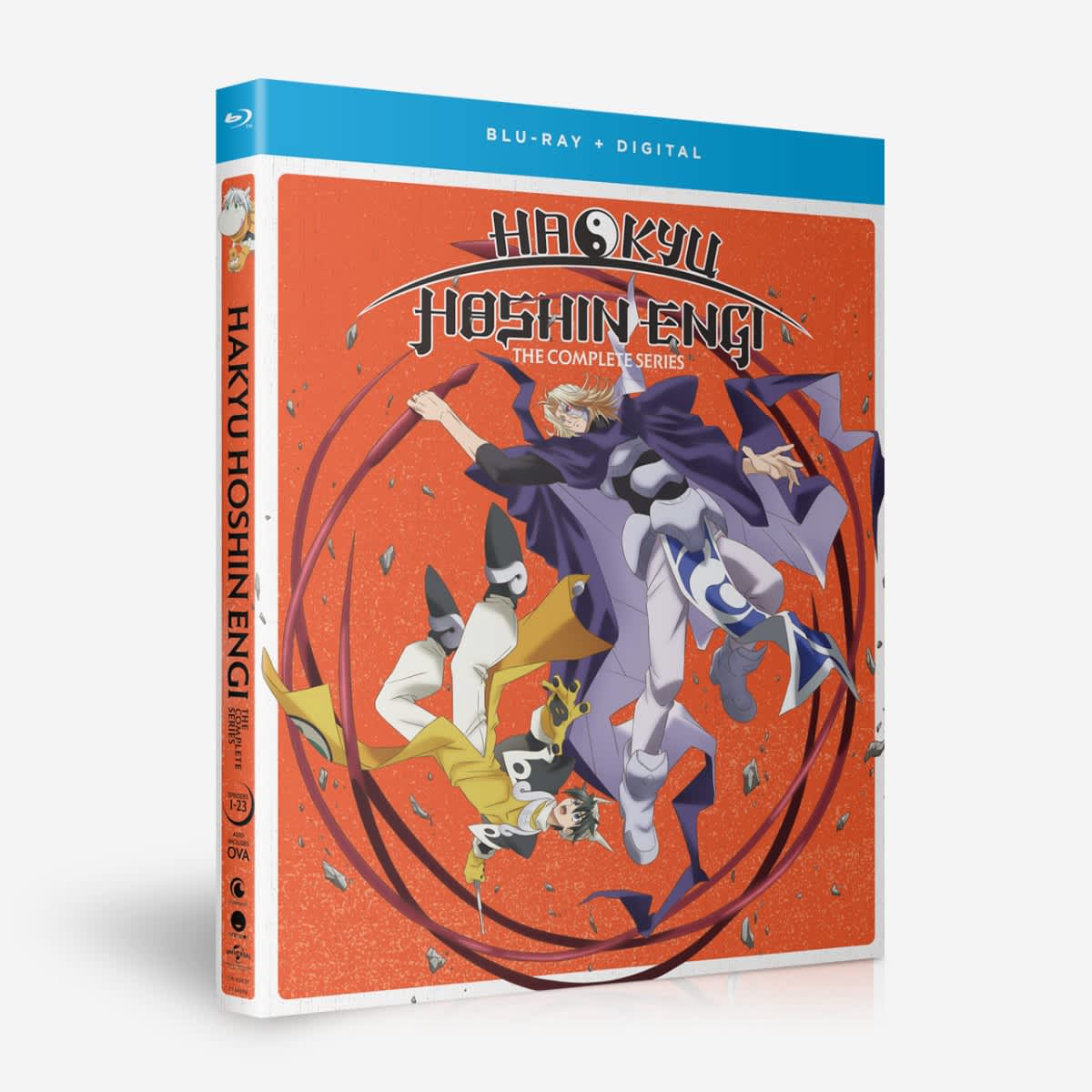 The Hoshin Project is on a mission to seal away the evil immortals that infest the world and slacker Taikobo is the last person suited for the job! Or so it seems. He's lived among the humans and is the only immortal who understands the devastation of the deadly fox demon, Queen Dakki. Taikobo, his devoted friend Supushan, and a few unlikely allies, vow to protect the human world!
SPECIAL FEATURES:
OVA: "The Blood of the Koh Family"
Promo Video
Commercials
Textless Songs
Trailers
---
High School DxD HERO: Season Four – BD/DVD Combo
– GO STAFF PICK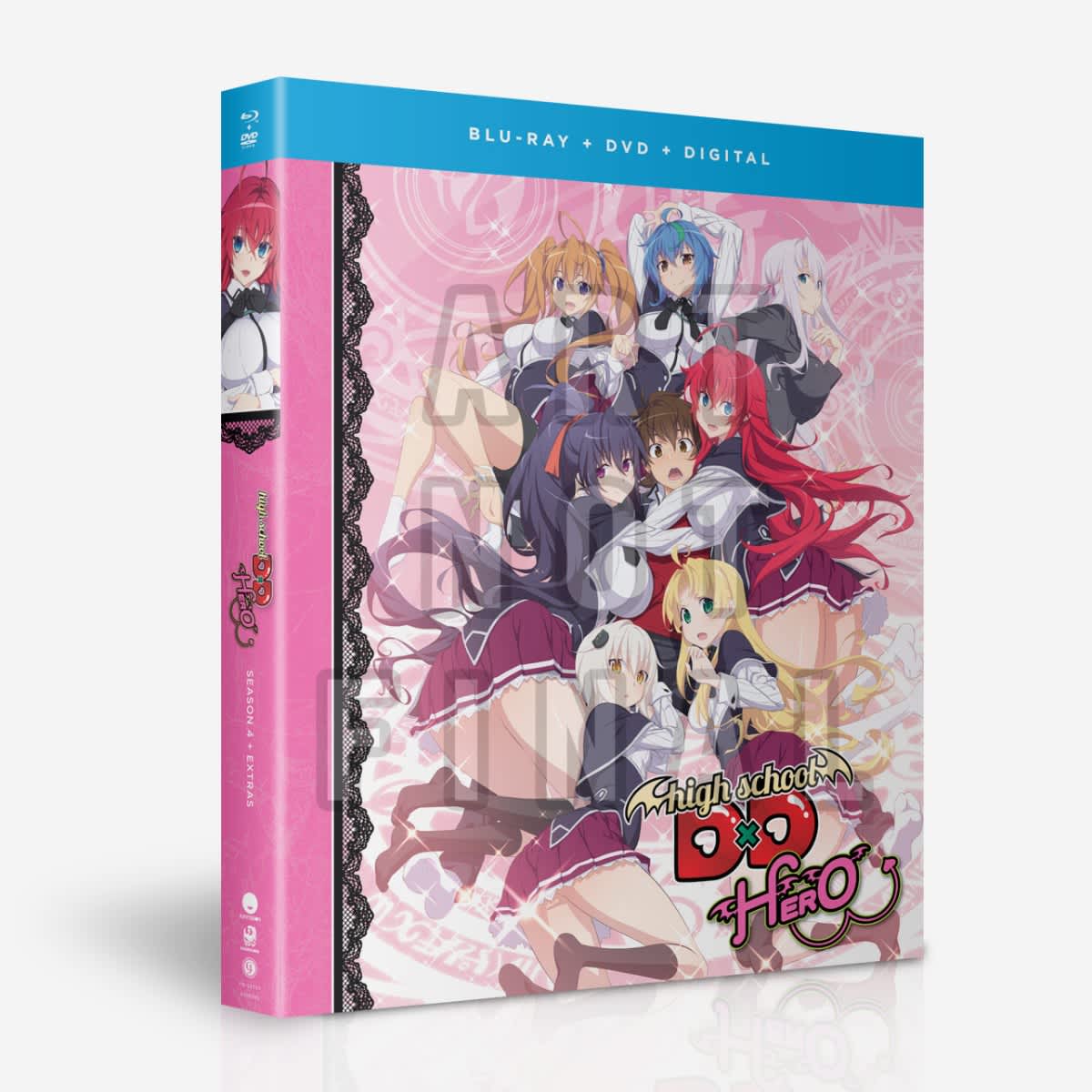 Bounce into the latest adventure with Issei and his band of beauties! Issei is suddenly attacked in Kyoto by a mysterious fox yokai—whose mother is missing. When it looks like the Chaos Brigade might be the ones behind the missing yokai, it's up to the Grabbing Dragon and his voluptuous vixens to face them. Plenty of trouble awaits Issei as he takes on new foes and looks to get his rise—as a hero!
SPECIAL FEATURES:
High School DxD: Boobies & Heroes
Episode 5 Commentary
Episode 11 Commentary
Web Previews
Textless Songs
Trailers
---
Absolute Duo: Complete Series – Essentials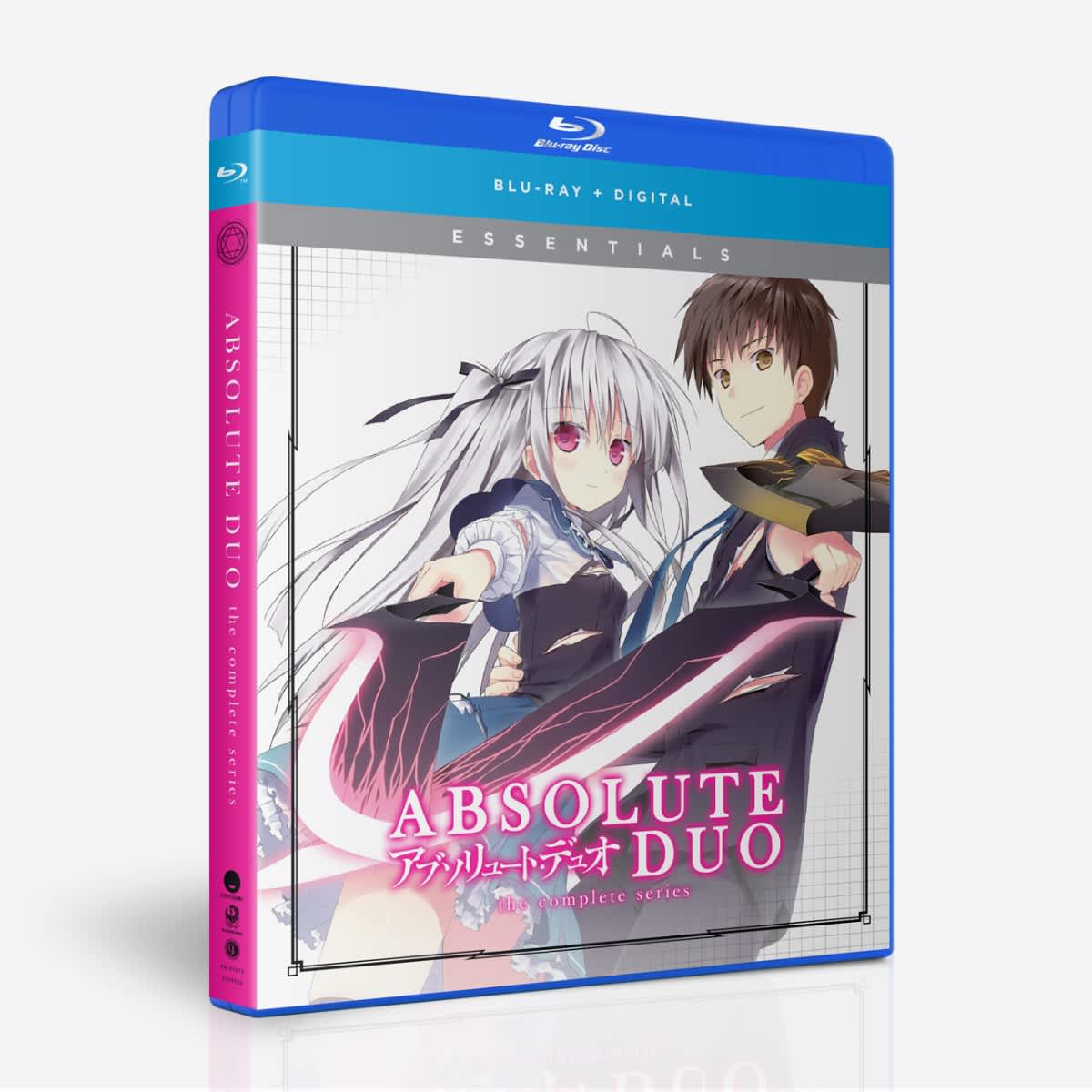 Koryo Academy is a special school where students fight with weapons that are manifestations of their souls. But while his classmates carry swords and axes into battle, Tor's soul becomes a shield. As the students pair up to reach their full potential, Tor is partnered with the mysterious Julie—which means they'll have to fight, attend class, and even sleep in the same room together!
SPECIAL FEATURES:
---
Barakamon: Complete Series – Essentials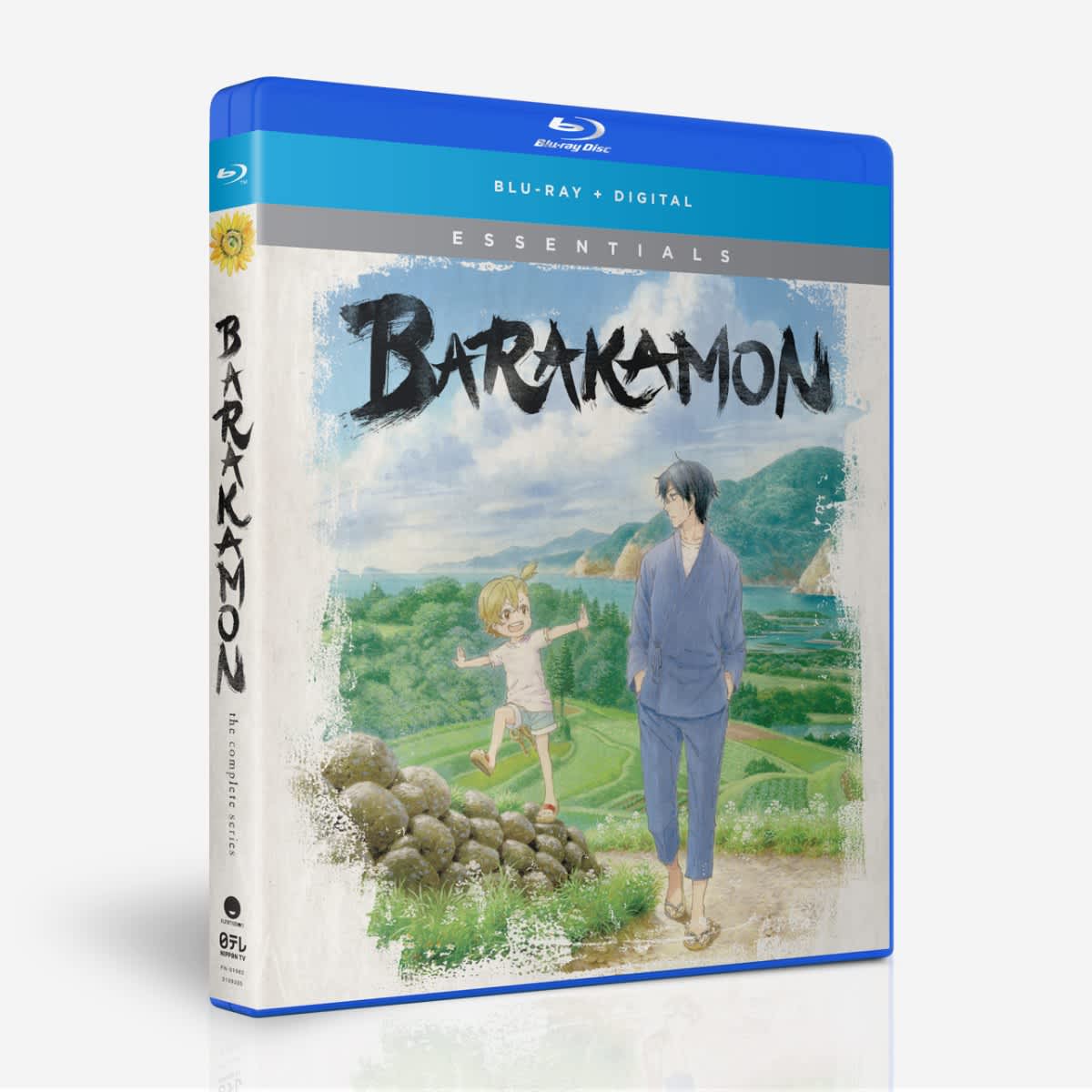 After an unfavorable critique drives uptight young calligrapher Sei Handa past his breaking point, his parents decide to ship him off to Japan's Goto Islands to cool off. But instead of a peaceful paradise, Handa discovers a village full of quirky characters with little regard for personal space.
SPECIAL FEATURES:
Episode 1 Commentary
Episode 12 Commentary
Textless Songs
U.S. Trailer
Trailers
---
The Ancient Magus' Bride: Part Two – BD/DVD Combo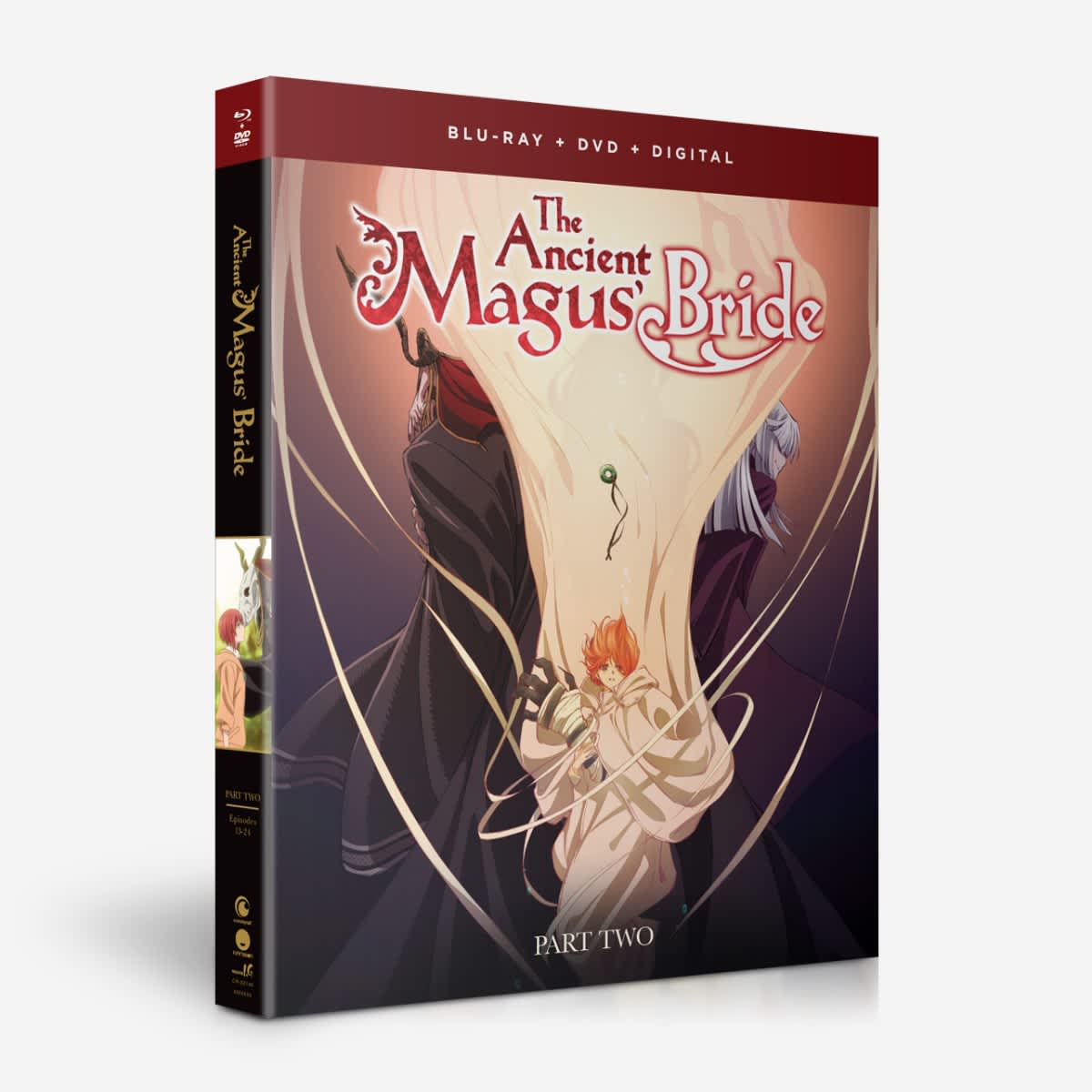 Chise's bond with Elias grows stronger by the day, while all around her, things take a turn for the worse. All caution is thrown to the wind when one of Lindel's dragons is captured, and the rescue attempt puts Chise's life in grave danger. Now, the only thing more horrifying than Joseph's plan to use Chise, is Elias' plan to save her.
SPECIAL FEATURES:
Episode 21 Commentary
The Ancient Magus' Bride at Anime Expo 2018: Interview with George Wada and Norihiro Naganuma
Trailers
---
Dances with the Dragons: The Complete Series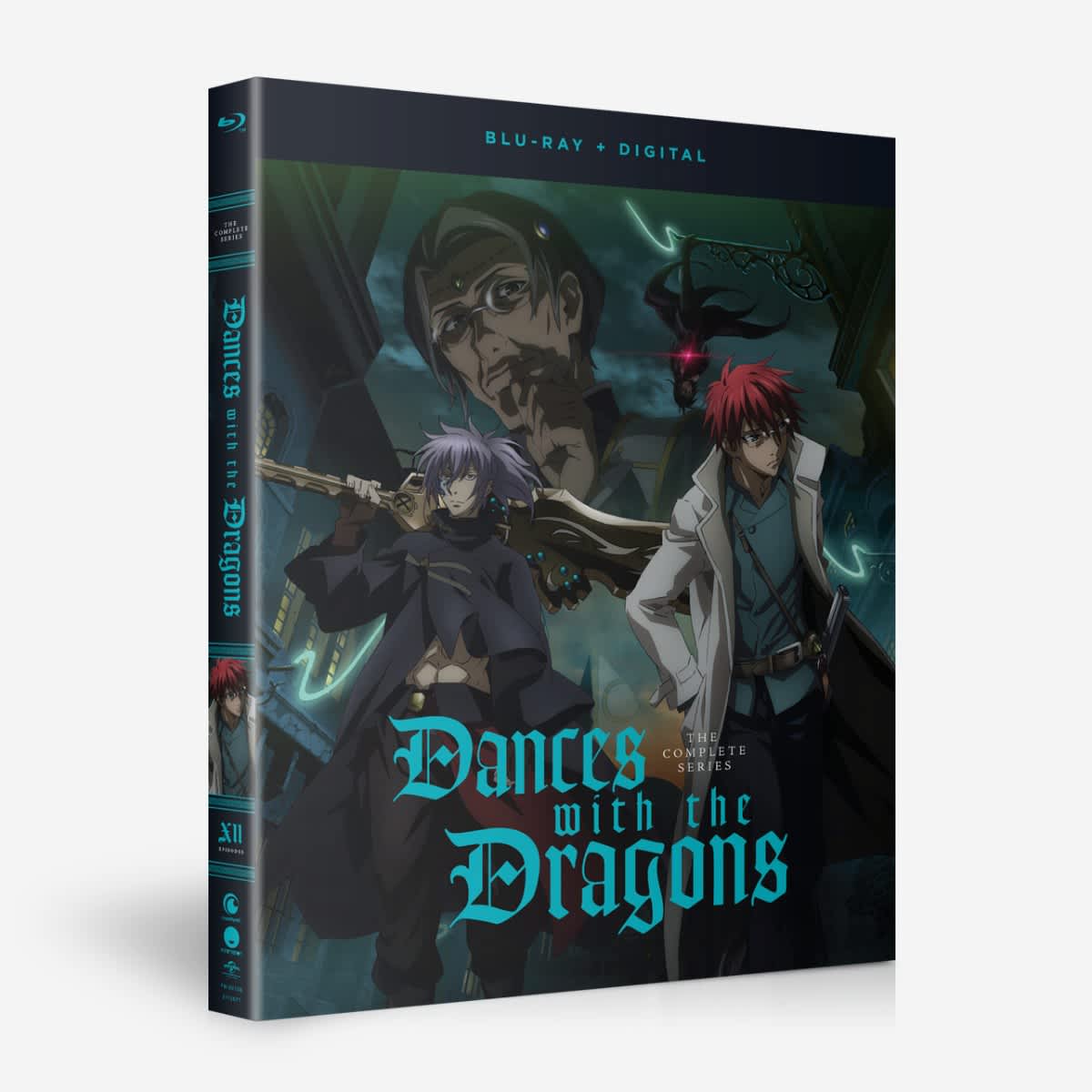 A unique brand of magic dwells in Eridana, where two bounty hunters set up shop. Gayus is book-smart and will do whatever it takes to keep the lights on. Gigina is a phenomenal fighter who spends his free time with well-crafted chairs. Together, they're nothing but trouble, and when political intrigue puts opposing nations on the brink of war, this dubious duo finds themselves in the thick of it.
SPECIAL FEATURES:
Promo Videos
Textless Opening & Closing Songs
Trailers
---
Golden Kamuy – Season One – BD/DVD Combo + LE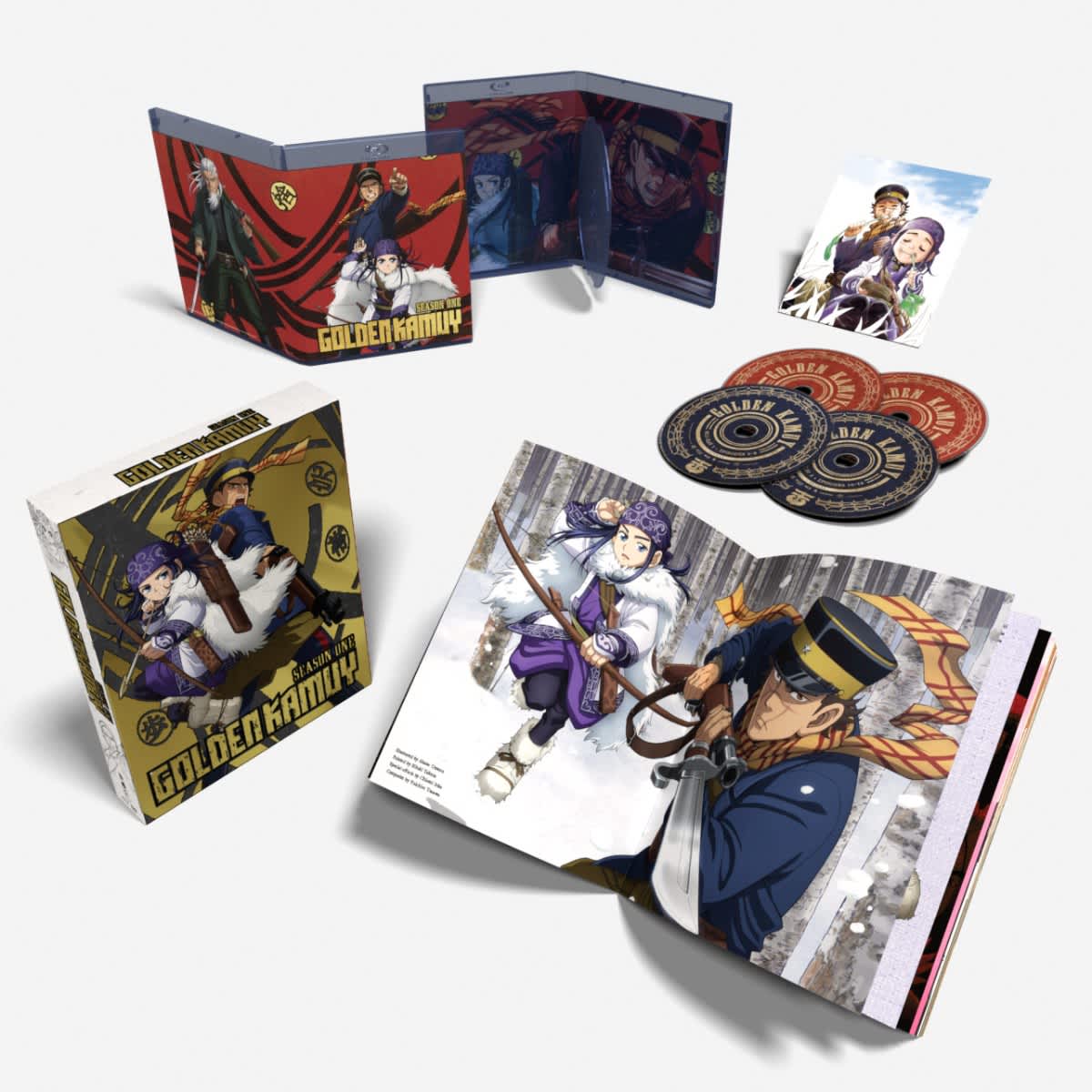 When war veteran Sugimoto stumbles across part of a treasure map, things get deadly. The map is divided among several escaped convicts, and this battle-hardened soldier isn't the only one who knows it.
In this Limited Edition:
Commissioned art card by Character Designer Kenichi Ohnuki. A special few are signed. Selection is random—good luck!
Gift With Purchase: Zinc-alloy coin with brass finish. Asirpa coin only available through Funimation. While supplies last.
80-page artbook discussing Ainu culture and language, plus interviews with Japanese cast and crew.
Rigid chipboard box with specialty print.
Extra Features:
12 "Golden Travelogue Theater" animated shorts, original Japanese commercials, Episode Two commentary, textless opening and ending songs.
---
Black Clover – Season One Part Four – BD/DVD Combo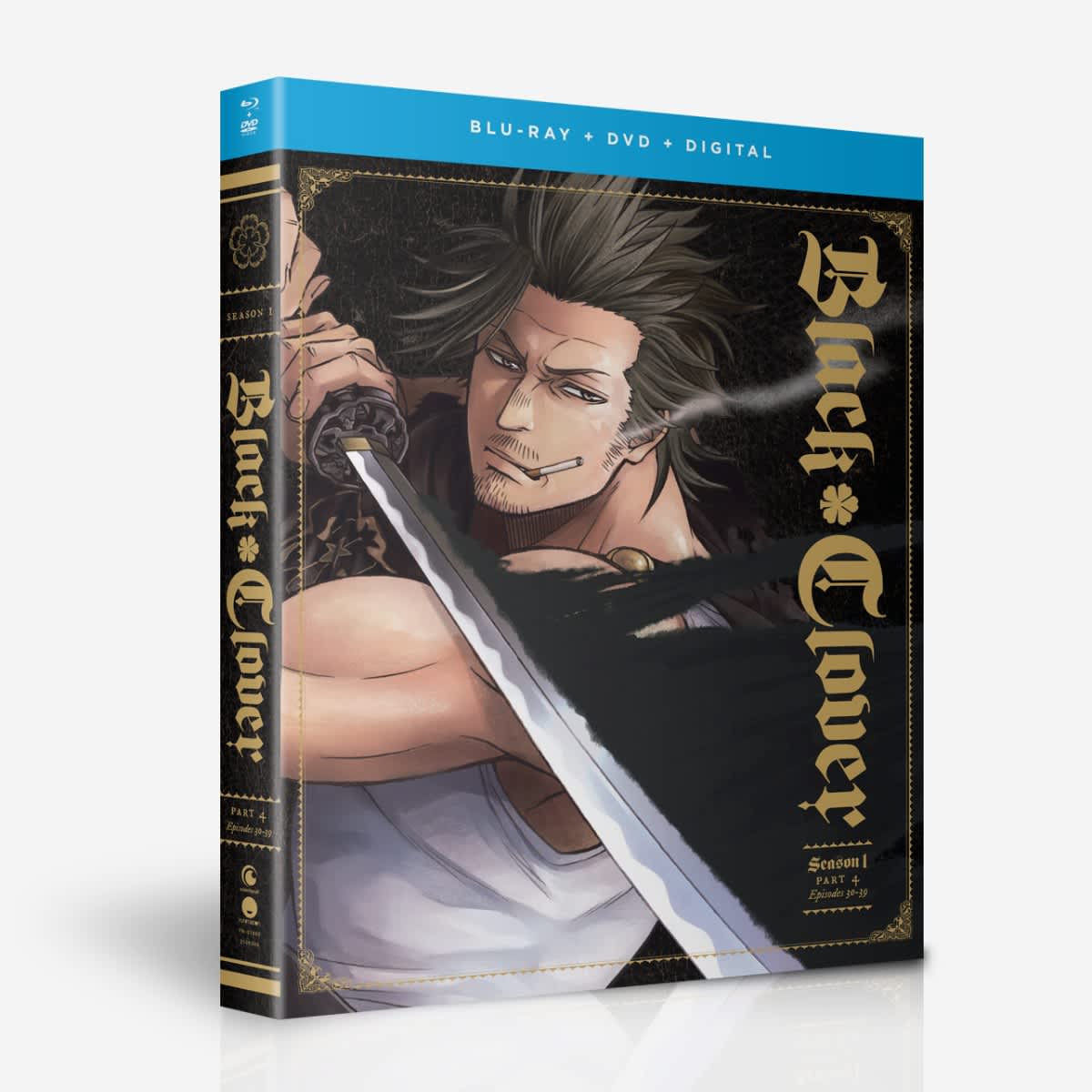 A relaxing vacation turns into a chilling adventure when magic snow lures the children of Nean into a deadly trap. Joining forces with Gauche, Asta will face his toughest challenge yet—trying to work with the stubborn mage! But when members of the Eye of the Midnight Sun show up, this battle could get dire. Are they prepared to fight Licht and his elite squad, the Third Eye?
SPECIAL FEATURES:
NA
---
Mikagura School Suite: Complete Series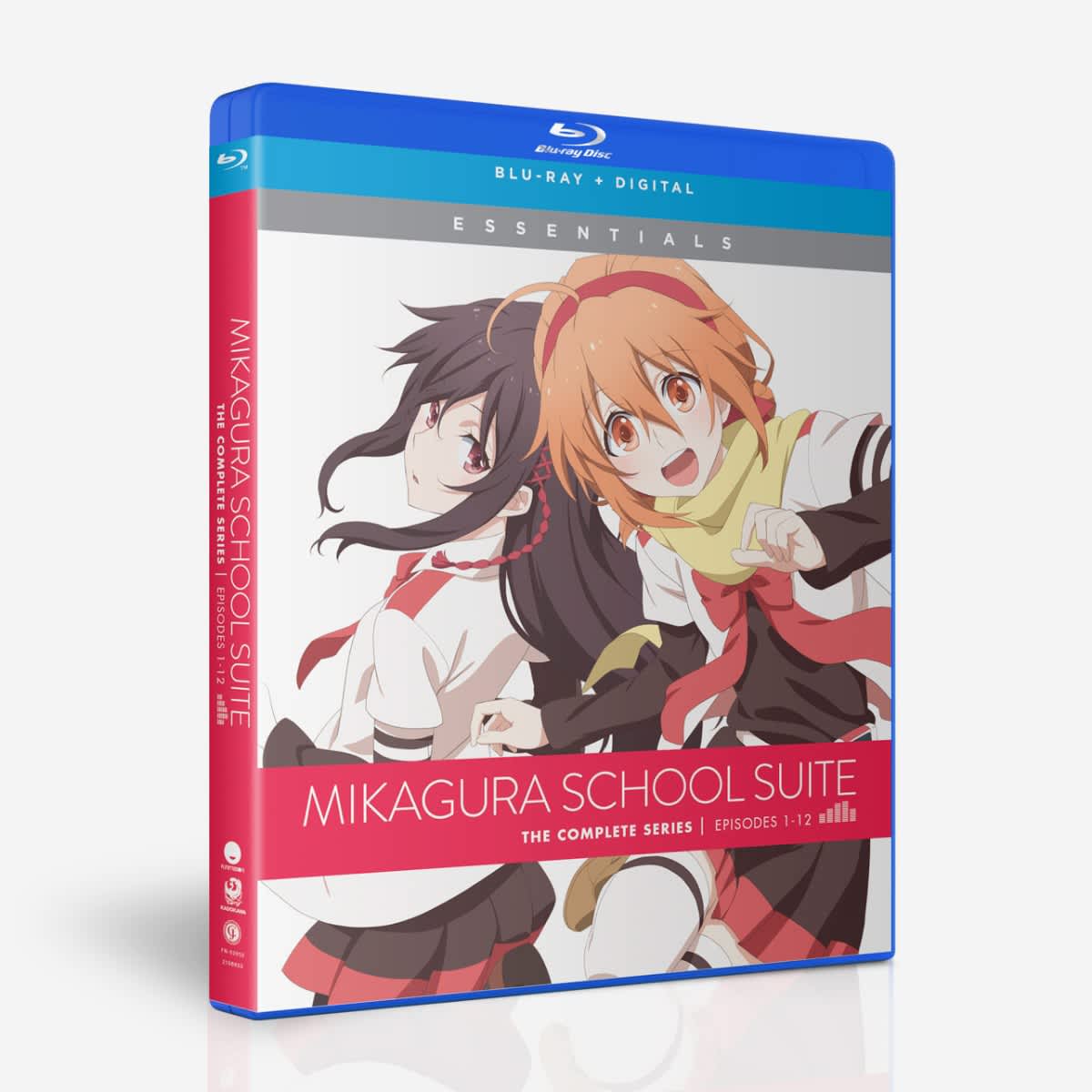 Eurna has no desire to focus on what high school to pick. She'd rather spend time chasing after pretty girls or playing dating sims. But when she sees the beautiful Seisa on a pamphlet to Mikagura Academy, she sets her sights on a new school. But this isn't your typical high school—at Mikagura she'll have to prove her stuff with magical attacks! That is, if she can find a club to join first.
SPECIAL FEATURES:
Episode 9 Commentary
Episode 10 Commentary
Textless Songs
Promo Video
TV Spot
BD/DVD Promos
U.S. Trailer
Trailers
---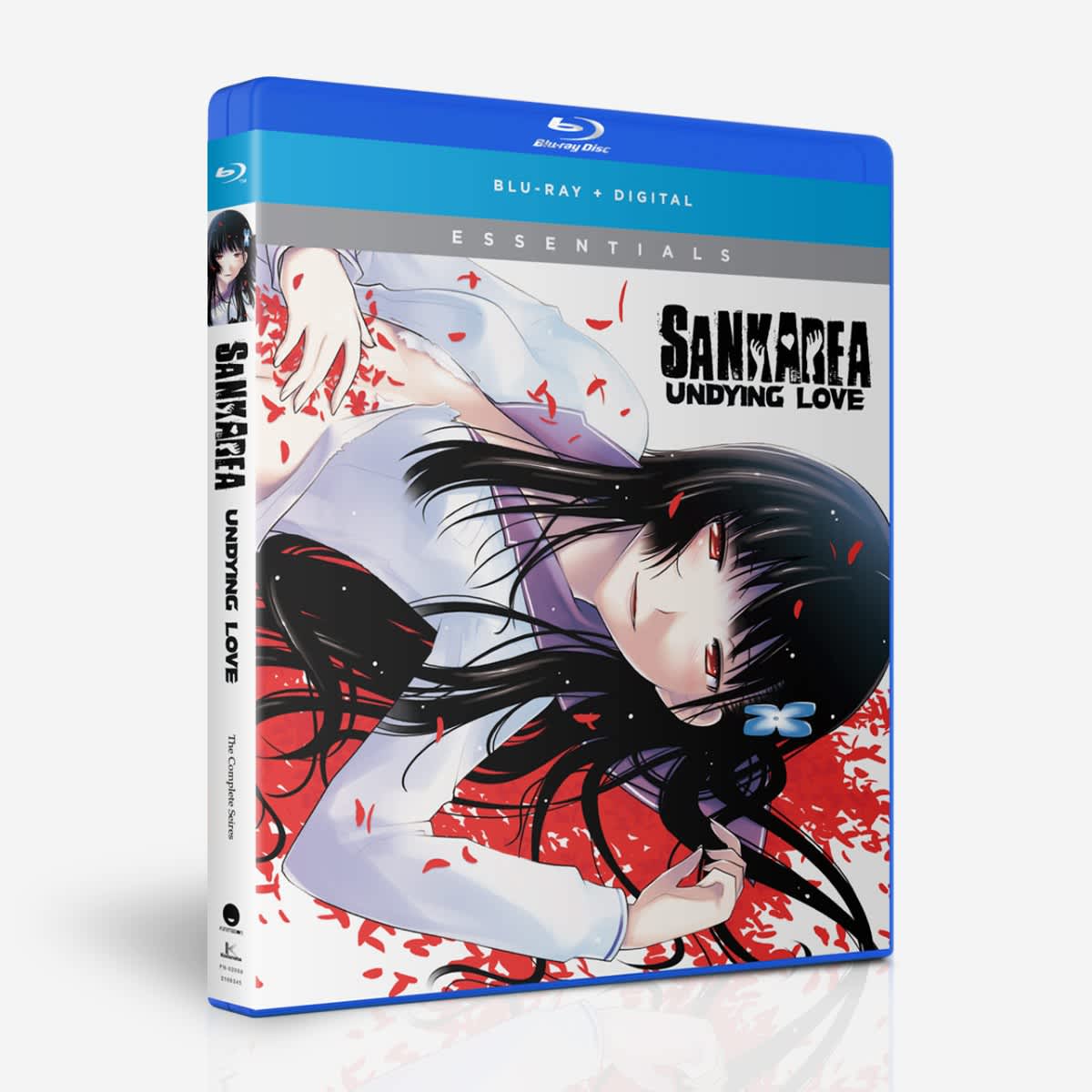 Zombie-obsessed Furuya is making a potion to reanimate his dead cat when he meets Rea. She's about as miserable as a girl can get, thanks to her creepy, domineering father. When the pain becomes too much, she tries to commit suicide with a sip of Furuya's weird elixir. The potion doesn't kill her – but it does turn her into a zombie!
SPECIAL FEATURES:
Episode 03 Commentary
Episode 11 Commentary
Textless Songs
U.S. Trailer
Trailers
---
Maria the Virgin Witch: Complete Series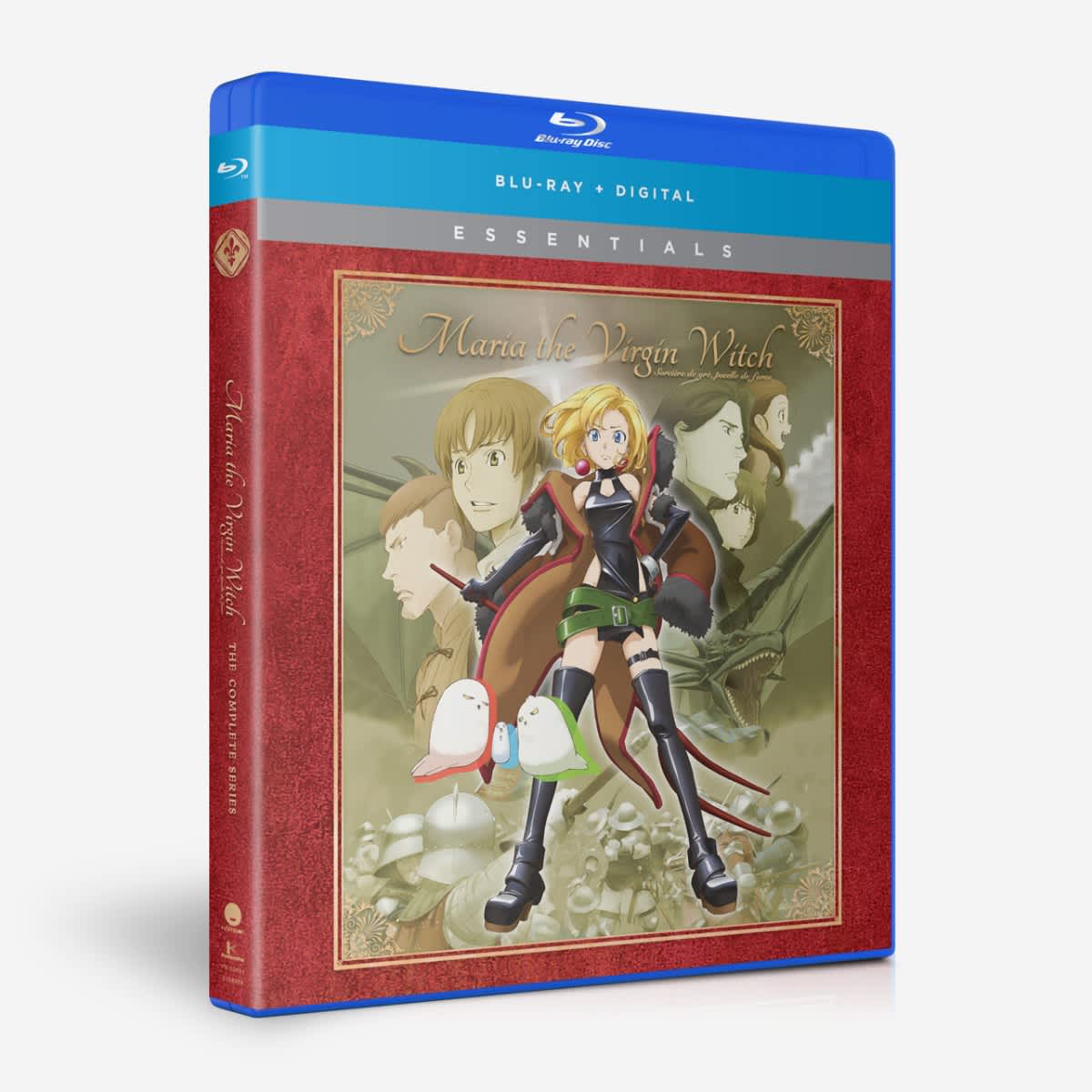 In the time of the Hundred Years' War, a young witch known as Maria uses her magic to halt the constant fighting. Though she seeks only peace, the archangel Michael despises her magic and decrees that, should she ever lose her virginity, her powers will vanish! To ensure that Maria no longer mixes magic with warfare, Michael sends the angel Ezekiel to keep a watchful eye on the virgin witch.
SPECIAL: FEATURES:
Episode 1 Commentary
Episode 12 Commentary
Textless Songs
U.S. Trailer
Trailers
---
This classic tale from studio BONES is a hidden gem of its time!
Pursued by formidable Chinese assassins, young Kotaro and his dog run into No Name, a mysterious stranger who gets pulled into the chase. The unlikely companions form a bond over saving the dog from a poison attack, but chaos erupts when the assassins find Kotaro, and No Name must face his past before a horrible fate is met again.
SPECIAL FEATURES:
Production Report
Cast Interview
Pilot Film
Battle Animatic
Theatrical Trailers
TV Commercials
Trailers
---