New set details and plot information has surfaced among exclusive coverage of Episode IX: Rise of Skywalker with Vanity Fair. With that comes the revelation that we will once again be graced by the on-screen presence of the Knights of Ren, the dark force that accompanied Kylo Ren in Episode VII, and was completely forgotten by Rian Johnson in Episode VIII (because who cares about reasonable continuity, right?)
In the exclusive Ep IX coverage, award-winner Annie Leibovitz of Vanity Fair managed to gather a variety of unique set photos depicting some of what we can expect to see in the upcoming conclusion to the Skywalker saga. Perhaps the most interesting, is the photo with director JJ Abrams standing with the Knights, which we can hopefully get more insight into in this next Star Wars installment.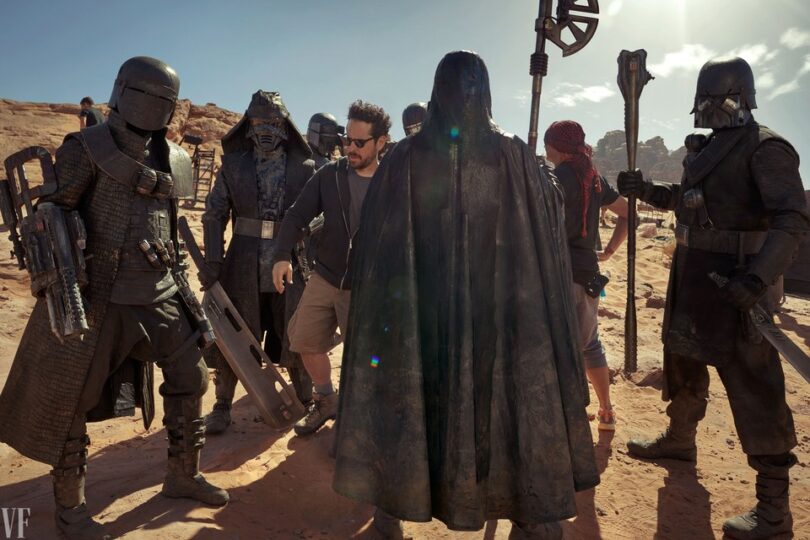 There are many other beautiful photos that Leibovitz captured during her coverage on set, including a battle sequence between Rey and Kylo among some raging waters of some sort, and a lot of desert set photos (you can see the rest of them here).
Rian Johnson's 'The Last Jedi' received heavy criticism for its unusual plot points, of which many from the previous film were abandoned or glossed over, in favor of an unusual pairing of Finn and Rose and their casino escapades, leaving many wondering what happened to the setup that Abrams left us with in Episode VII. Many fans, myself among them, would have liked to get better closure or even some story on the significance of the Knights of Ren (and Snoke, and Rey's parents, etc.), which appears to be at least something Abrams wants to revisit.
In the non-canon story books, the Knights of Ren were dark force users who worshiped Darth Vader, though they themselves were not technically Sith (see "Rule of Two"). Their appearance in The Force Awakens closely resembles that of Kylo Ren (though he is the only one to be using a red lightsaber), and it appears that they will maintain this dark and ominous aesthetic once again in Ep IX.
Little is known about what we can expect from 'Rise of Skywalker', but with Abrams returning to direct, we can at least hope for some consistency and closure. For more on the coverage from Vanity Fair, check out this YouTube clip: