Earlier this week, DC Studios Co-CEO and Marvel Studios veteran James Gunn took to social media to reveal the company's 10-year superhero plan. Gunn explained that while the studio was focused on keeping things consistent across movies, television, and video games, there would be a handful of projects outside of their core DCU (such as Joker, The Batman, Teen Titans GO, etc). However, many were wondering what the plan was following The Flash, which comes out this summer in June.
As you may know, after The Flash is released, the DCU will reset and thus lay the groundwork for what Gunn and co-CEO Peter Safran have planned. However, both Blue Beetle and Aquaman have films coming out that follow The Flash, which obscures the cohesiveness and has left many wondering how those films fit into the larger picture. Gunn was quick to address this, in an Instagram comment of all places.
Having taken to his Instagram to address a comment left on one of his posts about Creature Commands, Gunn explained that while The Flash is going to reset the DCU, it doesn't impact every character or the actors that play those characters.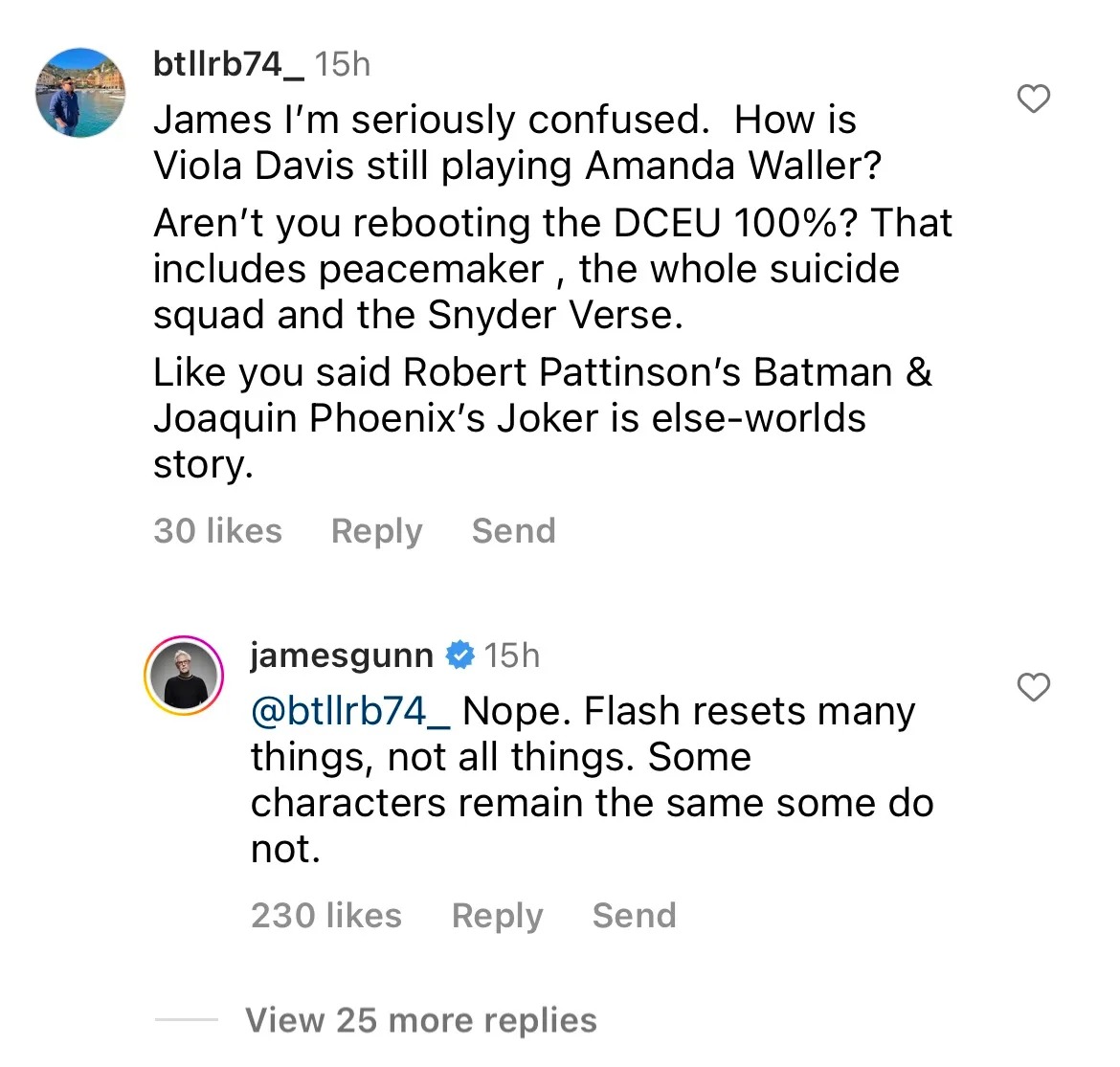 From Gunn's response, it is clear that a handful of actors will continue to play their characters in the DCU, such as Viola Davis as Amanda Waller and presumably the core cast of the Peacemaker series over on HBO Max. This comes across as good news for many who remain hopeful that actors like Henry Cavill may return one day as Superman, which is rumored to be a possibility down the road after the DCU establishes a younger Superman coming of age.
The clarity on the direction of the DCU is one that was desperately needed and surprisingly, was left out of the original announcement. One would think that when you are announcing a shared, singular superhero universe that is getting rebooted, one of the first and most major things to address would be who is staying and who is going. Maybe they haven't worked all the specifics out but if Gunn is confident enough to confirm this on Instagram of all places, maybe he should've considered adding this to his original announcement. Just a thought.
What is also curious about this news is that Ezra Miller, whose career has been rocky as of late as a series of criminal allegations against the actor has plagued Warner Bros. Discovery and DC Studios has left their career in limbo, may continue as Barry Allen/The Flash. It seems Miller is apparently on the road to recovery through their issues and may stick around as the DCU's Flash after all. This news comes just ahead of James Gunn stating that Ezra Miller's The Flash is one of the greatest superhero movies of all time. Take that as you will.
As of now, we have no idea who will be recast and who will be sticking around after the big reset of The Flash later this year but it seems Viola Davis and The Peacemaker cast are safe while Blue Beetle and Aquaman may be safe as well. And, if Ezra Miller is indeed sticking around, we would bet money that this all depends on how well The Flash does at the box office this June. Guess we will see…