If you have been following movie news over the last few weeks, you have probably caught headlines relating to Batgirl's shocking cancellation, Ezra Miller facing more controversy, and Black Adam star Dwayne Johnson wanting to set up a universe that seemingly centers on his titular character. To us, that sounds like a horrible idea.
Don't misunderstand here, we actually really enjoy Dwayne Johnson (or, at least some of us do), and we think Black Adam looks like it has some massive potential and could end up being one of DCEU's best films to date. Of course, that bar has been set so low we could probably step right over it and the guys over at Warner Bros. Discovery agree, hence Batgirl's cancellation and all the shake-ups going on behind the scenes for their DC Comics film properties. And considering all that is happening on that front, I can't for the life of me imagine that having Black Adam as the central focal point for the future of the DCEU is a good idea.
With Zack Snyder gone, having been removed from handling any future DC film projects (that we know of), his shared universe surprisingly still lives on without him. The upcoming Aquaman sequel, Aquaman and the Lost Kingdom, Ezra Miller's upcoming Flash, and Shazam! Fury of the Gods, and possibly more, all seemingly exist in the Justice League/Snyderverse of the DCEU. And it looks as if Black Adam does as well. So why does Black Adam need to be the center of this universe? Serious answer: he doesn't and definitely shouldn't.
The shared universe is already established but apparently, despite all the re-works happening at Warner Bros. Discovery, Johnson is confident that his film is something truly psecial to behold and will be so good that it will churn out sequels and spinoffs and more all based of this one film that isn't even out yet. In fact, his plans are so big, that we can't help but assume they will almost certainly miss the mark because, well, just look at the state of things over there. However, Warner Bros. Discovery must think that Johnson's level of stardom is enough to kickstart their shared superhero universe in a more positive direction somehow but we don't really understand how that is possible what with 2023's Flash, starring Ezra Miller, being said to supposedly reboot their universe anyway.
Speaking with Total Film, Johnson had the following to say:
"The goal is really to expand the universe, and introduce new characters, and spin-offs, and be really strategic about the plan. We have a few ideas of what characters people are really going to respond to in Black Adam, and so we're already thinking ahead to: 'Let's start thinking about that movie, and what that movie looks like for them.'"
The #BlackAdam takeover of @totalfilm is HERE ⚡️

This is for YOU – the fans, as we bring you into the world of #BlackAdam and the wrath of the greatest anti-hero ever known.

On newsstands August 18. #BlackAdam #HawkMan#DrFate#Cyclone#AtomSmasher
In theaters OCT 21st 🌍 pic.twitter.com/OAnucZnlGS

— Dwayne Johnson (@TheRock) August 12, 2022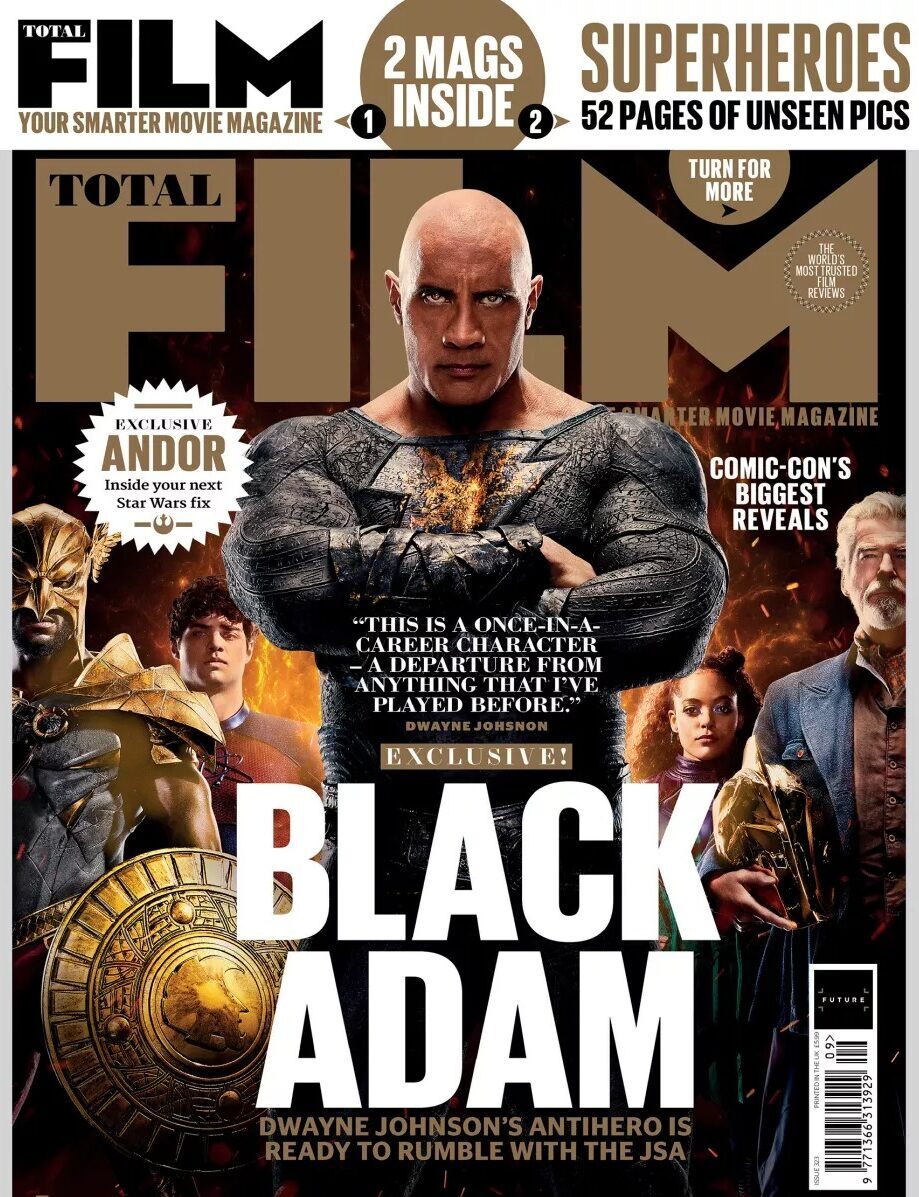 Look, we get it. Johnson is a huge, huge star and he often brings in big bucks at the box office. Adding that Johnson will now be an anti-hero in Black Adam (who we always thought was a supervillain) along with the likes of Pierce Brosnan as Dr. Fate, Noah Centineo as Atom Smasher, and Aldis Hodge as Hawkman all joining in on the film, this does looks like the formula for a massive payout for Warner Bros. Discovery. We just aren't sure if fans and critics will react so positively.
Even if that is the case, Black Adam isn't exactly a pillar of any kind that holds up DC Comics so it is weird to see Johnson talking about how his presence with the character will be so significant in charting the course. And it isn't like any films out of the DCEU have been so surprisingly good that we can just have faith in them, as most of their movies have been meh at best and truly awful at worst. So what is so different about Black Adam and why is the character so important to the DC Comics film franchise?
Further reports have suggested lately that Black Adam was originally planned to appear in the first Shazam! and its sequel but that didn't exactly happen due to Johnson's protesting (unless you count that magical holographic image depicting another champion that looked identical to Black Adam). Reports have gone on to suggest that it was Johnson who pushed for a solo movie despite being a major nemesis and adversary of Shazam. This is all concerning for a couple of reasons, the first being that it sounds a little egotistical of Johnson to have that level of confidence/arrogance in wanting his own movie. But, maybe he is right about building up the character first. The problem is, Black Adam isn't exactly a household name deserving of a solo film, in our opinion but maybe we will eat our words on that after we see it in theaters on October 21st.
The other issue is that Black Adam getting a spinoff takes away from the Shazam! franchise which easily had the best movie the DCEU has put out since its inception. Now, Fury of the Gods is on its way in December, two months after Black Adam, and we wonder whether or not lighting will strike twice, so to speak, with an even lesser known adversary opposite Billy Batson in his second outing as the titular hero. All this just seems poorly thought out and so sloppily slapped together, kind of like re-using an Amazon shipping box multiple times. It was already flimsy, to begin with. Are you really sure you want to do that again?
Originally, all these villain spinoffs sounded like a stupid cash-grab, and to no one's surprise, they almost all have been. Sony's Spider-Man universe (Spider-Man not included) for instance, has seen mediocre scores from critics with Hardy's Venom movies and disastrous results both financially and critically with Leo's Morbius . Now, after one blunder after another, we can't help but wonder if Warner Bros. is going in the same direction with Black Adam, even after their merger with Discovery Inc. But considering their financial investment in Johnson, they might just want to ride things out before committing to what sounds to us like a Black Adam Cinematic Universe.
In the article with Total Film, Johnson is also quoted as saying some additional batshit crazy nonsense, specifically that in his mind, DC Comics movies and Marvel Studios films should cross paths one day. Which, if I am being honest, is the most moronic thing I can think of regarding the two film franchises. Sure, that works in comicbooks but it's not something anyone could ever hope to see on the big screen, unless you happen to be Dwayne Johnson.
"Across the street, we have the pantheon of superheroes and supervillains of Marvel. To me, they can not only exist but they should, in my mind, cross paths one day."
I don't know about you but I can't imagine that Warner Bros. Discovery is truly behind a Dwayne Johnson/Black Adam universe that they want to build off of. In my mind, I want to attribute his comments to meaning something akin to "this movie is good, we are taking that formula and using it as the groundwork for future DCEU films that will also be good". But until I see Black Adam, I am going to chalk this up as nonsense from a wrestler turned actor who may have been hyping up his own movie just a little too much for his own good.