Detective Pikachu comes out this week and has already been gaining a lot of positive reviews among critics ahead of its release. But its not stopping there. The Niantic team is celebrating the movie with a bunch of new goodies for GO players to chase after.
The event, which goes on from 7-May / 17-May, brings about a whole bunch of new(-ish) encounters for players. Here is a breakdown of what you can expect over the 10-day event:
Increased wild encounters for Pokemon featured in the movie (Flareon, Jigglypuff, Cubone, etc)
Increased raid encounters for Pokemon featured in the movie (Charizard, Blastoise, etc)
Photobomb encounters from Detective Pikachu (Pikachu in a detective hat)
Chance at encountering a shiny Aipom
The wild encounters are said to feature Pokemon from the movie, but the majority of wild encounters these days arent all that different from what Pokemon we have seen so far in the trailers. Higher-end Pokemon, particularly fully evolved types such as Charizard and Blastoise, will be encountered in raids, while Cubone and Jogglypuff will appear more often in the wild. Curious enough, it was not said whether or not Mewtwo would be returning to raids, considering he has been featured in the trailers as well. Presumably, he may very well could be.
Additionally, shiny Aipom is being added into the game, with your first chance to encounter him in the wild beginning tomorrow.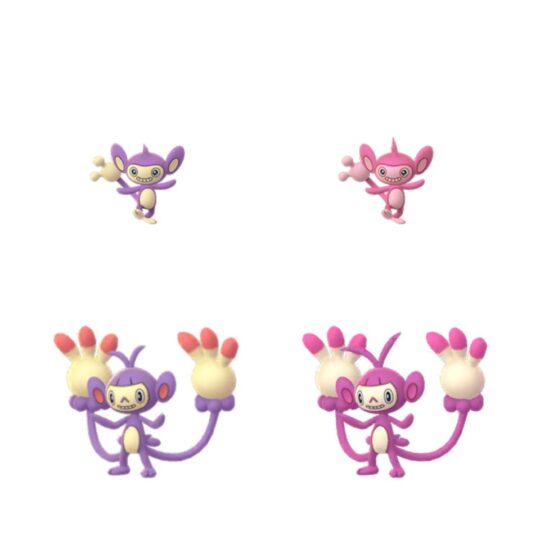 Not a terrible design. Although we wish the tail tips would be a different color than the rest of the body on the shiny version.
A variety of new cosmetic items will also be purchasable in the Pokemon GO store, including new shirts featuring Detective Pikachu.
Detective Pikachu, which currently hovers on the 70% fresh rating on Rotten Tomatoes, will release in NA on May 10th. The film is already out in Japan.