In the past, characters like Batman, John Wick, Stormtroopers, etc. were all cosmetic skins you had to fork over additional V-Bucks for if you wanted to play in their likeness. That may certainly still be the case for picking up Deadpool in Fortnite Season 2 Chapter 2, but there are some interesting suggestive hints at possibly earning him without paying extra outside the Battle Pass.
According to PC Gamer, there are a handful of in-game secret steps you must follow to kick-off the unique Deadpool challenges, all of which hint that Deadpool could possibly be earned.
Started by clicking on the vent in the top right of the challenges table, the Deadpool challenges should be revealed. From there, you make your way to Deadpool's hidden room where you will find references to the Avengers and the Deadpool video game. Among the mess is a computer that you can access which contains a letter from Deadpool to Epic Games where he breaks the fourth wall, as he is one to do.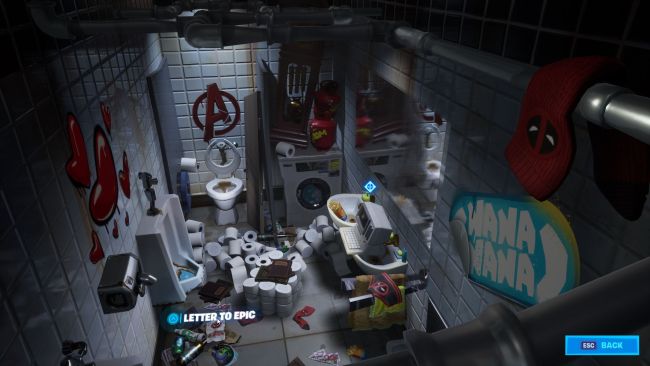 After that, launch a match and simply do not thank the bus driver. From there, it appears as though the next set of steps and or challenges will be appearing throughout the coming weeks of Chapter 2. As to what they entail, we aren't exactly certain. Though we suspect it will be worth it after all the waiting after such a long delay.
Deadpool is just the icing on top of the cake for Chapter 2 (or perhaps he is your cake while everything else is just icing), with so much fresh new content to come in various skins, blings, gliders, weapons, challenges, and more, we can't wait to dive right in and eliminate all you noobs.