Earlier this week, the EA Star Wars twitter account posted a gif (pronounced "jiff") of the title of this new Star Wars game, Star Wars: Jedi Fallen Order. The image features what appears to be a busted lightsaber among blowing embers. Dark and ominous, the image suggests the story will focus on heavy struggles of the titular care. Take a look below.
Don't stand out. #StarWarsJediFallenOrder pic.twitter.com/dQ8bg4bqyf

— EA Star Wars (@EAStarWars) April 9, 2019
In addition to the tweet above, a new poster for the game, which appears to be official, was allegedly leaked on Amazon as a t-shirt design. You can see the poster below, but the listing on Amazon has since been taken down.
>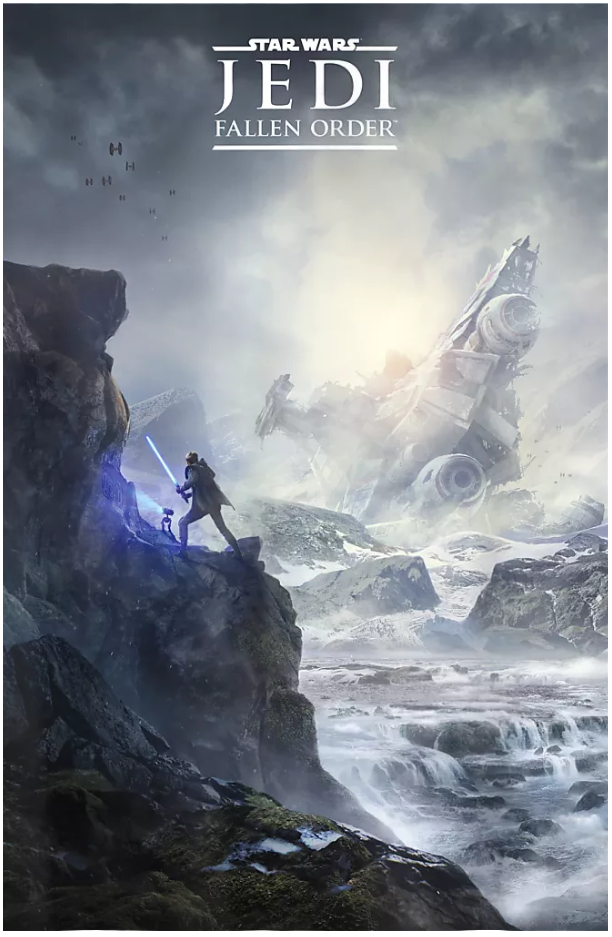 >
We don't know much about the game, only that it is single-player, and there appears to be a Droid companion of some kind (as shown in the image above). Though it is likely a storyline that takes place after Episode III, where a Padawan managed to escape the clutches of the Sith and survive the Order 66 broadcast from Palpatine.
Jedi Fallen Order has not been given a concrete release date, but we expect to hear more on Saturday during the Star Wars Celebration panel from EA on their Twitch channel, which will be broadcasting live at 2:30pm PST.