Otaku Mode has confirmed through their translation of a Japanese report over at Anime! Anime! that Food Wars! will be back this fall with a fourth season titled 'Shokugeki no Soma: Shin no Sara' in October of this year.
The promo poster, which you can see below, shows of Erina and Yukihira front and center, surrounded by a lot of Japanese text that I won't even attempt to translate. Though you can clearly see at their feat what obviously points out the October 2019 release date for the next season of the popular series.
As if a fourth season was exciting enough, it turns out we will be getting an epilogue manga tie-in beginning June 27th. Set to debut in JUMP Giga, 'Shokugeki no Soma: Le dessert' will kick off later this month and run through the summer.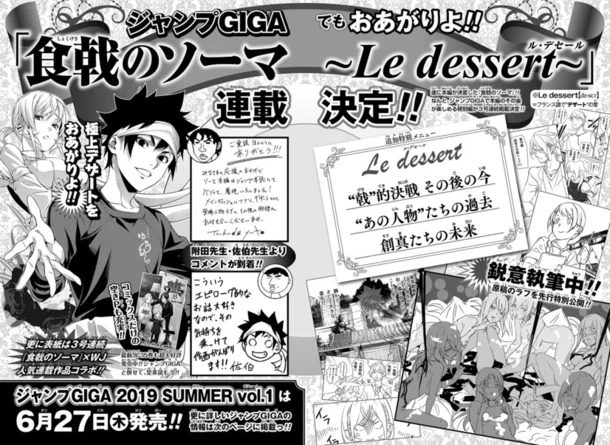 Recently, I happened to have been introduced to Food Wars! and have been watching it non-stop with every chance I get. The art, the humor, and the anime absurdity are all here and I can't get enough.
Currently, on the Third Plate (season 3), I have yet to see how the series plays out, but I am excited to see that we will indeed be getting at least one more season later this year.