If you have kept at least one eye or ear on any entertainment news source over the last week or so, you have undoubtedly heard the news that Henry Cavill will be continuing on with his role as the Man of Steel, with even a sequel to the film of the same name in the works. Now, the actor himself has taken to his personal Instagram to confirm the news and to state that big things are coming, while thanking fans for their continued support.
The post, which you can see below, is just an image but if you head on over to Henry Cavill's official Instagram, you can hear a message delivered by him personally that accompanies the image of Superman (the image of Superman you see is actually a video clip containing Cavill's message). We have taken the liberty of transcribing his message below, just in case you are unable to listen/watch.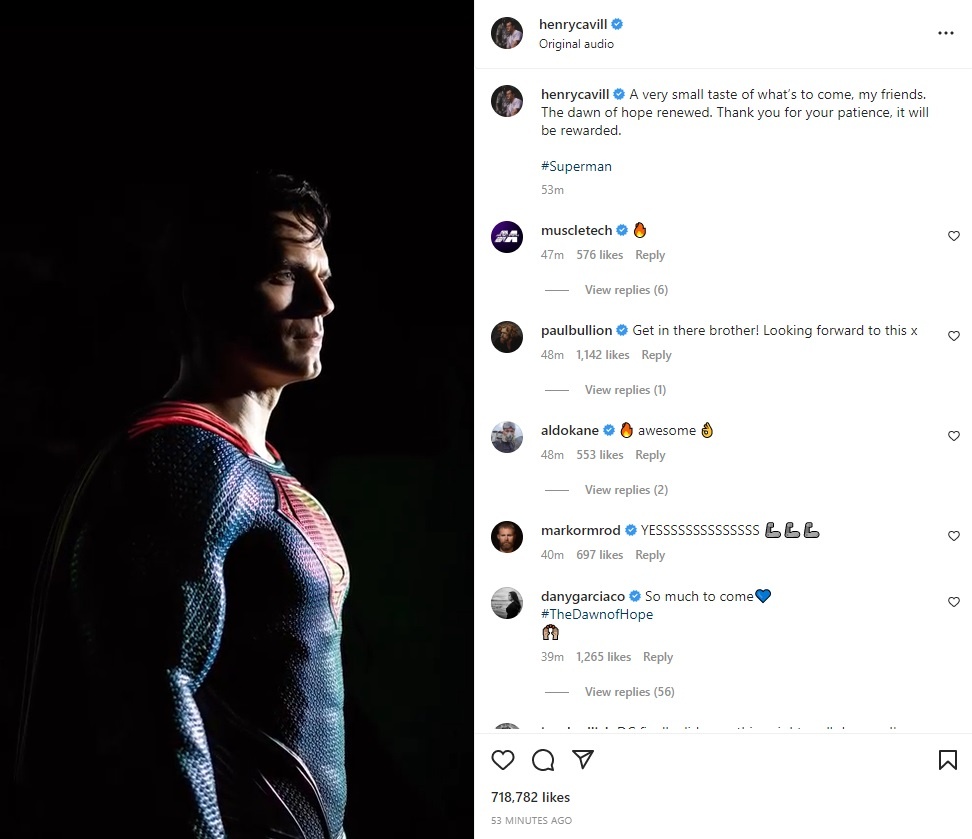 "Hey, everyone.
I wanted to wait until the weekend was over before posting this because I wanted to give you all a chance to watch Black Adam. But now that plenty of you have, I wanted to make it official. That I am back as Superman. And the image you see on this post and what you saw in Black Adam are just a very small taste of things to come. So there is a lot to be thankful for, and I will get to that in time. But I wanted to thank you guys most of all.
Thank you all for your support and your patience. I promise it will be rewarded. "
Over the past few weeks, news began circulating that Cavill would be returning to the role of Superman in multiple upcoming DCEU projects consisting of Black Adam, a Man of Steel sequel, and allegedly some reshoots of The Flash. However, it sounds like things are just getting started for Cavill and the folks at Warner Bros. Discovery as there seem to be some humongous plans in development for a completely different vision of the Justice League and their related big-screen films.
Cavill's most recent return as Superman comes in the form of a mid-credits scene in Black Adam, which stars Dwayne Johnson in the titular role and is in theaters everywhere as of last week.