Last month, it was reported that Christian Bale was in talks to join Taika Waititi's Thor 4: Love and Thunder in an undisclosed role. Immediately following this news, fans started to speculate whether or not he would be a good choice for Beta Ray Bill, another hero who is worthy of wielding Mjolnir.
The news that Bale could be portraying Beta Ray makes sense with some interesting details regarding the end Avengers: Endgame, including the fact that Thor not only has Mjolnir back but also the ax that is arguably just as powerful, if not more so. This would suggest that Thor could decide to part ways with Mjolnir (and give it to Beta Ray Bill) and keep the ax for himself as his primary weapon going forward.
Additionally, we do know that Beta Ray Bill exists in the MCU after the events of Thor: Ragnarok, as we saw with an easter egg with his head sculpture on the outside of the Grandmaster's tower. We also know that Marvel Studios president Kevin Fiege told Crave Online that Beta Ray Bill was originally in Ragnarok, saying he was in it "a little bit more and it just didn't do justice. And the feeling is, if you can't do it justice, do it later." So Bill was not only cut from Ragnarok (aside from the easter egg) but Fiege specifically mentions that the character will show up later, presumably.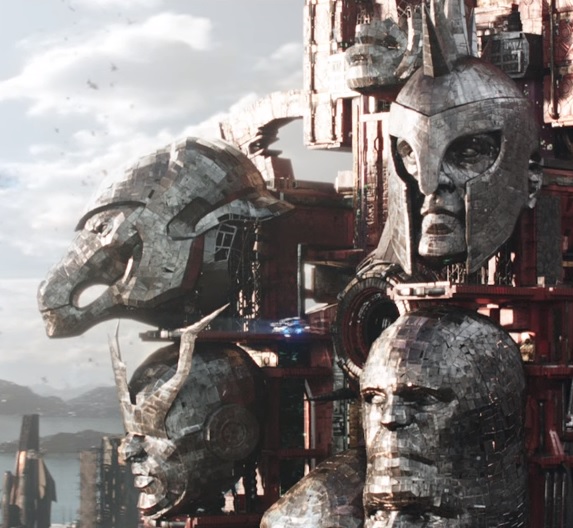 While we hope that Bale will show up as Beta Ray Bill, other reports are coming out that he will likely portray an "intergalactic villain" instead. According to The Illuminderdi, Bale is more likely to play a bad guy, according to their sources. However, it should also be noted that this hasn't officially been confirmed in any capacity and that Bale is still allegedly only "in talks" to be in Thor 4 at this point, meaning he may not end up in it at all (though our fingers are crossed).
It is possible that Beta Ray Bill could be considered a "villain" if he starts off as an opposing force to Thor and the other heroes, and maybe this could all also be some major misdirection. At this point though, it is anyone's guess.
Admittedly, we keep hearing Christian Bale's voice in our heads when we imagine Beta Ray Bill, and it sounds perfect to us, but that is probably us just getting our hopes up more than anything.
Thor 4: Love and Thunder is set to release on November 5, 2021.