Earlier today, Bandai Namco Entertainment America released an exciting new 'Release Date Trailer' for the highly-anticipated One Piece RPG. Coming next year for PC, Xbox Series X|S, and PS4|PS5, One Piece Odyssey releases on January 13, 2023.
Take a look at the trailer.
Luffy decides to scout the island and gather his scattered crew members. While exploring, they come across mysterious ruins and never-before-seen monsters. Despite the Straw Hats' initial excitement about the uninhabited island, things soon take an unexpected turn when they find two human inhabitants named Adio and Lim. Discover and experience an original storyline!
About One Piece Odyssey
One Piece Odyssey is an RPG project filled with the unique elements of adventure from ONE PIECE that has been highly desired by fans. This project has been in the works for many years so that fans can truly touch the world of One Piece and now is ready to be unveiled!
Join this brand-new RPG featuring new character and monster designs produced by Eiichiro Oda, the author of One Piece. The game is also complemented by the beautiful music of Motoi Sakuraba, a composer well known for his various contributions to video games such as the Dark Souls and Tales of series.
During their voyage, the Straw Hats, led by Monkey D. Luffy are swallowed by a huge storm at sea. They end up on a mysterious island full of nature amidst the storm and become separated from each other. The crew sets out on a new adventurous journey filled with wonders of a raging nature, powerful enemies, and strange encounters with island locals. Work together with Luffy and his crew to set sail once again!
Defeat new enemies, unravel ancient mysteries, and experience pure adventure with your favorite Straw Hats! Players can step into the shoes, sandals, and hooves of Luffy, Zoro, Nami, Usopp, Sanji, Chopper, Robin, Franky, and Brook! In addition to varied combat prowess, each character also offers a unique exploration skill, such as Luffy's Gum Gum Slingshot traversal and Zoro's ability to cut down barriers.
Experience quests and dungeons all with an authentic ONE PIECE twist: the Dramatic Scene system will pitch you against unexpected and random scenarios! What will you do if Usopp becomes intimidated by an enemy and needs rescue? Enjoy what you love about classic RPGs along with your favorite characters and an original touch from the world of ONE PIECE.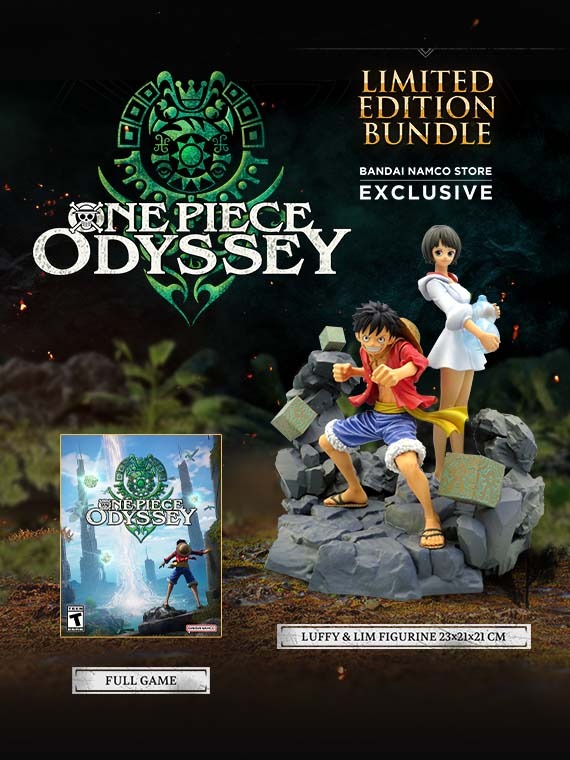 One Piece Odyssey is available in a variety of editions including a limited edition with a Luffy & Lim figurine and other in-game goodies. For all the details on the various editions, head on over to the Bandai Namco Entertainment Store and pre-order [here].