The countdown has begun for Bungie's upcoming 'Destiny 2 Showcase' which is scheduled to go live on Twitch at 9a PST, just under 23 hours at the time of this writing. Ahead of all the goodies and teases to be shown, in typical Bungie fashion, we have our first official look at the big bad of the upcoming The Witch Queen DLC, coming next year. Take a look for yourself at Savathun in all her winged Hive glory.
Discover what lies ahead.

Destiny 2 Showcase Event // Aug 24 @ 9AM PThttps://t.co/P3UimOAtDM pic.twitter.com/XMYkrT2F7b

— Destiny 2 (@DestinyTheGame) August 23, 2021
There are a lot of clues in this teaser that to many, will go left unseen (we will touch base on those further in just a moment). Given the teasers and clues with an overabundance of hints being sprinkled across various recent seasons and story missions, Savathûn, the sister of The Taken King, Oryx, is on the way to bring war to the doorsteps of the Last City and punish the Guardians who have caused her people so much suffering.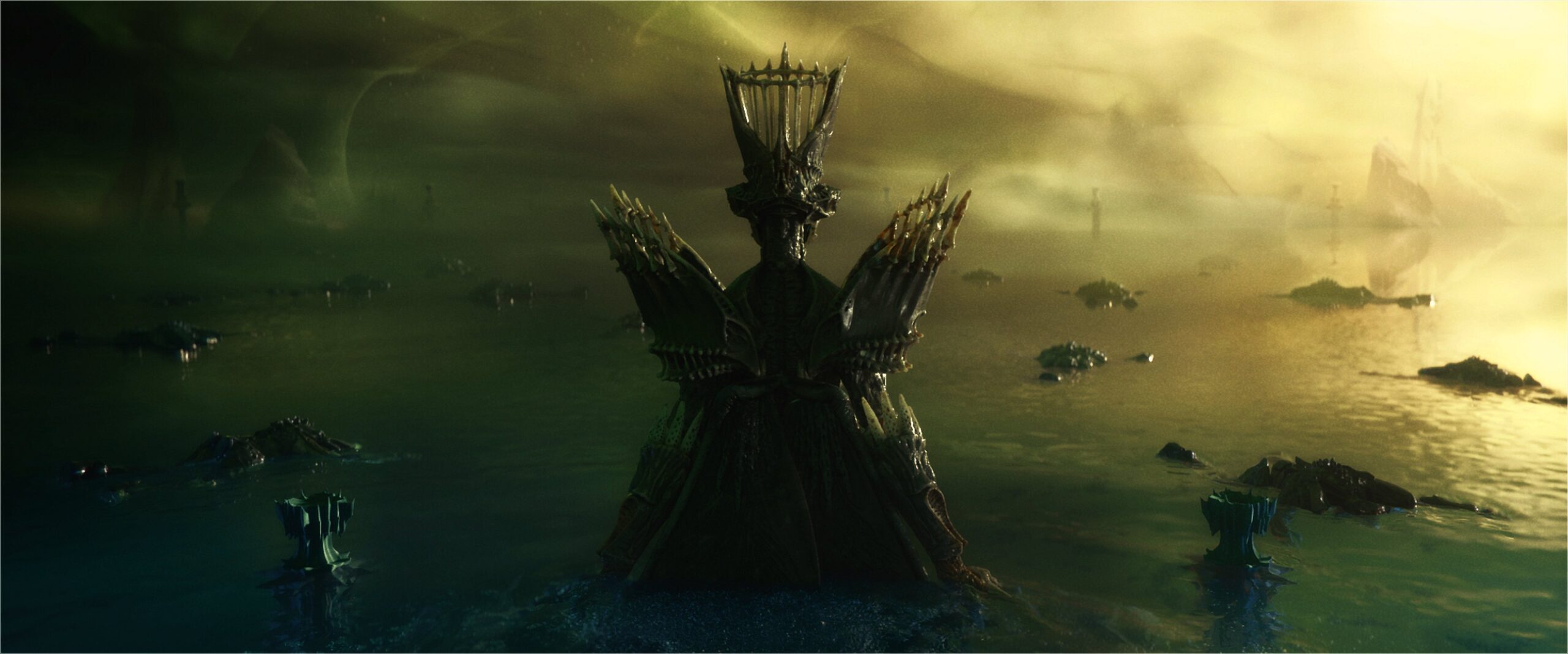 Savathûn, the Witch Queen, formerly known as Sathona, is a Hive god and sister to Xivu Arath, God of War and Oryx, the Taken King. Together with her two siblings, she was a progenitor of the contemporary Hive species and one of its chief gods, having made a pact with the Worms of Fundament. She is driven to understand the deepest secrets of the universe and gains power from the deception and confusion of those who seek to understand her unfathomable schemes. –Destinypedia
One thing that seems to be of note is that Savathûn appears to be in her own Throne World, a place that she is connected to that allows her to retain immortality (it's a whole thing). Further reading on Savathûn over at Destinypedia will give you more history of the character and why she is such a major threat to Guardian livelihood.
Other clues elude us (or me, specifically) as I do not read as much of the Destiny lore as I should, as it truly is fantastic, but it should be worth noting that there are a lot of spoilers out there for the DLC including some concept art that was 100% accurate in design that included a Ghost over her shoulder which would imply she has access to certain Guardian gifts. The bodies around her feet in the pools of liquid in the surrounding area may also not be Hive, per se, given the redacted bit in the previous sentence.
The Destiny 2 Showcase goes live tomorrow on Twitch at 9a PST. The Witch Queen DLC is set to be available in early 2022.